The bedroom is your sanctuary. It is the place you begin your day and end your day. Romantic may be visually defined differently by everyone. However you design your bedroom, it should make you exhale and feel great when you walk into it daily.
Layered Linens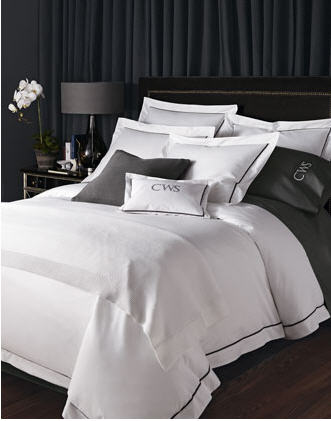 Image 2 of 7
Pillows, comforters, duvets, blankets and sheets should be layered with abandon. A generally neutral colour scheme is the most timeless and luxurious. Whether you choose colours such as white, grey and soft blue, or deep navy, white and cream, keep the variety of colours to a minimum so to keep the look calm.

Photo Source: Neiman Marcus
The following two tabs change content below.

Evelyn Eshun has been providing creative Interior Design solutions for her Residential Clients in the Toronto area for over a decade. Principal Designer at
Evelyn Eshun Interior Design
, Evelyn has participated in various Television programs over the years in addition to her Design business. With a passion for design and travel, Evelyn has translated her extensive and various experiences into a design philosophy which puts the Client's needs and functional needs first. Always striving for a unique and personalized solution for each Client, Evelyn prides herself on creating interiors which will stand the test of time. Whether transforming an old and tired property into a vibrant home or simply finishing a home with the decorating touches which make a house a home, the goal is always to collaborate with Homeowner, Trades and Suppliers to finish the project successfully.

Latest posts by Evelyn Eshun (see all)