The sink is a utilitarian element in your home which no doubt is usually an afterthought in the design process…but I am telling you today that you should 'reimagine your sink'. Wikipedia says that the sink evolved from a simple bowl in the early 1800's into a bowl or bucket integrated into a wooden cabinet with a trough built on the top lined with zinc or …yikes…lead! Splashboards were often added on the back wall as well as drawers and shelves. Sinks have come a long way…we now have sinks made of stainless steel, enamel, cast iron, marble, concrete, copper and many other materials.
Your sink works hard for you, so you must get the quality which will give you the level of performance which suits your lifestyle. Additionally, you can add style and convenience with various unique shapes and applications. Whether undermount ( most functional) , vessel ( paying homage to the birth of the sink) or overmount ( inexpensive option), apron front ( for that country feel) , you have many options these days.  Here are 10 fabulous sinks which can inspire you to get you on the road to an open mind when planning your sink purchase.
Glass vessel sink which would be perfect on a deco-inspired vanity.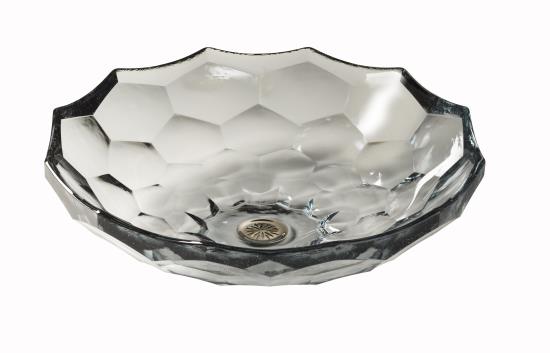 The following two tabs change content below.

Evelyn Eshun has been providing creative Interior Design solutions for her Residential Clients in the Toronto area for over a decade. Principal Designer at
Evelyn Eshun Interior Design
, Evelyn has participated in various Television programs over the years in addition to her Design business. With a passion for design and travel, Evelyn has translated her extensive and various experiences into a design philosophy which puts the Client's needs and functional needs first. Always striving for a unique and personalized solution for each Client, Evelyn prides herself on creating interiors which will stand the test of time. Whether transforming an old and tired property into a vibrant home or simply finishing a home with the decorating touches which make a house a home, the goal is always to collaborate with Homeowner, Trades and Suppliers to finish the project successfully.

Latest posts by Evelyn Eshun (see all)