It feels like Spring will never come but we all know it will. In the mean time, Spring in Holland is ready to bloom with the annual flower festival. I visited Amsterdam when I was only 8 years old, and though I was so young, the memory stayed with me. I remember the flowers everywhere, the colourful buildings and the cheerfully painted bicycles. Did you know that Holland has on average 470 days of sunlight a year? No wonder it is such a happy place.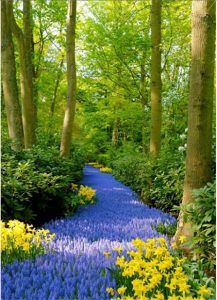 A woodland path created with florals. Source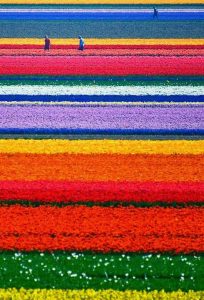 People picking tulips in a field. Source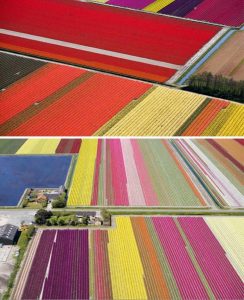 Tulip Fields from the Sky. Source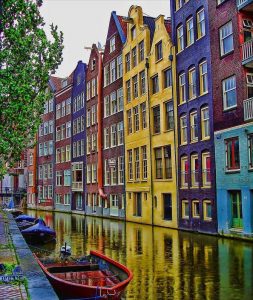 Inspiring Collection of Colours: Buildings painted in happy colours to inspire everyone daily! Source
If you can't pop over there for the flower festival which begins at the end of April, you can bring the magic of Tulips into your home. I found this blog post on Pinterest and wanted to share it with Canadian readers. The writer explains how to grow tulips in a vase with no soil at all. Beautiful!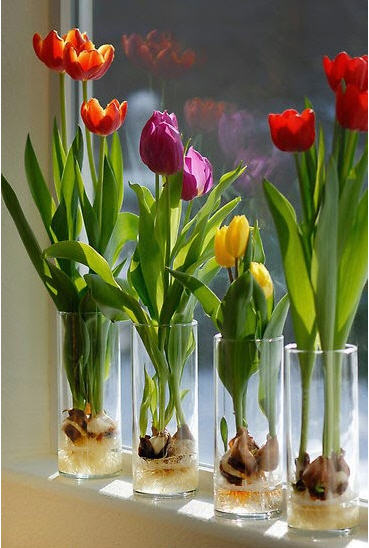 The following two tabs change content below.

Evelyn Eshun has been providing creative Interior Design solutions for her Residential Clients in the Toronto area for over a decade. Principal Designer at
Evelyn Eshun Interior Design
, Evelyn has participated in various Television programs over the years in addition to her Design business. With a passion for design and travel, Evelyn has translated her extensive and various experiences into a design philosophy which puts the Client's needs and functional needs first. Always striving for a unique and personalized solution for each Client, Evelyn prides herself on creating interiors which will stand the test of time. Whether transforming an old and tired property into a vibrant home or simply finishing a home with the decorating touches which make a house a home, the goal is always to collaborate with Homeowner, Trades and Suppliers to finish the project successfully.

Latest posts by Evelyn Eshun (see all)