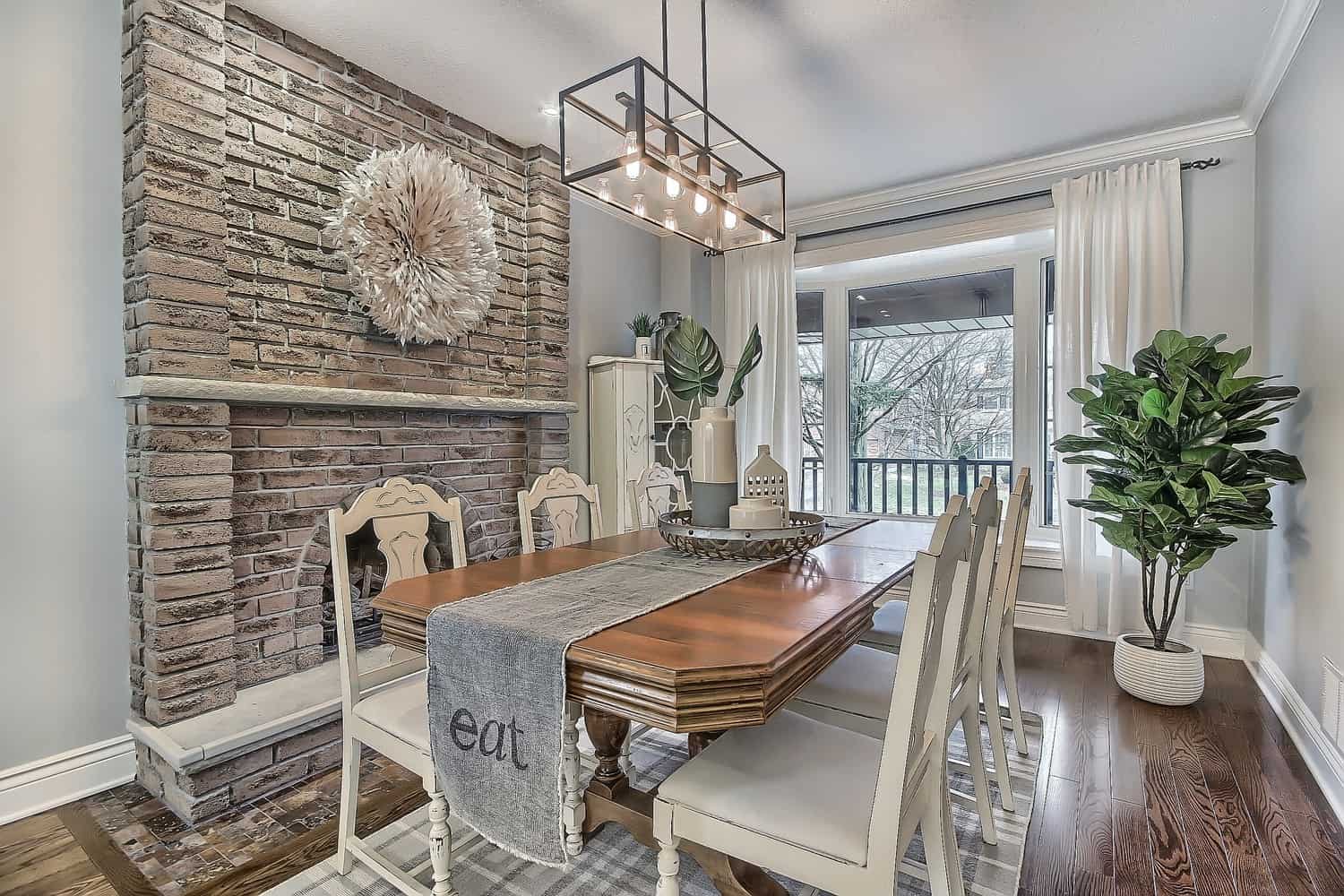 To give this traditional dining room a modern facelift, I started by removing personal belongings, de-cluttering, and giving this room a fresh coat of paint. I opted to update the chandelier with a cage style light fixture that provides better lighting for the room and updates the overall look and feel without straying too much from the original character of the room. To add warmth, I added a plaid, dhurrie rug that grounds the dining set, and I layered in a soft, textural wall hanging to break up the hardness of the brick fireplace. I finished off the look with rustic yet, modern decorative accessories and greenery to compliment and update the existing furnishings. The result is a modernized farmhouse style dining room that feels inviting and welcoming for potential buyers.
The Dining Space Before: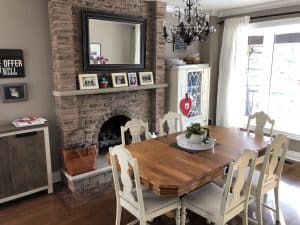 Dining Room Staging Tips:
Less is more! In order to create the illusion of more space, remove any unnecessary furniture from the dining room. This usually means keeping only a dining table and 4-6 chairs.
Add warmth and softness to any dining space by layering in an area rug under the table and chairs. This not only grounds the dining set but, also gives a more cozy feeling for potential buyers.
Updating a chandelier in a dining space is an easy fix that provides the opportunity to not only modernize but also brighten up the space with better lighting.
Text and Project by Amanda Shields, Mint Condition Staging
The following two tabs change content below.

Amanda Shields is the founder and lead designer at Mint Condition Staging. She aims to highlight the beauty of your home and hide its imperfections. Often times, Amanda's clients claim they don't want to sell their home after she is done showcasing it! This has led Amanda into, not only offering home staging as a service, but offering interior redesign and styling services for your forever home too. Amanda has a Bachelor's degree in Design from OCAD University and is a fully certified, CSP "Elite" Home stager that graduated with honours from the Canadian Certified Staging Professional™ program. She is also an affiliate of the Real Estate Staging Association and was recently awarded "Top Ten Rising Star Home Stager of the Year",competing against the best home stagers all across North America. Prior to her home staging career, Amanda has worked alongside celebrity designer, Joe Mimran as a member of his product design team. She has also managed design projects for Bed Bath & Beyond, Walmart, Target, PC Home, Homesense and Pottery Barn, to name a few.

Latest posts by Amanda Shields (see all)