Vintage is an ever changing style. What we call modern today will be vintage to our grandchildren. Today, vintage style often includes rustic materials, mid-century modern furniture pieces, wood and iron finishes, aged textures and colours and true vintage finds. Vintage pieces or vintage inspired pieces are mixed with more modern styles to create a timeless look with plenty of personality.
We asked two designers, Glen Peloso and Kim Bartley, to create vintage style design boards inspired by some of our favourite vintage lighting collections from Living Lighting and here is Glen came up with! (Click here to see Kim's Vintage Modern Dining Room Design Board!)
The Fixtures: Hinkley Fulham Collection with Vintage Filament Bulbs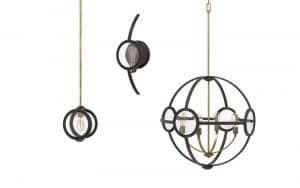 The Design Board: Vintage Finds Living Room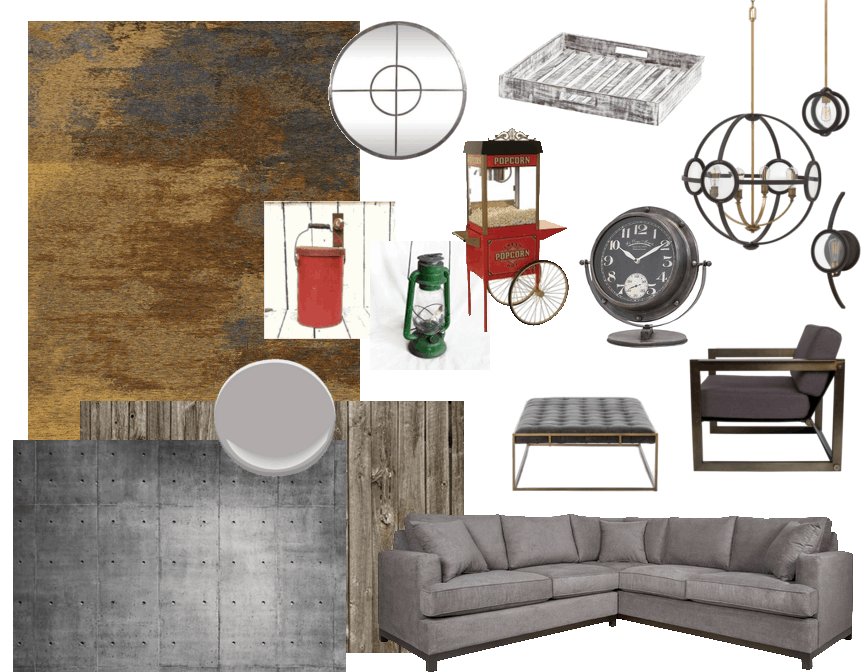 CREATE THIS LOOK:
The rustic look can provide a casual comfortable feel while maintaining a well designed room.  We love the idea of a concrete or barn board feature wall in this vintage space. The Fulham sconces would look great against either finish! We suggest murals instead of real concrete or barn board. This option is budget friendly and can be updated easily if you tire of the look later on. Couple either mural with a light grey wall colour.
To furnish the space, we start with a  great sectional sofa that can make a room both comfortable, relaxed and a wonderful place to gather with friends for a visit or watch a movie with the whole family. This particular sofa is well built, can be customized to suite and comes with a down blend seat for maximum comfort. Add a couple of lounge chairs to round out the look. Use them to close the square of the sectional for a perfect conversation circle!  If room allows, include a coffee table as well. The mixture of metals in the pieces we picked gives them an antiqued, rustic, found object feel.
A wonderful graphic carpet will ground the room to complete that "natural rustic" feel we have been after.  For accessories, we've put together an eclectic selection of fun reproductions and true vintage finds from barn sales and garage sales! Don't be afraid to inject strong colours in the accessories and have fun with found objects!
THE SOURCES:
Hinkley Fulham Collection, Living Lighting
Sorrento Chair, The Goods
James Sofa, Glen & Jamie Designer Collection, Van Gogh Designs
Concrete and Barn Board Murals, Bespoke My Space
Stormy Monday 2112-50 Wall Colour, Benjamin Moore
Cathedral Area Rug
Bulls Eye Mirror, The Goods
Tray, Mercana
Table Clock, Mercana
Oxford Coffee Table, Fourhands
Can, Lantern and Popcorn Machine, Vintage Garage Sale Finds