1) How big does your condo feel?
Reflective surfaces (like mirror, chrome, etc) or glass surfaces have all of the function of a side table, surface for your coffee or wine, (so all of the function) but no aesthetic weight as they are either see through – or reflect the items around them and give a feeling of space.
Be able to see under all the furniture – more floor I can see – the bigger it seems (chairs with chrome legs, sofa that I can see under – tv component stand that is wall mounted allow me to see more floor so the whole place "feels" larger)
Use only two colours – one focal or accent – one neutral – simplicity works well
Store things in boxes or closed cubes- fewer colours the easier to deal with
Keep the flooring the same throughout – define space with carpets and furniture
Flat ceilings as opposed to popcorn – messy but good!
How about leather floors or off white polished concrete?

2) Lighting
Good lighting isn't all that usual in condos – make yours spectacular
Create a drop panel ceiling of stained wood or drywall, suspended over the dining table to get create intimacy and get chandelier where you need it!
Remove doors that don't need to be there! Do you need a door to the office/den in a small condo? Remove it! A door to the ensuite bath AND a bedroom door – fewer doors allow more light through spaces
Replace doors with glass panels to bring light through –If you need the door how about a glass panel with frosted glass – light and privacy combined!
Add frosted glass doors to closets and laundry/ storage rooms and install a light in the space – – good for you to see what's there- but also gives the illusion of another room or a balcony or just more space beyond the door – AND provides the room with ambient light!
Whenever there is space in a condo ceiling to install pot lights be sure and do it! – good over head lighting will keep things bright and create mood zones when you need them using dimmers where possible
Use Track lights, as a second choice when pots aren't possible (concrete ceilings etc) The effect of brightness is great but the fixtures are more prevalent – – Using the existing octagon boxes you can get light where you need it without "swag" cords or surface mounted wires
Floor and table lamps are good to round out lighting but not perfect as "general lighting"

3) Window Coverings
Roller blinds for light and heat issues
Side panels for softness – high ceilings – go floor to ceiling for drama! — sheer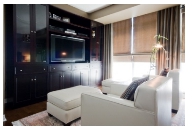 4) Function
Built in storage uses all the available space – everyone has the same issue with condos regarding storage – make yours fantastic! – go right to the ceiling and use as a feature as well
Closets can go to the ceiling – you have to remove wall above those sliding doors which is only really there to accommodate the height of a standard door the builder used – use that top space for off season!
Use multifunctional furnishings so you have the things you need in just one piece
Coffee table converts to dining table
Storage coffee table pulls up to include desk and storage
Storage bed with lift mattress (often no room to get under the bed
Murphy beds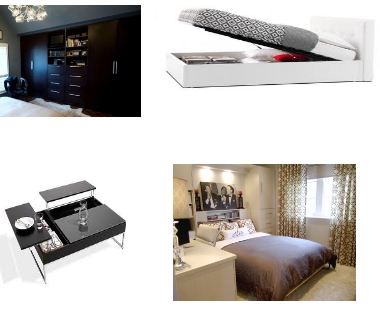 Use the walls not the floors (10x10x10 room – 100 sq ft floor and 400 sq ft of wall!)
5) Interesting Architectural detail
Old church window as an art piece
Wrought iron fencing as a detail
Columns
etc