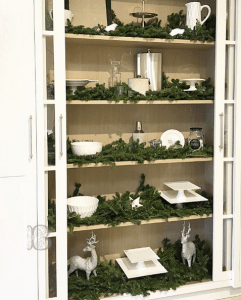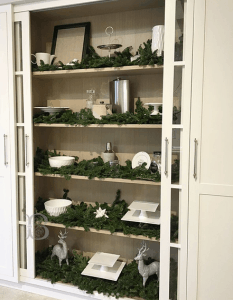 Photo Source: Bloomsbury Fine Cabinetry on Instagram
Add a little bit of festive cheer to your kitchen this year with seasonal, winter greenery on your open shelves or mantel! This is an incredibly simple way to incorporate holiday flare into your kitchen without sacrificing on storage space or functionality. Want to know how we achieved this incredibly simple DIY? Follow the steps below!
1. Instead of buying already-made garland, opt to purchase a real Christmas Tree & DIY your own garland instead. Use gardening clippers to cut off all of the branches on your tree and set them aside. Be sure to cut them at varying lengths for a little bit of depth and variety! The key is to make it look as natural as possible.
2. Now it's time to prep your shelves! Remove any items off of your shelves and layer the shelving with clear plastic so that the sap from the branches doesn't ruin or soil them. Once you've finished placing the plastic, add your décor pieces or cutlery back into place.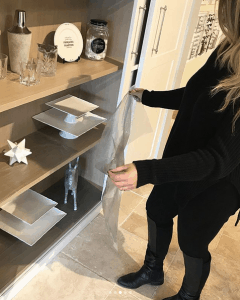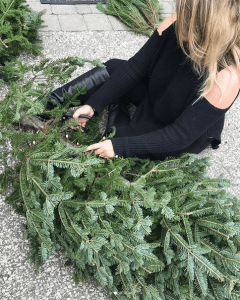 A behind the scenes look at the Bloomsbury Fine Cabinetry staff decorating for the holidays!
3. Okay… now let's get to the layering! Stack fir and pine cuttings across your shelving at random. Be sure to add in extra layers and continuously look for opportunities to fill space, and add a little bit of depth. The goal is to create a natural, full, yet put together and cohesive display.
4. Voila! An easy, yet impactful, holiday statement in your kitchen!
For more great design tips and inspiration, follow Bloomsbury Fine Cabinetry on Instagram!
The following two tabs change content below.

Rhonda Thornton, Principal of
Bloomsbury Fine Cabinetry
, is an accomplished Kitchen Designer with over 17 years of residential kitchen design and planning experience. Bloomsbury Fine Cabinetry is a leader in design and manufacturing of truly Custom Cabinetry, specializing in the art of Bespoke English-Style cabinetmaking, built to with stand the test of time and trends. Rhonda has collaborated on well over 500 kitchen projects and has had the privilege to contribute her expertise to some of the most stunning homes and cottages in the GTA.

Latest posts by Rhonda Thornton (see all)