Bedroom Design Tips with Glen Peloso. Our National Design Editor shares his wisdom on how to create a gorgeous bedroom.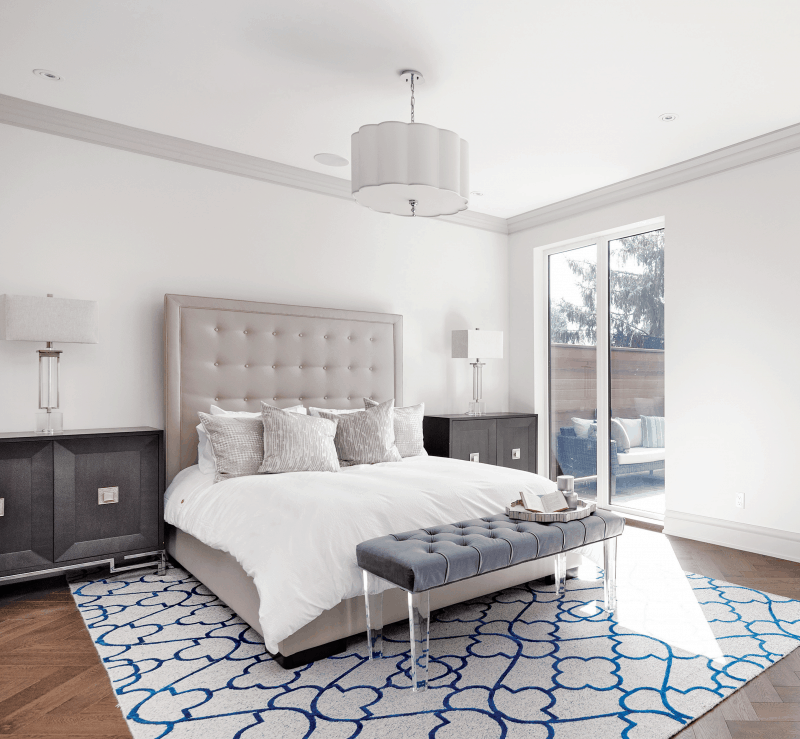 A TALL HEADBOARD WITH SOME DETAIL, GIVES THE BED A SENSE OF GRANDEUR befitting the master of the house. Add wallpaper behind that for a sense of luxe. Like paint, wall paper is easy to change should your style change or evolve as time goes on.
SPLURGE ON YOUR MATTRESS! Test drive the mattress in the store and give yourself a few hours to shop. This is an investment that is definitely worth taking your time to decide over!
INVEST IN QUALITY LINENS FOR AN ULTIMATE SLEEP. Look for cotton satin at approx. 400– 600 thread count. No more needing to count sheep!
A BENCH AT THE END OF THE BED helps to elongate the look of the bed.
We love this upholstered storage bench by Wayfair.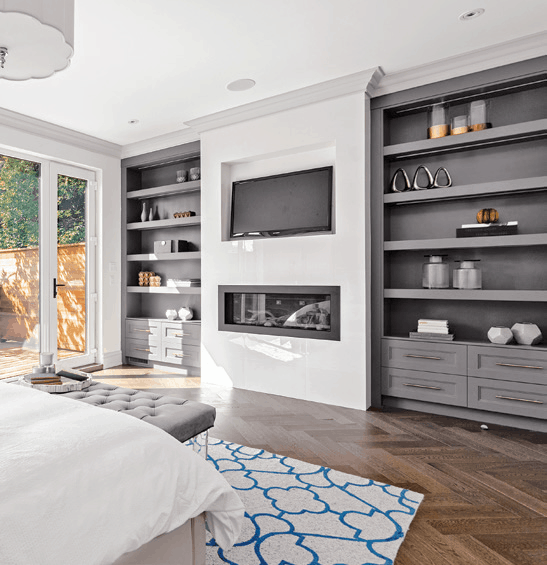 OPPOSITE THE BED, CREATE AN ENTERTAINMENT AREA. The stone face balances the aesthetic weight of the bed, provides romance with the fireplace and provides entertainment, if this is the only place the "masters" have to escape the family and decompress.
We love these Bedroom design tips with Glen Peloso! For more design inspiration check these spaces out!
For more inspiring ideas, click here.
For more unique items for your home, click shopCHT.com.
The following two tabs change content below.

Canadian Home Trends' National Design Editor, Glen Peloso forged into the world of design 20 years ago after completing his Masters degree in Fine Art. As Principal of
Grafus Design Co.
, he has worked in residential, hospitality and commercial spaces for clients in several countries and has successfully designed over 300 projects in that time. TV Celebrity Designer and Canadian Home Trends National Design Contributor, Glen is also recognized as a design expert on The Marilyn Denis Show and from his past work as a host/designer of the internationally popular television shows Foodnetwork/HGTV`s Restaurant Makeover, and W networks 'Take this House and Sell it', and "Slice Network" show, Renovate my Wardrobe.

Latest posts by Glen Peloso (see all)