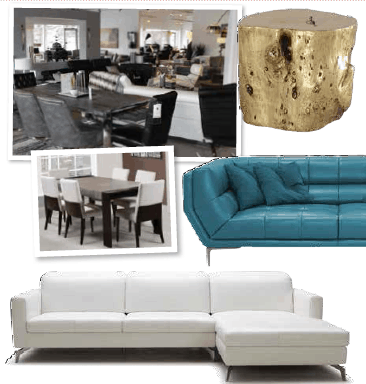 REVOLVE FURNISHINGS
Calgary, AB
www.revolvefurnishing.com
With three locations in Calgary, Revolve has collections to suit most styles. The shops are focused on the younger crowd and priced well. Designers and home owners alike will find pieces they love!
GET TO KNOW THE STORE
What are people buying? Some of the best sellers include the Sergio Dining Table and Still
Dining Chair. The leather Sheldon Sectional is also popular. Every seat is optimal on this sofa with smart chaise styling and space age legs.
What's trending at Revolve Furnishings? The Log Stool in Gold, cast in resin from real tree trunks, is the perfect way to combine the trend towards organic shapes with this year's hottest metal! You'll also see a trend towards chic, European-inspired styles like the Ibiza sofa!
Describe the store's style? Think sexy. Be rebellious. Redefine modern.
——————————————————————————————–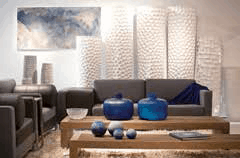 THESE FOUR WALLS
Winnipeg, MB
www.thesefourwalls.ca
This is a great boutique store in Winnipeg where you can help yourself or be helped by the design staff on site. The collection of brands available will work for most every style and we love this boutique because they support Canadian manufacturers wholeheartedly. The collection of accessories is sourced from the North American markets, which ultimately makes for a well-designed space within your four walls.
THE CROSS DECOR
Vancouver, BC
www.thecrossdesign.com
This boutique design house with offers which allows you to hire a professional or do it on your own The selection of furniture is first rate and beautifully curated. If you're looking for a full home design, or just a fantastic wedding gift, this is the place to go!
L'ATELIER HOME
Vancouver, BC
www.latelierhome.com
L'Atelier Home, is a creative location that allows you to "rediscover" some pieces that you may have inherited or wish that you had inherited. You can be sure that many designers are pouring over the collections that are found here because they are truly one of a kind. Nothing creates unique design like one of a kind customized pieces.
The following two tabs change content below.

Canadian Home Trends' National Design Editor, Glen Peloso forged into the world of design 20 years ago after completing his Masters degree in Fine Art. As Principal of
Grafus Design Co.
, he has worked in residential, hospitality and commercial spaces for clients in several countries and has successfully designed over 300 projects in that time. TV Celebrity Designer and Canadian Home Trends National Design Contributor, Glen is also recognized as a design expert on The Marilyn Denis Show and from his past work as a host/designer of the internationally popular television shows Foodnetwork/HGTV`s Restaurant Makeover, and W networks 'Take this House and Sell it', and "Slice Network" show, Renovate my Wardrobe.

Latest posts by Glen Peloso (see all)