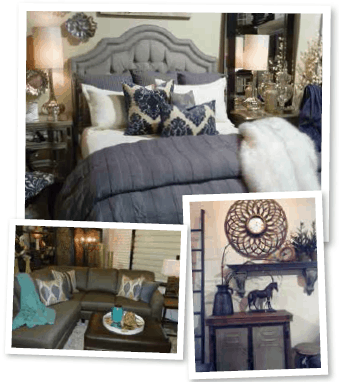 DECOR HAUTE LOOK
Neguac, NB
www.decorhautelook.com
It is a great little store with on-staff decorators to help homeowners create a pulled together look. The store has a range of styles from elegant to urban rustic. They carry many suppliers but I'm particularly fond of them because they carry the Glen and Jamie furniture line from Van Gogh and do a great job with it! They also have a design professional who works out of the store to help you with all your design needs.
GET TO KNOW THE STORE
What are people buying?  The best selling items in the store are upholstered headboards and mirrored chests.
What's trending at Decor Haute Look? The trendiest items in the store are reclaimed wood pieces.
Describe the store's style? Decor Haute Look is an inspiring store with classic and transitional pieces.
———————————————————————————————————-
31 WESTGATE
Halifax NS
www.31westgate.com
This boutique, run by designers Colin Blanchard & Kenneth McRobbie, is a collection of some of the most prestigious brands in the furniture world. They also carry a great selection of accessories and décor items. The design aesthetic is first class and tends toward the more sophisticated palette. The shop has everything for a home from gifts to full design services.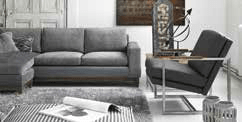 ATTICA
Halifax, NS
www.attica.ca
Attica is run by Suzanne Saul & Christopher Joyce, Designer & Artists. This is Halifax's largest furniture store and voted by its patrons and locals as the best furniture store in Halifax. There is a vast collection of styles and price points to suit any client's needs. The design staff, led by Suzanne and Christopher, are highly skilled and more than able to help anyone turn their house into a home.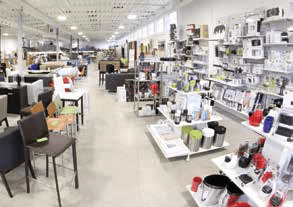 TERRA VERDA HOME
Moncton, NB
www.terraverdehome.ca
This is a full retail store with an eight thousand square foot showroom. Many of the best Moncton designers use the store to facilitate projects in the area. They carry many Canadian suppliers, and well known American suppliers to help you complete your look. The aesthetic is more eclectic to suit just about every style and budget This is a one stop shop for furniture, wall coverings, draperies, floor coverings etc.
URBAN ALMANAC
Fredericton, NB
www.urbanalmanac.com
It is a great store of collected items from furniture and décor, to kitchen gadgets and dinnerware. You can get a sofa and a coffee along with some design advice when you visit Urban Almanac. The shop is frequented by many in the design community because of the vast selection of furniture brands and various accessories. If you don't leave the store with new furniture, you will leave with something!
HOME ON WATER
St Johns, NFLD
www.homeonwaterst.com
This fabulous shop that is loved both by locals and visitors to the area. They carry many good quality items in the store including furniture, décor, house wares etc. The design savvy staff is capable of putting a space together for you!
MACHIN CHOUETTE
Quebec City, QC
www.machinchouette.com
Machin Chouette is a fantastic curation of incredible finds from all over the country. The selection offers one of a kind design selections for your home along with custom designed furniture to suit. Machin Chouette is a destination for many designers looking for that "one of a kind" item to truly personalize a home.
MAISON CORBEIL
Montreal, QC
www.maisoncorbeil.com
This store sets the standard for furniture retail in Montreal. Maison Corbeil successfully combines the best of North American aesthetic with Europe style. It is truly a "must" for the designers working mainly out of Montreal and is more than worth a visit when you are visiting Montreal. This isn't the shop for those with a limited budget but you can be guaranteed that your home will be the envy of many who come to visit.
The following two tabs change content below.

Canadian Home Trends' National Design Editor, Glen Peloso forged into the world of design 20 years ago after completing his Masters degree in Fine Art. As Principal of
Grafus Design Co.
, he has worked in residential, hospitality and commercial spaces for clients in several countries and has successfully designed over 300 projects in that time. TV Celebrity Designer and Canadian Home Trends National Design Contributor, Glen is also recognized as a design expert on The Marilyn Denis Show and from his past work as a host/designer of the internationally popular television shows Foodnetwork/HGTV`s Restaurant Makeover, and W networks 'Take this House and Sell it', and "Slice Network" show, Renovate my Wardrobe.

Latest posts by Glen Peloso (see all)