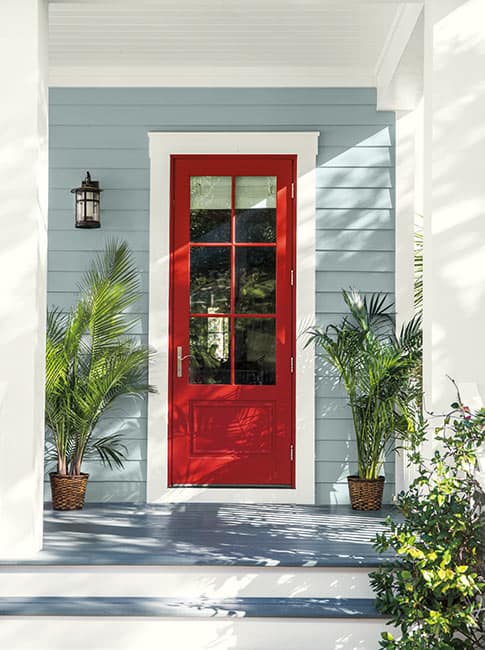 There are a lot of things to factor in when looking to change the outside of your home and attempting to select the best exterior paint colors. Here are a few things to consider:
ROOF COLOR: Is it brown tones or black/gray tones? Choosing exterior paint colors with a similar undertone will ensure a more cohesive look.
NEIGHBORING HOUSES: Are there a lot of gray or brown houses on the street? Consider something different: not so different that you will be the landmark, but different enough to be interesting. Trends are going away from neutrals for exterior paint colors so don't be afraid of using a navy blue with white trim or vice versa.
DETAILS: Are there areas that can use some additional detail? For example, you can beef up support posts by cladding them with Fir or Cedar to bring a natural element in or use a paint grade wood if that is better suited for your style of home.
GARAGE DOORS: Just because they came white doesn't mean they should stay that way. I like to use a exterior paint color a few shades darker or lighter than the body of the house and apply paint with a satin sheen for added interest.
FRONT DOOR: Do not forget the front door! It should be a totally different color than anything else on your house to make it the focal point that invites people in. Benjamin Moore has some fabulous exterior paint colors in their Grand Entrance collection that are worth a look.
Text by Thoma Doehring, Tri-City Paint & Design, www.tricitypaint.ca
As Seen In: 15th Anniversary Special Digital Edition of Canadian Home Trends Magazine
The following two tabs change content below.

A passion for travel provides Thoma with insight into the ever changing trends, crossing cultural boundaries in order to bring global and fresh ideas into clients homes. Thoma's desire to help others create a place to call home shines through in her work. Thoma is an interior designer, specialize in creating inspiration, both in-home or in-store, co-ordinating renovation projects, large or small, project management and design. Thoma also specializes in custom furniture and window treatments to add that final touch to any project.

Latest posts by Thoma Doehring (see all)