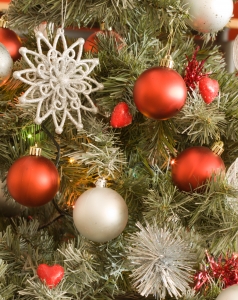 As the days left until Christmas are starting to be announced and we are feeling jealous of the people who already have their Christmas shopping complete, we have to start to think about the house décor. I'm sure many are making an effort to unravel the Christmas lights and unfold the plastic wreath in hopes that it will again be a circle, suitable to hang on the front door. The possibility of Christmas cheer can turn into familial Christmas cursing, but it need not. There is a little process that can help it all end in eggnog and kisses
The first thing — and I can't say this enough — is you have to make some kind of a plan. It can be just a very simple sketch, but it tells you where you are going with the decorations of the exterior. Sometimes it's easy to tell that the exterior Christmas decorations on various houses are the result of the "what's in this box?" mode of planning. Who can remember what is in all of those boxes marked "xmas decorations?" So open them up and figure out exactly what you want to use this year. Bear in mind, though, that the holiday season is about celebration. All of this décor is done for the 'kids from one to ninety two' and the glee on their faces when they see the sparkle of light and colour.
Schemes for using bulbs, ribbons and ornaments, among other things, can adhere to complementary or monochromatic colour schemes, or they can run off in fun, multicoloured Disney themes for the kids. You can use a combination of metallic gold or silver exclusively, or copper, along with the teal blues, soft greens and soft pinks currently in vogue.
Drive down any residential street and you will see the full scope of decoration; no one style is necessarily "correct" as long as you have followed through on your theme and plan. Everyone has a different idea of Christmas décor so there really is no "wrong"
Most houses have some architectural detail that is worth highlighting. This is a perfect area to simply illuminate with a spot light shining up the detail. The same can be said of some of the foliage in the front of the house. God has already done a good job making some of those trees beautiful and a little light can simply enhance that.
If you are daunted by the decorating possibilities, here are some general rules to help you move your plans along:
Lighting should be the first thing addressed. It is the most critical and the least costly decorating tool.

the LED bulbs, are 80 to 90 per cent less consumptive than conventional lights, and they last about 150 per cent longer

. Incandescent bulbs are larger at about 2½ inches long, and the "twinkle" lights smaller at about half an inch. Both of these use more energy and burn hotter.

You can use one colour of light on the house and an alternate colour on the shrubs.

Make sure that you place the lights deep into the foliage of the plants so that you create depth and dimension in your lighting plan.
Scale is important in decorating, but you don't have to light up the whole house. I have been impressed with some very large houses where the only area lit is the entry way. Sometimes lighting the whole property produces the feeling of a police crime scene, not Christmas.

Live greenery is imperative. The look and smell of it cannot be matched with alternatives. In addition to the standard balsam, Fraser and Douglas firs, as well as spruce, cedar and pine, there are previously less-available greens such as magnolia, laurel, boxwood, assorted berry branches, dogwood, lemon leaf stems, pyracanthus and eucalyptus.

Use these garlands on the railings of your home but try to keep them off the hand rails. When it gets cold and slippery (not to mention when there may be increased blood-alcohol levels), you want your guests to be safe navigating stairs.

Fill window boxes with greenery and make sure your front-door wreath is fresh, not just something out of that "xmas decorations" box. As your guests approach the door and ring the bell, it's fantastic to have that unbeatable smell of the real thing.

All of this exterior lighting can be complemented with coloured balls and ribbons so that the house still has flare when the sun is shining. Decorate window boxes with garland and boughs, balls and ribbons.

If you have time to do only a little, then do a little. It is better than doing nothing at all. Make one small vignette the feature. It's a lovely thing to do for the house and for the streetscape.
The following two tabs change content below.

Canadian Home Trends' National Design Editor, Glen Peloso forged into the world of design 20 years ago after completing his Masters degree in Fine Art. As Principal of
Grafus Design Co.
, he has worked in residential, hospitality and commercial spaces for clients in several countries and has successfully designed over 300 projects in that time. TV Celebrity Designer and Canadian Home Trends National Design Contributor, Glen is also recognized as a design expert on The Marilyn Denis Show and from his past work as a host/designer of the internationally popular television shows Foodnetwork/HGTV`s Restaurant Makeover, and W networks 'Take this House and Sell it', and "Slice Network" show, Renovate my Wardrobe.

Latest posts by Glen Peloso (see all)