This is really starting to be an important topic as currently 6 in 10 home sales are condos and they are certainly getting smaller and smaller! How about a few helpful condo design tips to deal with your new "cosy" condo!
Beware when Buying from Plan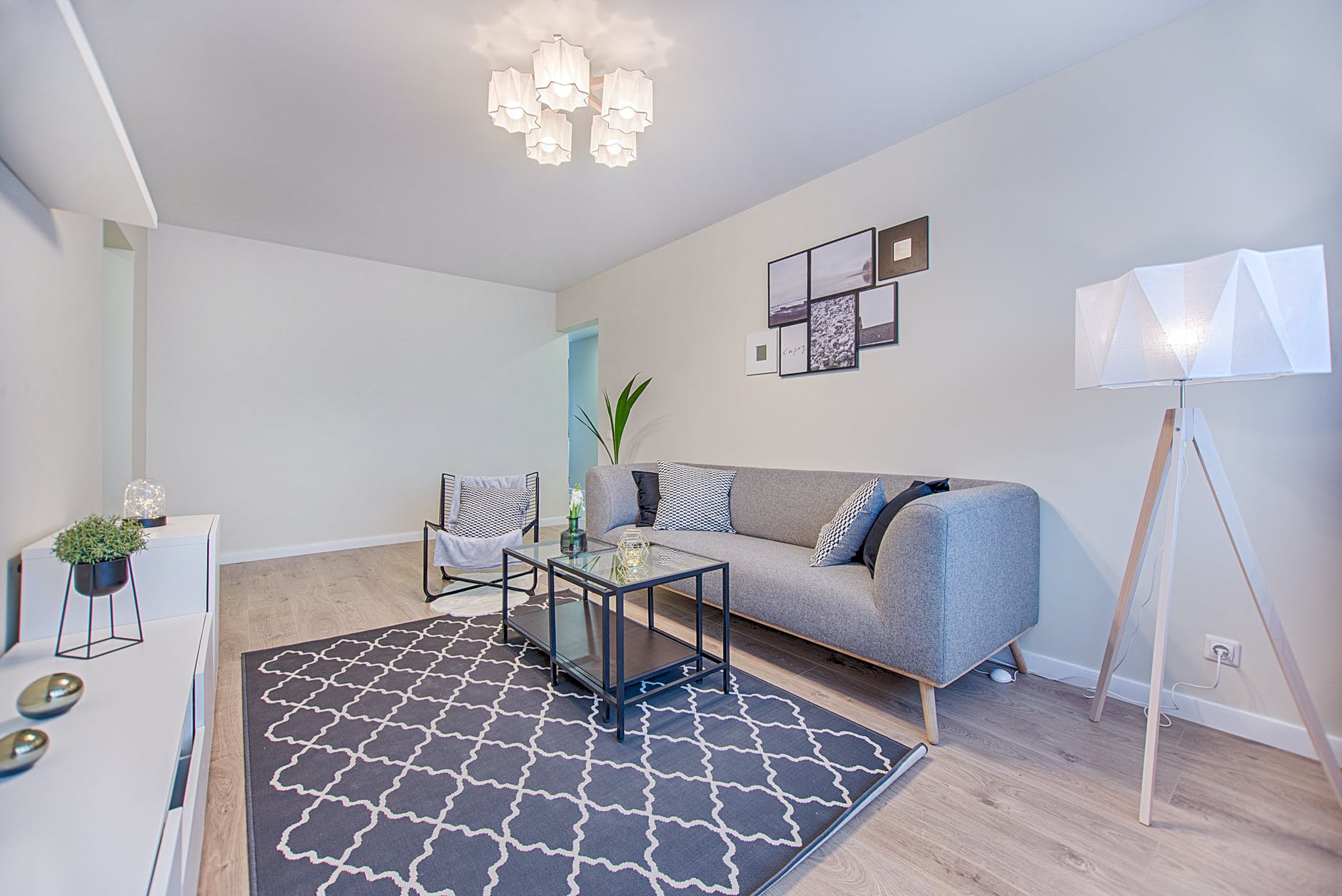 When you look at the floor plan in the brochure, know that regardless of the square footage for YOUR unit, the image of your space will take the whole page. Your 600 sq ft will look the same as the 1200 sq ft space in the brochure. Don't be deceived.
Stop with words like Small and Cramped!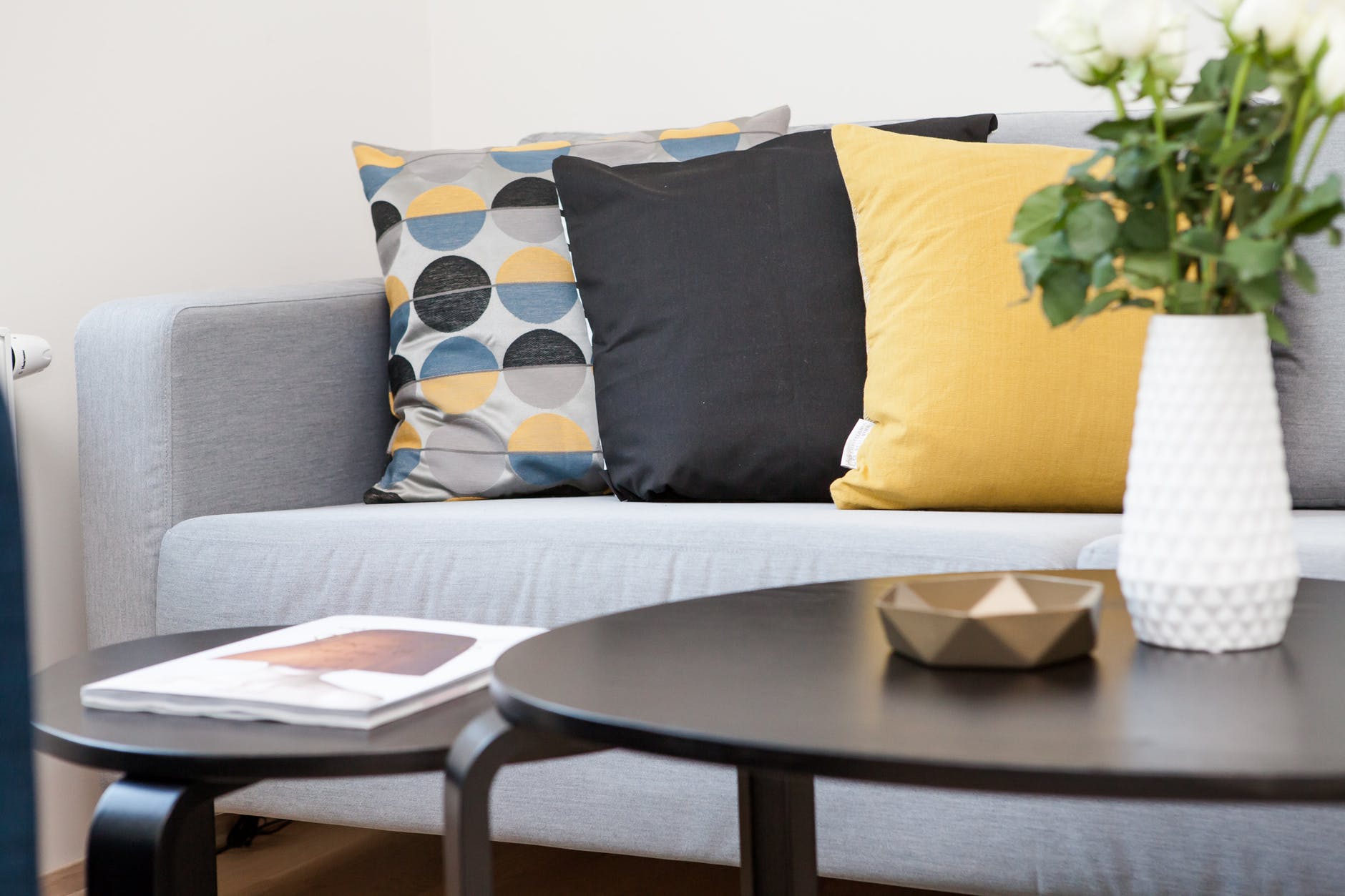 Think "cozy, intimate and charm". It's really just a better mind set to work from and will keep you from hating your new space. You will start looking at things that will work as opposed to looking at things and being disappointed because they won't work.
First thing to tackle is storage.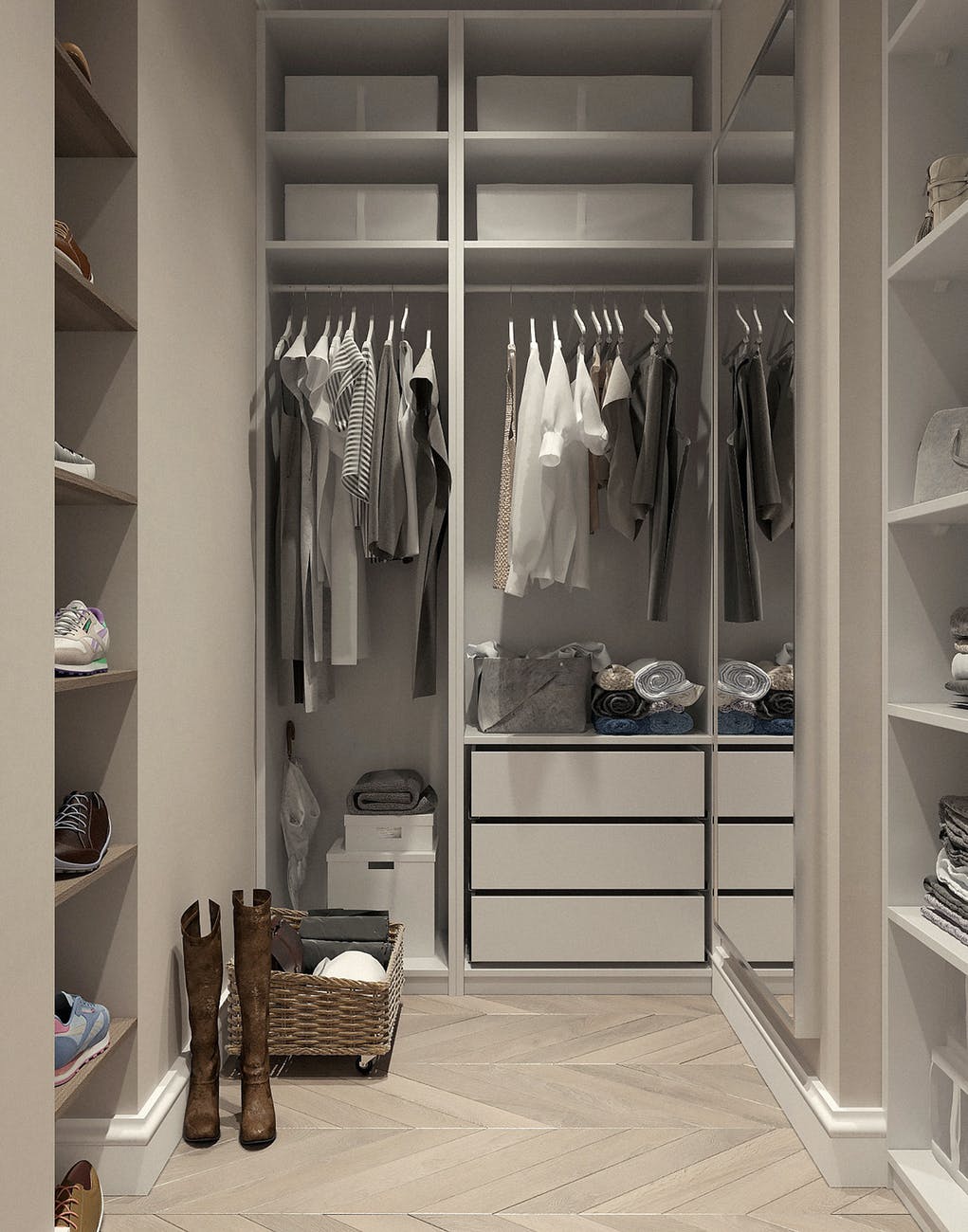 Hire a closet company to create a more functional closet as your 'cozy" space will be lacking storage but there is good space that isn't being well used and can be better used with an organizer.
If your closet has one shelf over the clothes – add a few more and use that space above the shelf for luggage or blankets etc.
The space under the bar is at 82 inches so consider double hanging to double the linear footage for hanging and add a shelf at the bottom for two rows of shoes.
If you have a bulk head over the closet consider taking it out and building in the closet with doors above and below – floor to ceiling access! – it may be more costly but will help when you sell!! It's very much worth it for function as well!
Decide on the function of the room!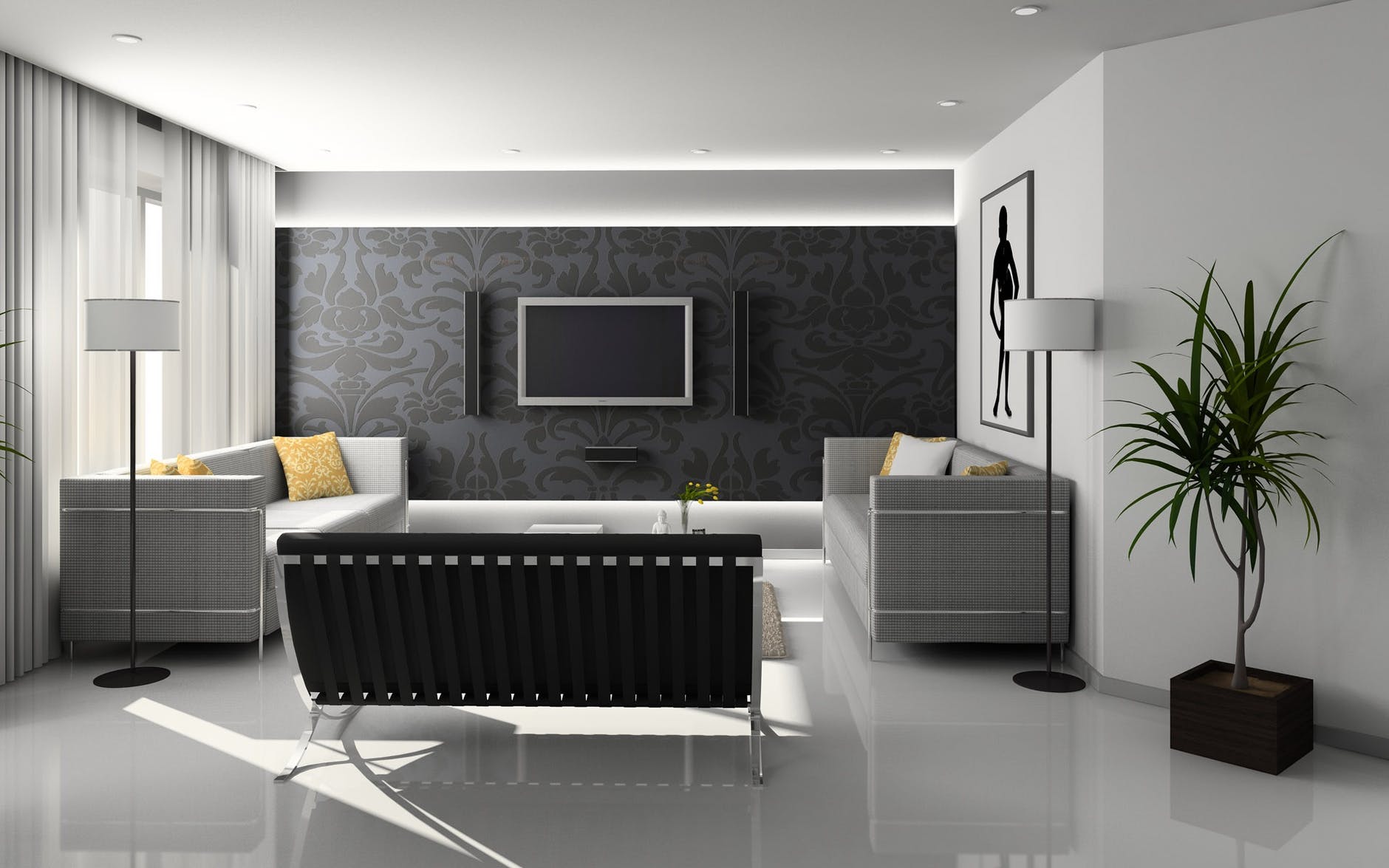 It doesn't matter if it seems unreasonable at first glance! Will this space be used as a living/dining/office/exercise/guest room??
Multi functional pieces of furniture are a must.
Ottoman/storage/ guest bed
Coffee table/ dining table/ desk
Shelving unit/ Murphy bed/ sectional sofa
Floor to ceiling shelving
A 10×10 room is 100 sqft on the floor – a unit 2ft deep and 8'x8' uses 16 sqft of floor space and gives you 128 usable sq ft on the wall!
Select furniture wisely.
Furniture that sits off the floor so you can see under it gives the illusion of more space. Glass and chrome furniture are also a great choice as they have little aesthetic weight in the space. Mirrored pieces (Venetian mirror) reflect surroundings creating the sense of space as well.
Mirrors, in general, open up the space.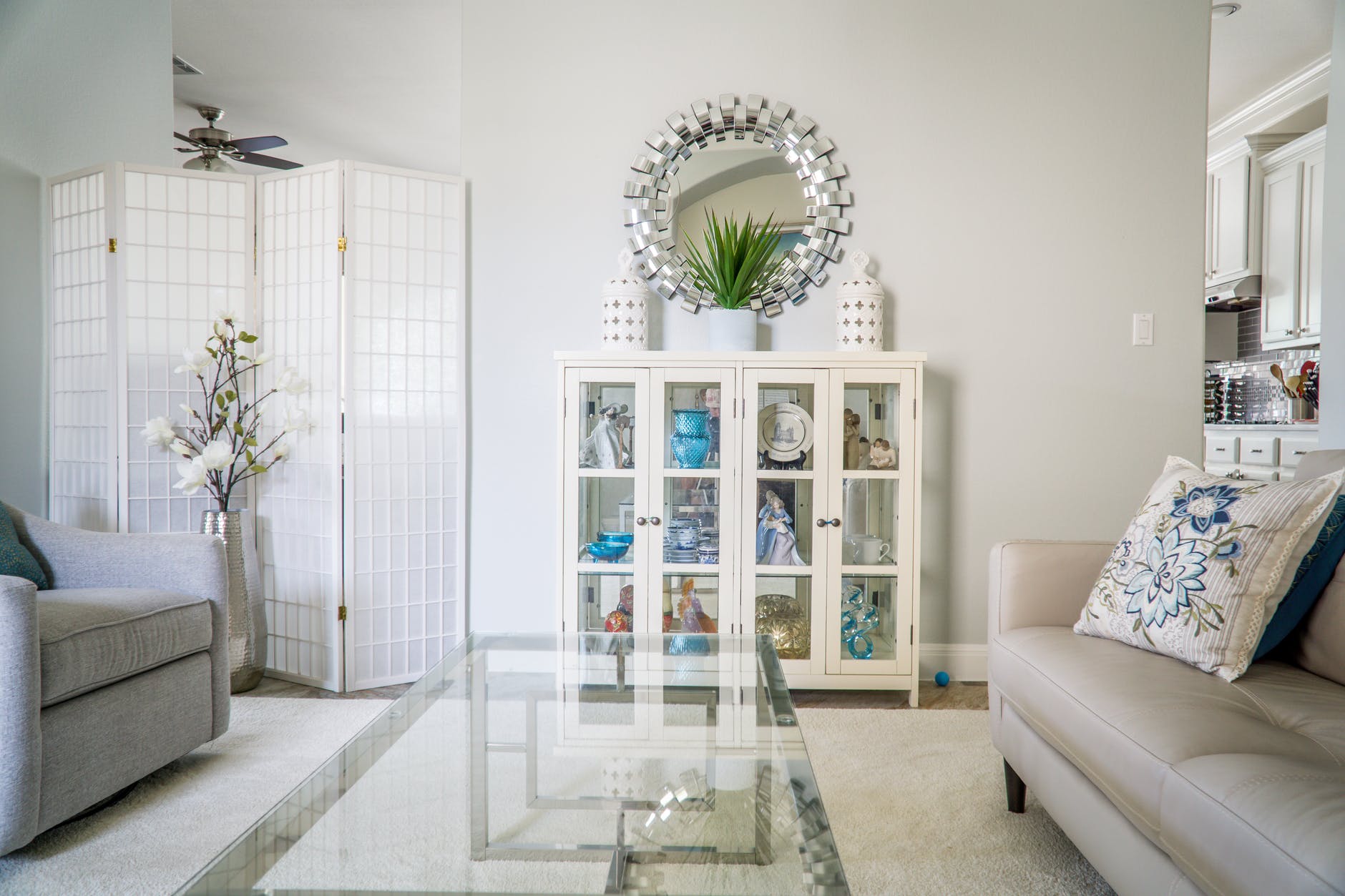 But look to odd shapes -multi level mirrors – series of circles, convex mirrors etc. No one wants to look at themselves while they visit you or eat dinner. Odd shaped mirrors reflect but don't offer a "perfect reflection" so not appropriate for a bathroom but great for a feature wall.
Doors
Remove the doors that aren't necessary – like into the Den, office etc. Consider replacing necessary doors with ones with glass inserts – seeing the light in the next room gives a sense of more space.
Painting
Paint the back of shelving units and recesses in the wall a darker, warmer color to offers depth to the space. Paint the rest of the space a neutral color like light grey, ivory, pale blue which will keep your cozy space feeling "big cozy" as opposed to cramped.
White is a fine color (or lack of color) but often people think it will make the space look larger – really it just makes it look white – good if you are a dental office or art gallery. Use a warm white instead, which will still look white, just not like a dental office!
Click here to see more designer spaces by Glen Peloso.
The following two tabs change content below.

Canadian Home Trends' National Design Editor, Glen Peloso forged into the world of design 20 years ago after completing his Masters degree in Fine Art. As Principal of
Grafus Design Co.
, he has worked in residential, hospitality and commercial spaces for clients in several countries and has successfully designed over 300 projects in that time. TV Celebrity Designer and Canadian Home Trends National Design Contributor, Glen is also recognized as a design expert on The Marilyn Denis Show and from his past work as a host/designer of the internationally popular television shows Foodnetwork/HGTV`s Restaurant Makeover, and W networks 'Take this House and Sell it', and "Slice Network" show, Renovate my Wardrobe.

Latest posts by Glen Peloso (see all)