As Canadians, we don't take our warm weather for granted. We stake claim to every moment of sunshine. In cherishing the landscapes we have, we strive to extend our outdoor happiness as much as possible, creating a sort of second home, within reach of the fridge. Be inspired by what's possible and work with what you have.
Garden Up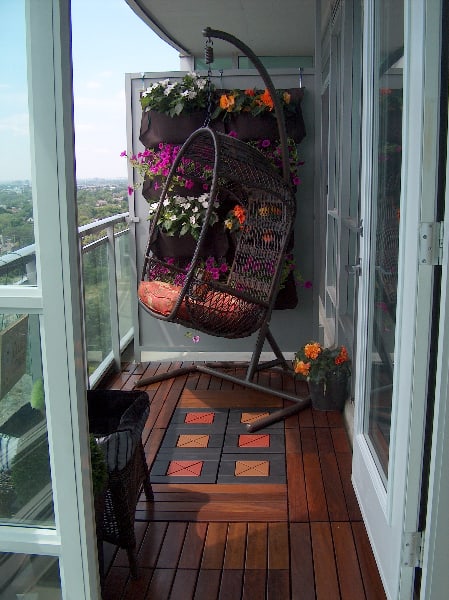 Image 5 of 5
With limited square footage, think about vertical gardening as another surface up for grabs and sometimes, like on a condo balcony, the only one available. Not only does it free up ground space, it's portable, removable and acts as a glorious colourful and textural accent. The containers are lined appropriately to hold soil and some are self-watering with their own irrigation systems. Click together deck tiles are easy to install, add much warmth and feel like the space is more custom versus a predictable outdoor carpet. Flowers, plants and herbs are now at arm's reach.

Photo Source
The following two tabs change content below.
Michelle Cook is the owner and Principal Designer at Indesign. Since 2000, her talented team has produced stunning designs in residential, commercial and hospitality projects in Canada and the US. She gained expertise as a Salon and Spa Designer with Wella Canada before joining the Benjamin Moore Corporate Design Team. Michelle helped create countless home makeovers, photo shoots and set designs and partnered with Benjamin Moore Corporate US to produce colour trend research and forecasting. She was honoured to work on the multi-­‐million dollar renovation of the Wellspring Wellness Centre at Sunnybrook Hospital along with 28 top designers. Michelle has also been featured many times on CityTV's CityLine, Home Day. Her light spirit and confident vision are always on.
Latest posts by Michelle Cook (see all)