A few months ago, we asked readers to send us their design/decor questions and over the next few weeks, we will be bringing you answers to many of those questions! Today, designer Glen Peloso is answering your Small Space design questions!
Check out Part 1: Flooring and Part 2: Kitchens here.
Design Without Wall Space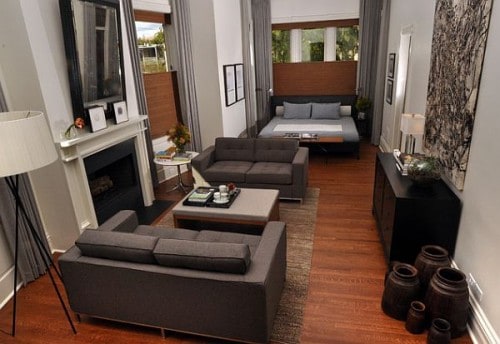 Image 7 of 8
How do I place furniture in a room with little wall space?

Float the furniture in the middle of the room. You don't have to place everything up against the walls if you have smalls walls. Use an area rug to define the space as opposed to the walls. Consider having the fabric at the back of the furniture be upholstered in a different fabric to create more visual interest. If you enter the room and see the back of the sofa first you will want it to be attractive. I have also used a sofa-back table to create interest and to create additional storage for the room. This works particularly well for open concept spaces where the sofa back faces into an adjacent room and you will look at the back of the sofa often.

Photo Source
The following two tabs change content below.

Canadian Home Trends' National Design Editor, Glen Peloso forged into the world of design 20 years ago after completing his Masters degree in Fine Art. As Principal of
Grafus Design Co.
, he has worked in residential, hospitality and commercial spaces for clients in several countries and has successfully designed over 300 projects in that time. TV Celebrity Designer and Canadian Home Trends National Design Contributor, Glen is also recognized as a design expert on The Marilyn Denis Show and from his past work as a host/designer of the internationally popular television shows Foodnetwork/HGTV`s Restaurant Makeover, and W networks 'Take this House and Sell it', and "Slice Network" show, Renovate my Wardrobe.

Latest posts by Glen Peloso (see all)