Storage Solutions for your Entrance. Evelyn Eshun creates a custom solution for a client's small, narrow front entry.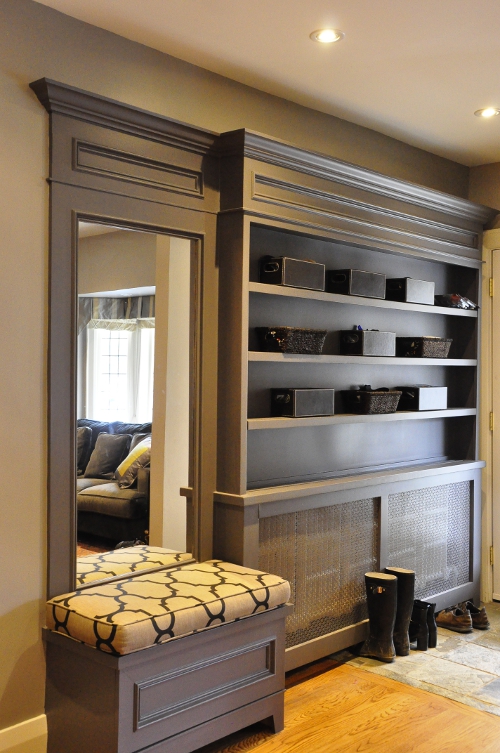 PROBLEM: My client lives in a typical Toronto home which has a narrow entry. With the usual challenge of where to put mitts, mail, and knick knacks, I came up with a creative storage solution for a tight space.
SOLUTION: The solution was to build on the radiator narrow 6" shelves which can house leather or wicker boxes for storing and a bench which opens with a seat cushion and a mirror for checking oneself before leaving the house. I selected a deep gray colour to create drama and of course hide any nicks and dents. A deep colour can be a wonderful thing to put in high-traffic and high-use areas.
We utilized every inch of the space, which now provides much needed storage in an attractive package.
Check out these adorable storage boxes here
Before and After Pictures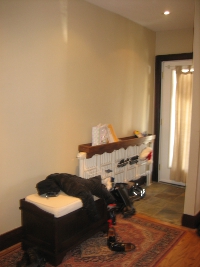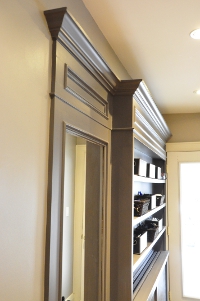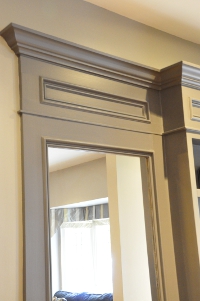 Coming up with extra space for all the necessities is not that hard! For more inspiration on what you can do in your home, click below. Don't forget to also head over to The Marc and Mandy Show for more of Evelyn's beautiful spaces!
Click here to see more great spaces from our contributors at Canadian Home Trends!
The following two tabs change content below.

Evelyn Eshun has been providing creative Interior Design solutions for her Residential Clients in the Toronto area for over a decade. Principal Designer at
Evelyn Eshun Interior Design
, Evelyn has participated in various Television programs over the years in addition to her Design business. With a passion for design and travel, Evelyn has translated her extensive and various experiences into a design philosophy which puts the Client's needs and functional needs first. Always striving for a unique and personalized solution for each Client, Evelyn prides herself on creating interiors which will stand the test of time. Whether transforming an old and tired property into a vibrant home or simply finishing a home with the decorating touches which make a house a home, the goal is always to collaborate with Homeowner, Trades and Suppliers to finish the project successfully.

Latest posts by Evelyn Eshun (see all)