Design around the sofa with Design and Event Editor Evelyn Eshun creates two stunning looks using the same condo size sofa.
Glamour and elegance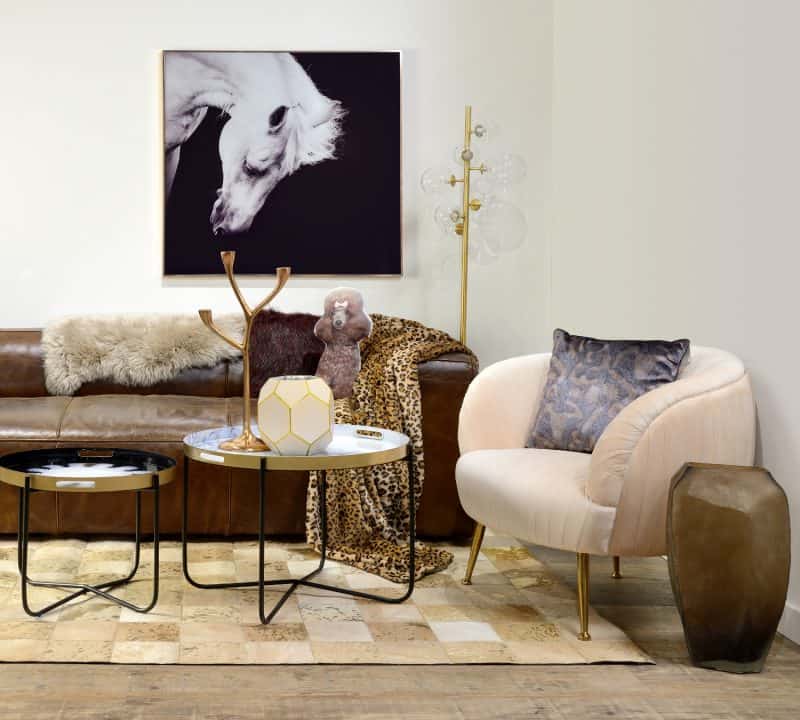 Texture and elegance with a touch of whimsy are key to bringing out the feminine side of this beautiful sofa. Over the sofa, an image of a horse is an elegant choice, full of expressions of beauty and movement. For the area rug, a hide rug works well with the leather sofa but this area rug has flecks of metallic gold adding glamour and elegance. I also chose a classic light fixture with an airy feeling to balance out the heaviness of the sofa. Accessories that are shapely and soft add a feminine touch while a classic leopard print throw adds glamour and elegance. Fun pillows like the poodle pillow are the perfect finish for a whimsical touch.
Bold and Beautiful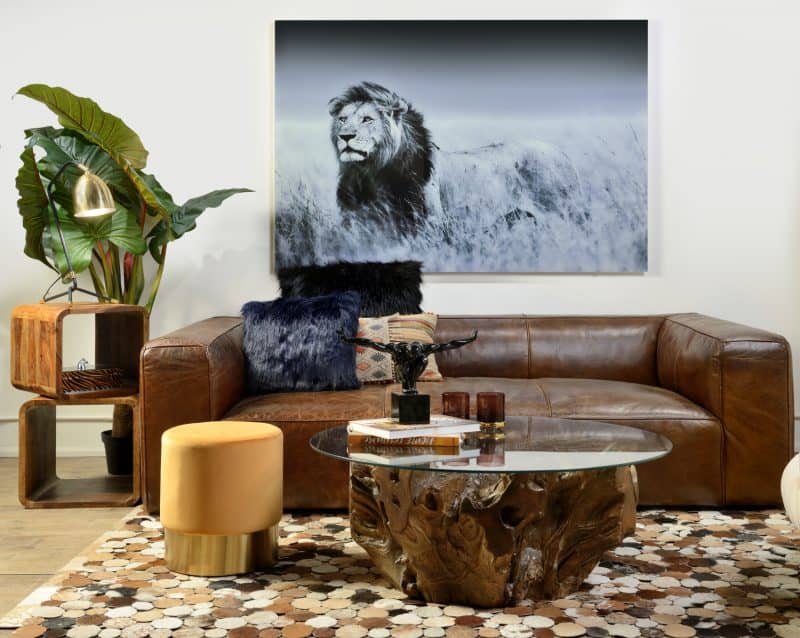 For this look, I embraced the bolder side of the leather sofa. I started with photographic artwork of a lion; a symbol of strength and stability. I also chose a unique area rug. It's a compilation of round hide shapes to add texture and pattern. I then continued this textural look in the throw pillows. The round yellow ottoman added a shot of color and can easily be moved wherever needed. I finished the look with a desk lamp repurposed as a table lamp and a few simple yet bold accessories. Accessories, like the athletic figure, are a great way to express your personality within a space.
All In The Details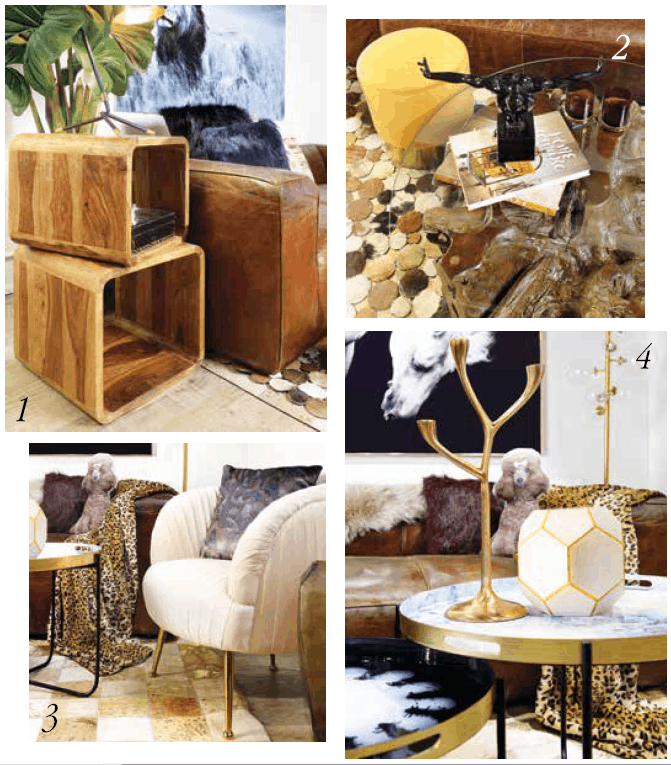 1.Layering open squares on top of each other creates a side table that is sculptural and textural while offering storage space. These flexible pieces can also be moved and used individually as needed. – Cube Square Set,
www.karedesign.ca
2. The base of this cocktail table is an actual piece of wood. Each table is a unique statement piece. With a round, clear glass top, this table allows for the appreciation of the table trunk while being functional. – Roots Coffee Table, www.karedesign.ca
3. A blush pink pleated chair on gorgeous slim metal legs adds a feminine touch to this room with soft and gentle curves. – Perugia Armchair,
www.karedesign.ca
4. A set of trays on a stand work as a flexible set of cocktail tables. This multifunctional furniture is perfect for a small space because they are beautifully detailed and work as an accessory as well as a set of tables. – Mystic Flower Side Table Set, www.karedesign.ca
Vintage Modern Jewel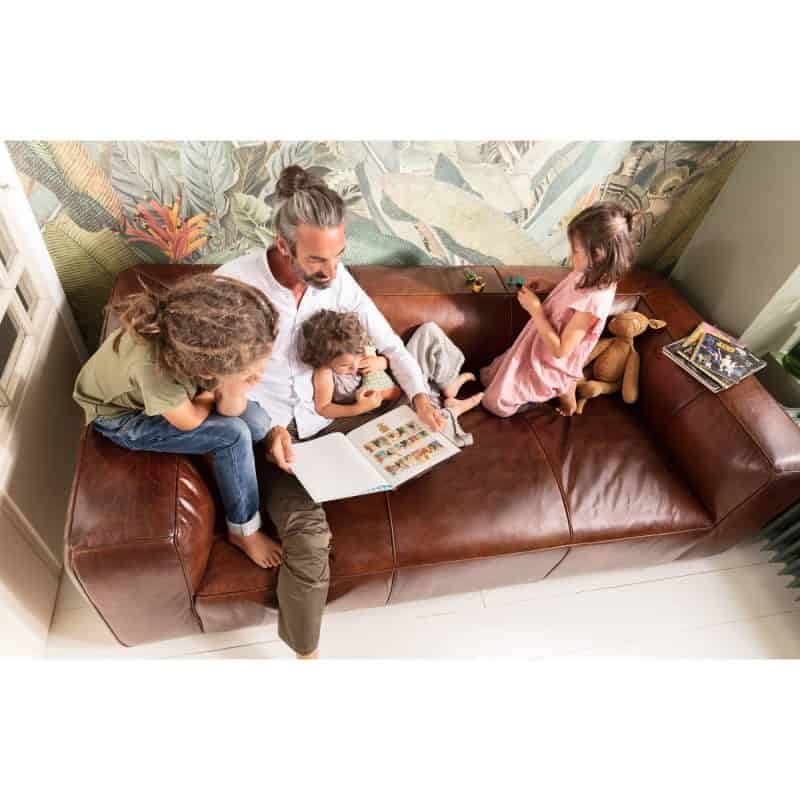 My inspiration for this double take came from this simple, vintage style, soft leather sofa. Typically, this sofa would be added to a room with a bold and masculine look so I embraced the challenge to show this sofa in a softer light as well. The simple style of this sofa works well with a variety of styles which allows for a great deal of flexibility. I used the 2.5 seater version of this sofa which is a great choice for a small space or condo, allowing you that full sofa look without taking up as much space. – Cubetto Sofa, www.karedesign.ca
For more great ideas, click here.
For more unique items for your home, click shopCHT.com.
The following two tabs change content below.

Evelyn Eshun has been providing creative Interior Design solutions for her Residential Clients in the Toronto area for over a decade. Principal Designer at
Evelyn Eshun Interior Design
, Evelyn has participated in various Television programs over the years in addition to her Design business. With a passion for design and travel, Evelyn has translated her extensive and various experiences into a design philosophy which puts the Client's needs and functional needs first. Always striving for a unique and personalized solution for each Client, Evelyn prides herself on creating interiors which will stand the test of time. Whether transforming an old and tired property into a vibrant home or simply finishing a home with the decorating touches which make a house a home, the goal is always to collaborate with Homeowner, Trades and Suppliers to finish the project successfully.

Latest posts by Evelyn Eshun (see all)