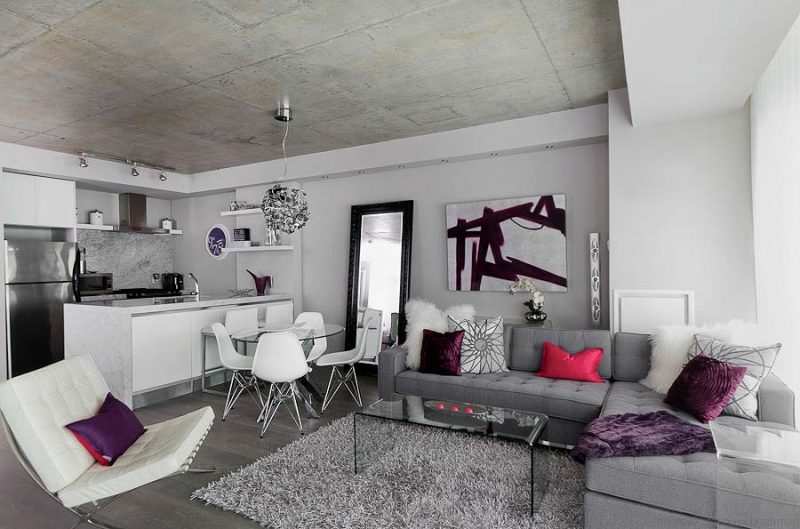 Though renovating either a house or condo unit can produce similar looking results, the process for making changes can be extremely different. It's imperative to research your options before undertaking a condo project of this scope.
CONDO RULES First things first, look into the existing policies of your condo board. Not all boards legislate cosmetic decisions or material selections. In reality, what usually concerns them most are your neighbors. There will likely be policies that determine the days and times that renovations can take place. They will want to weigh in on the materials that are brought into the building and through which elevators. It is also likely that they'll want to ensure that you are working with a certified tradesman for the safety of everyone involved.
WHOSE HOUSE IT IS ANYWAYS? Once you have determined the rules enforced by the condo board, it's time to turn your attention to the end result. Who are you designing the space for? It is important to consider whether you are making changes to add to the resale or rental value, or if personal enjoyment of your home is paramount. Typically, a renovation will lean towards one more than the other. As there will be a different approach depending on your answer, it's vital to be honest about which motivation is your priority.
THREESOME If you happen to own a home with a strict condo association, then hiring a professional designer or tradesperson is a must. In order to obtain the right city building permits to satisfy your condo/strata board, detailed drawings are usually required. Going beyond the essential contractor duties, a professional will also help coordinate the countless deliveries that are all part of a major reno. By streamlining the arrival of furniture and materials, fewer individual trips are necessary which leads to less disturbance overall.
COMMON DENOMINATOR Despite all of your careful planning and research, you may still find yourself coming to terms with obstacles that result from restrictions imposed by the board. Some changes may be more difficult or even impossible to accomplish if they include areas that are considered to be owned by the condo rather than the tenant. Therefore, alterations proposed to supporting walls, hallways, or balconies are usually not within the jurisdiction of the homeowner. As a rule, condo boards don't want anything to inhibit their ability to sell the property in the future, or to limit the potential buyers of surrounding units. Make sure to discuss the details with your property manager ahead of time so that common areas are avoided.
FLEXIBLE LIKE A YOGI A home renovation is always a challenging experience but in order to maintain your own peace of mind, it's key to remember that things will change and if you don't bend with the changes, you will break. Try to stay open to elements that will be adjusted throughout the process even if you think you've already made final decisions about every single aspect of the renovation. Be open to the ways in which things may be incorporated differently than you expected. Sometimes staying flexible about what you're willing to accept, trade off, or let go of, means that you end up with a better idea than when you started.
STAY THE NIGHT If at all possible, renovating a condo while you don't live in the space. It is next to impossible to remain on the premises when work is being done. Ideally, you are able to renovate your condo after purchasing it but before you have moved in. Staying in a temporary residence, Airbnb, or even hotel can help take the pressure off your living situation during the most intense part of the construction. It can also lengthen the hours available to have work completed in your place if you don't need to use the bathroom or kitchen at all. Check-in with your condo association as there may be a guest suite that you can stay in for the duration of the renovation.
For more great ideas, click here.
For more unique items for your home, click shopCHT.com.
The following two tabs change content below.

Kim Bartley, Principal of Kim Bartley Design, brings 25 years of business ownership and management to the table. Kim's keen eye for design lends her rooms an edgy sophistication while remaining current and functional. Her philosophy is that your home should make you happy and reflect your lifestyle and changing needs. Focusing on unparalleled client care, Kim aims to make the design experience positive and enjoyable at each phase of the project. She works collaboratively with her clients to develop spaces that are clean and modern but still warm and approachable. Kim believes that everyone deserves to live in a beautifully designed space and focuses on truly "getting" her clients.

Latest posts by Kim Bartley (see all)