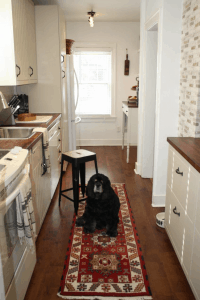 This is likely not the first time you've heard that a touch of black in a room is a design "do." Black will help ground a space, draw the eye to an important element, create some drama and, conversely, keep things super rustic and casual.
I often joke that a lot of my design inspiration comes from the color combinations I see in my Cocker Spaniel, Murphy! But seriously, give me black with gorgeous shades of grey and camel with a hint of buff and I can whip up one fantastic room…all thanks to Murph!
But outside of adding a black puppy to every room in your home, there are many ways to introduce black throughout your space; sure to pack a punch, revive and refresh and not break the bank.
1. Sheepskin rugs – My latest favorite accessory! While I seem to love the idea of layering up these fuzzy rugs in any color, in any space, black sheepskin is a sure thing when it comes to adding the all important black element in your space. Throw one over the back of a sofa or armchair, toss them on a wood floor in an entry way or to warm a chilly tile floor in the bath. Even draped over a few dining chairs, a black sheepskin really adds an unexpected textural element while achieving that touch of noir every room needs!
2. Chalkboard walls – I love anything that's hard-working, pretty and practical in a space. For me, the chalkboard wall earns points in all of these areas. A chalkboard wall is doing double duty, serving as a very strong hit of black, obviously, but it can also work as wall art for the room. That's the hard-working and pretty part. The points for practical come when the chalkboard is actually used for lists, messages or an easy spot to jot down the family's favorite pizza take-out number! Home Lover Tip: trim out a chalkboard wall to define it and complete it…unless it's a stand-alone wall that you've decided to chalk up in its entirety, end to end, top to bottom.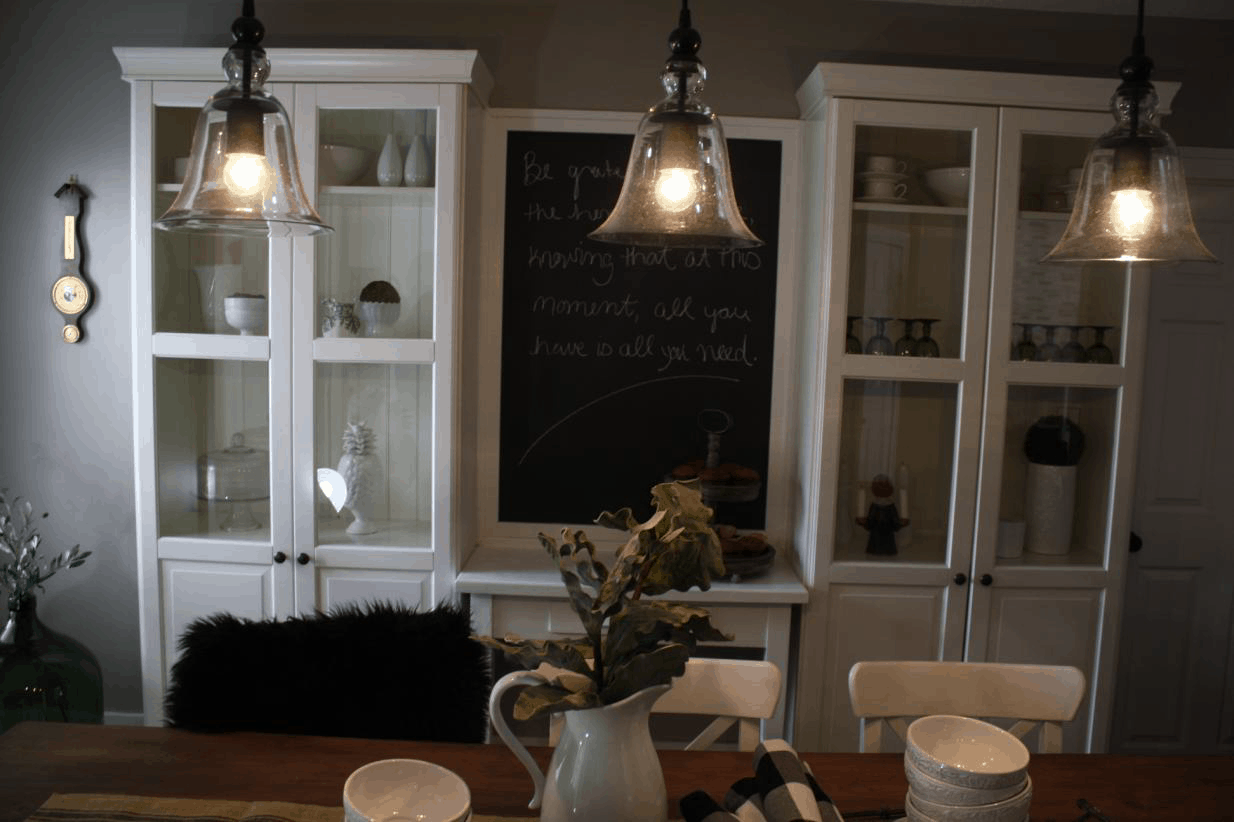 3. Wrought Iron Accents – Wrought iron or even oil-rubbed bronze lighting, cabinet and door hardware or home decor pieces like urns or candle sticks are impactful and commanding, not to mention versatile, being refined and elegant or playing up a more casual, rustic vibe. Adding a touch of black via your fixtures and lighting is totally possible for more modest makeover budgets too. Re-purposing and reinventing dated fixtures, knobs, lamps and decor items is a snap with a trusty can of an oil-rubbed
bronze can of spray paint from your local hardware store! My best recommend for color and finish is Rust-Oleum's Universal Metallic Paint & Primer In One…the color is actually called Oil Rubbed Bronze and it works like a charm!
4. Black Picture Frames and Wall Art – I love, love, love the contrast of black frames popping off lighter toned walls! Whether it's one large, dramatic frame or a collection of relatable smaller frames, ceiling height sore and the black defines not only the art inside the frame, but adds a punctuation to the room, creating a great focal point. Home Lover Tip: the wall art isn't restricted to just black picture frames…think outside the box (or frame) a bit and get creative…how about some folding chairs up on the wall in your dining room? Remember, practical and pretty!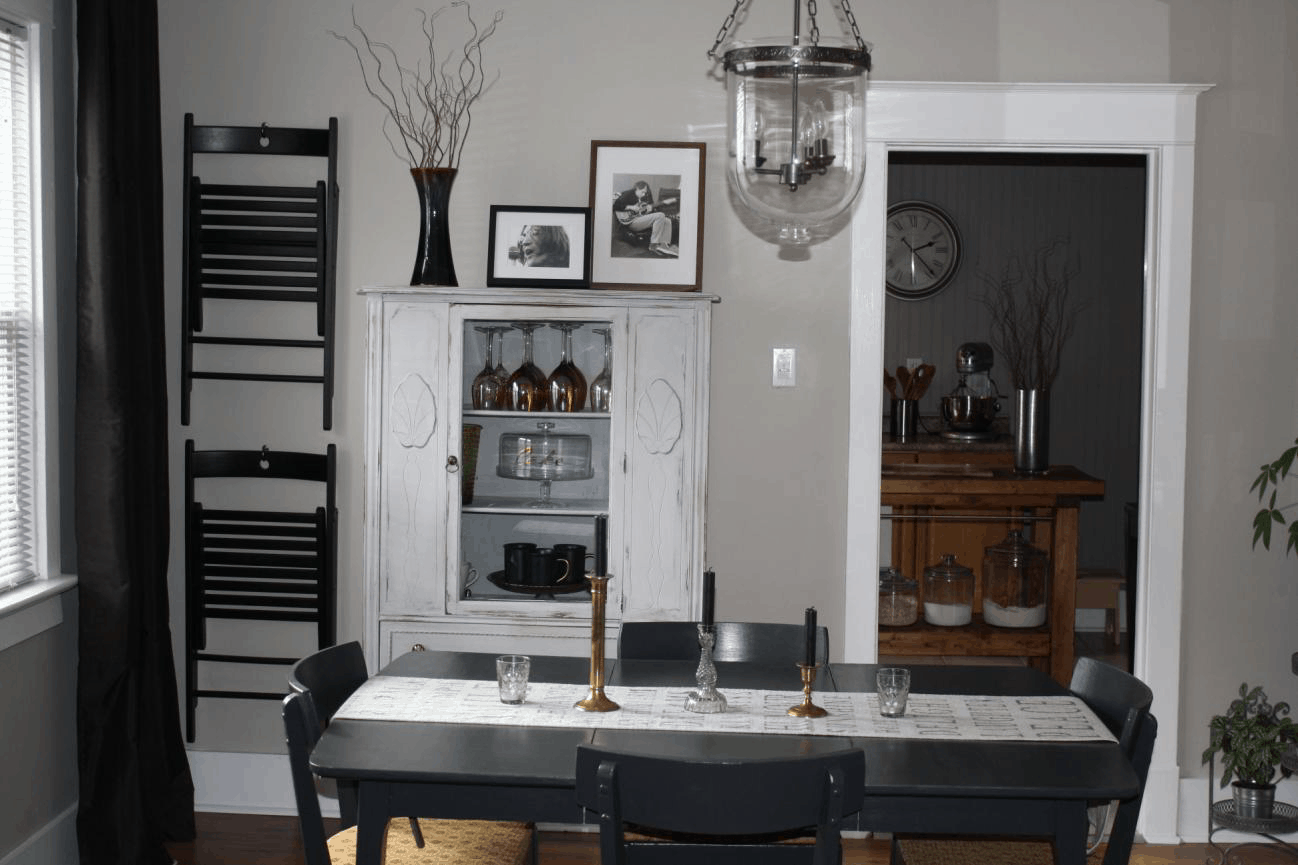 5. Black Window Trim and Baseboards – White trim throughout the home has been a design mainstay forever. Almost so much so, that it's a foregone conclusion for most. I am here to say, if the house suits, take your trim to the dark side! The house will dictate whether or not you are able to do this successfully. Are the windows worthy of being defined with boldly black painted trim? If the answer is no, perhaps you take this idea to the stairwell instead. A black handrail with black risers anyone? Either way, painting your trim out black is affordable, but you have to be committed. I would not suggest doing this unless you have the stamina to see it through across the entire home. That's just me though, in this case, I'm into consistency and flow. If you're ready for black trim, call me. I've been dreaming of creating this kind of transformation for a while now!
The following two tabs change content below.

Amaryllis Homes is owned and operated by Niagara native, Mary Gordon. Mary is a Interior Stylist and Professional Certified Home Stager (since 2015), with a 25+ year career history in sales and marketing, specializing in the fashion industry. Mary's love for fashion; now translated into interiors; has revealed a talent for turning houses into homes with maximum impact. Plus, her ability to build value on a minimum budget has made her the go-to stylist for homeowners with projects both big and small. And, when it comes to staging your home for sale, Mary's marketing savvy, coupled with her ability to reinvent spaces that appeal to target buyers, ensures top dollar on the biggest sale of a home owner's life! Working with home owners and real estate professionals alike, Amaryllis Homes wants to be your partner in creating new beginnings that start at home. Love where you live.

Latest posts by Mary Gordon (see all)