I've been doing a lot of interior design talk for a while now. I want to switch gears, change hats if you will, and chat a bit about real estate home staging. You may or may not know this about me, but I am both an interior stylist and real estate stager. Some may think these skills sets go hand-in-hand, and there is some truth to that. Some truth. Having been educated and working in both fields, I can tell you the role and skill set of a home stager is quite different than the role and skill set needed to style an interior for day-to-day living. By popular opinion, home staging is thought to be a lighter or fluffier, unnecessary or frivolous means to an end. But, is that really all there is to it?
As a home stager, it's safe to say, I love going to open houses. Call it research. Well, it just so happened that a home on my street was holding an open house recently and I stopped by. I had previewed the pictures on the MLS listing and it appeared my neighbor was in good hands with his/her realtor. The photography was good, the copy was descriptive and painted a picture in your mind of what the home had to offer. It even looked as though the home had been professionally staged. (I should add… I don't actually know this neighbor, so I wasn't being that noisy neighbor that crashes open houses… It really was professional driven research!)
When I walked into the house with my stager's hat on, looking through the eyes of a CSP, I could tell immediately that the styling was not the work of a professional. Don't get me wrong, the space looked good. It was spotless and ready for presentation. Even updated with some modern and fresh styling choices. But just inside the doorway, I could spot at least 5 staging errors before the tour even started. These errors won't stop the compliments that potential home buyers will offer as they tour the property. In fact, most realtors would think they were working with a talented home owner; a dream client who understands the importance of first impressions and all. But if you listen closely to the comments mixed in with the compliments, there were definite objections being revealed. "Oh, there's no real entry way…where do we put our shoes?," "Is this the only living space…it's small," and "I wouldn't do purple accents in here." Slowly, but surely the potential buyers were talking themselves out of what really was a great little home. All of these objections, whether verbalized or not, are running through the minds of home buyers and can make the difference in selling fast and/or getting the best possible value for your home. The home sold, but it did sit longer than a few other comparable professionally staged properties. Of course it would sell, but I can't help but wonder, how much money did they leave on the oversized kitchen table just because they thought they had a knack for decorating?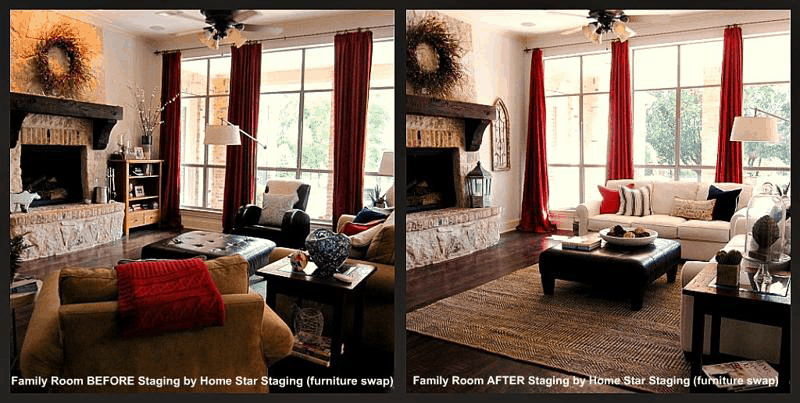 Can you see it? The BEFORE pic looks pretty darn good, right? But, it's what you can't see in the AFTER picture that's working on the emotional and subconscious thoughts of your potential home buyer.
A professional home stager does tap into design and decor, but more often than not, staging contradicts the "rules of interior design." A good home stager is more tapped into buying behaviors and has a great marketing mind. I realize how easy it looks on all the home shows on HGTV. Re-arrange the furniture, slap on a fresh coat of paint, add pillows, pillows, and more pillows and you're ready for multiple offers! It makes sense though when you think about it. Professionals always make what they do seem easy to others. Just like a great actor or Olympic athlete, an amazing chef…or whatever the profession, there's a lot of training, research and experience that goes into being great at what you do. The same is true of the skills that professional stagers possess.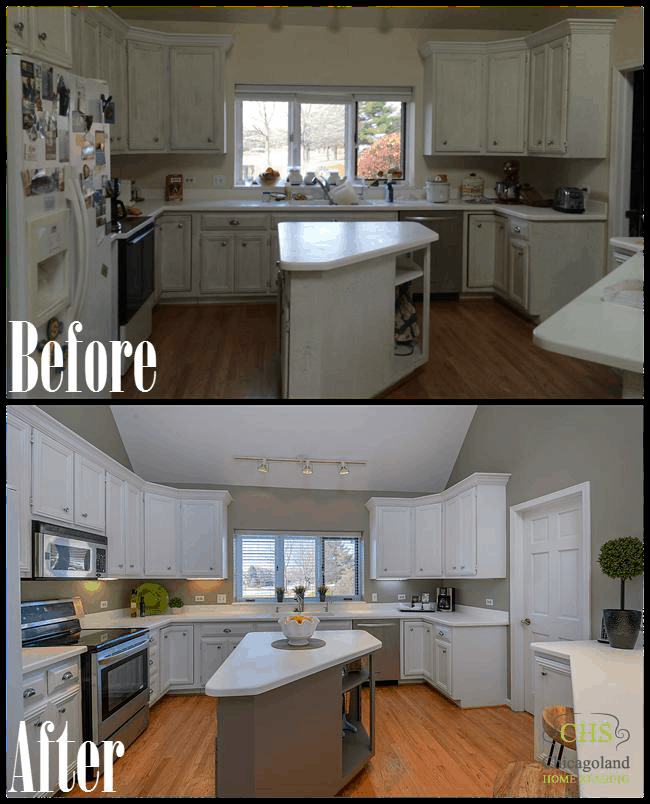 A lot of people shy away from staging professionally because they think it's going to be a huge investment and result in a minor or even major renovation. That's not always the case. Again, through the untrained eye, the BEFORE kitchen seems good to go. In the AFTER image, no major reno at all, but there are several intentional choices designed to trigger positive buying signals and bring out the best that existing kitchen has to offer.
So, if you have an HGTV lovin' friend, or your sister-in-law loves to decorate, remember that they really don't have what it takes to stage your most valuable asset. If you're looking to sell your home before the snow flies, you need a pro stager!
The following two tabs change content below.

Amaryllis Homes is owned and operated by Niagara native, Mary Gordon. Mary is a Interior Stylist and Professional Certified Home Stager (since 2015), with a 25+ year career history in sales and marketing, specializing in the fashion industry. Mary's love for fashion; now translated into interiors; has revealed a talent for turning houses into homes with maximum impact. Plus, her ability to build value on a minimum budget has made her the go-to stylist for homeowners with projects both big and small. And, when it comes to staging your home for sale, Mary's marketing savvy, coupled with her ability to reinvent spaces that appeal to target buyers, ensures top dollar on the biggest sale of a home owner's life! Working with home owners and real estate professionals alike, Amaryllis Homes wants to be your partner in creating new beginnings that start at home. Love where you live.

Latest posts by Mary Gordon (see all)