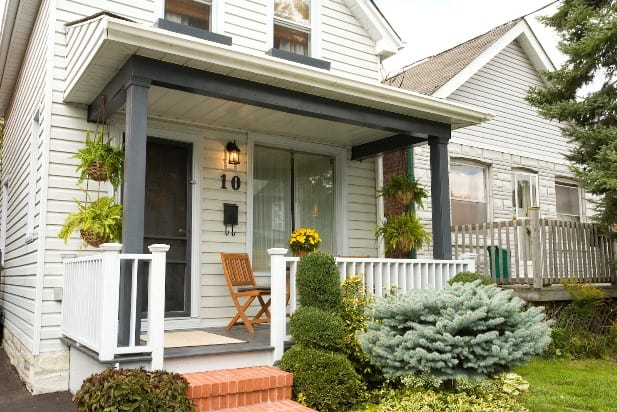 How to Stage Your Home's Exterior – This exterior stage was all about the porch. Who doesn't love a front porch? The 'before' porch left a lot to be desired, so part of getting this home ready for sale was rebuilding the porch, getting rid of the old rickety wooden steps (the brick steps were just the right touch) and painting it pretty! The siding color on this house was quite wishy-washy. Was it light grey? Was it white, but just dirty? Maybe it's light blue? It was so hard to tell that the color chosen for the front door, porch post accent and window boxes had to work really hard to generate the curb appeal this house needed and bring out the best in the existing siding. The siding really inspired the whole color story here. Fortunately, the gardens were well kept and mature, so we didn't have to do any landscaping this time around unless you count the double-hung ferns…love! Punchy new house numbers, porch light, mailbox and a teak café table and chairs (that just say "hang out here for a while") were the finishing touches.
How to Stage Your Home's Exterior – Staging Tips
– Always splurge on a punchy new color for the front door. – Out-do the neighbors without out-doing the neighborhood – you can go too far and turn potential buyers off. There's a fine line between showing well from the curb and alienating buyers shopping in your particular neighborhood. – Aside from the door color, always bring attention to the entry. Use pots or planters to flank each side. Place a textural mat at the door. It's important to lead a potential buyer's eye right through that front door! – It would seem to go without saying, but whip the landscaping into shape! Make sure the grass is healthy, shrubs and trees are trimmed and pruned and the garden beds are weeded…oh, and top up the mulch! For more great ideas,
click here.
For more unique items for your home,
click shopCHT.com
The following two tabs change content below.

Amaryllis Homes is owned and operated by Niagara native, Mary Gordon. Mary is a Interior Stylist and Professional Certified Home Stager (since 2015), with a 25+ year career history in sales and marketing, specializing in the fashion industry. Mary's love for fashion; now translated into interiors; has revealed a talent for turning houses into homes with maximum impact. Plus, her ability to build value on a minimum budget has made her the go-to stylist for homeowners with projects both big and small. And, when it comes to staging your home for sale, Mary's marketing savvy, coupled with her ability to reinvent spaces that appeal to target buyers, ensures top dollar on the biggest sale of a home owner's life! Working with home owners and real estate professionals alike, Amaryllis Homes wants to be your partner in creating new beginnings that start at home. Love where you live.

Latest posts by Mary Gordon (see all)