Marc Atiyolil shares five simple steps to make-over your bathroom.
Window Treatments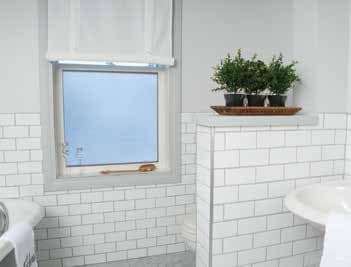 Image 2 of 5
I don't understand why people put sheers in their bathroom. You may as well have a web cam filming while you are doing your business, as the neighbours are getting a play-by-play anyway. A simple cotton panel, such as this one from IKEA, is private and aesthetically pleasing.

Style and edit till you get it right! Have fun with your bathroom project. Buy a few things, try them out and if they don't work, exchange them. There is no shame in trying a few looks.
As Seen In our Spring 2013 Issue
Photography by Brad McCann
The following two tabs change content below.

Marc Atiyolil is the editor-in-chief of the home décor publication, Home Trends Magazine. His charismatic, down to earth approach can be seen first hand as the co-host of the Marc & Mandy Show airing on networks across North America. His mantra, "Be bold, be different, be unique – Yet keep it simple" is reflected in all of his work. Marc is an avid promoter of breaking down the myths of design and offering simple alternatives to complicated design processes.

Latest posts by Marc Atiyolil (see all)