It's 5am and my third day at High Point is beginning. I am excited for another full day of inspiration and learning and my feet are still intact with energy.
Yesterday I went to a number of exclusive showrooms to view upcoming and current furniture and accessory introductions for 2015. My first impression; Glamour and Sophistication are back in full force. The upswing in the economy has surged the trend toward a more luxe and decadent look in design and décor.
The influence of TV shows like Mad Men has brought to  a new appreciation for the Mid-Century Modern style which is as sleek as it is glamorous.
At Century Furniture, Bernhardt and Lecington –  some of the largest manufacturer's of upper-end residential furniture – I saw furnishings with details such as quilted leather and studded edges combined with highly polished wood surfaces.
Finishes that mimicked snakeskin, ostrich-like textures and fabric are applied on tables and desks, creating added texture and visual interest.
High gloss lacquers, clear acrylic and mirrors are used together, bringing lightness and a reflective quality to furnishings.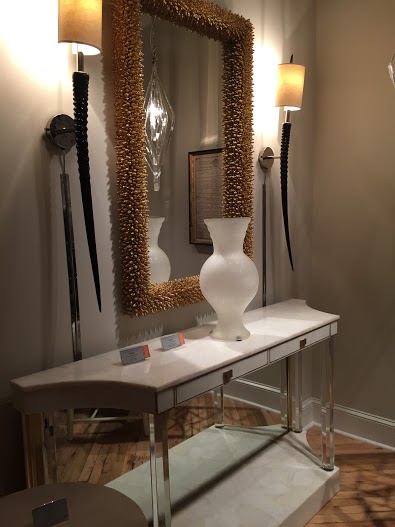 Good old brass in all sheen levels is abundantly used in conjunction with wood and glass while rose gold and copper are sneaking in as a new trend.
Two toned colour and textures are shown to create contrast that adds a graphic element to the furnishings.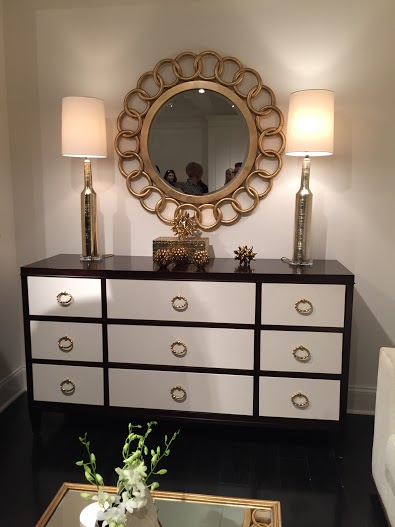 Today, I am off for another day of inspiration and learning, I will report back soon…
The following two tabs change content below.

Evelyn Eshun has been providing creative Interior Design solutions for her Residential Clients in the Toronto area for over a decade. Principal Designer at
Evelyn Eshun Interior Design
, Evelyn has participated in various Television programs over the years in addition to her Design business. With a passion for design and travel, Evelyn has translated her extensive and various experiences into a design philosophy which puts the Client's needs and functional needs first. Always striving for a unique and personalized solution for each Client, Evelyn prides herself on creating interiors which will stand the test of time. Whether transforming an old and tired property into a vibrant home or simply finishing a home with the decorating touches which make a house a home, the goal is always to collaborate with Homeowner, Trades and Suppliers to finish the project successfully.

Latest posts by Evelyn Eshun (see all)