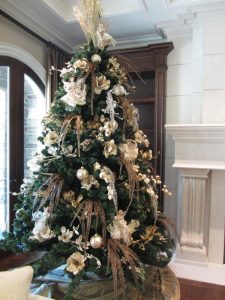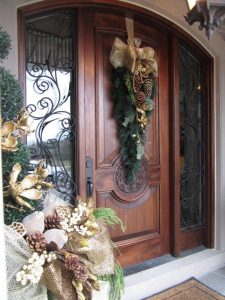 The holidays are around the corner and that means that everyone is thinking of decorations for the home both inside and out. I recently put together this indoor / outdoor Christmas décor for a wonderful client. I wanted to make certain that the outdoor decorative urns that flank her front entrance would closely resemble the Christmas tree in her family room.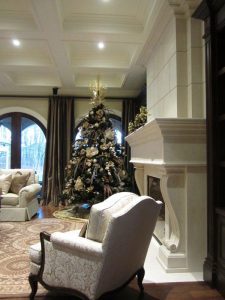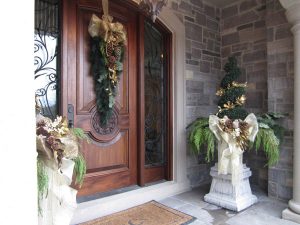 I achieved this by purchasing additional decorative ornaments and carrying the same theme and colour palette from the front entrance to the indoor Christmas tree. The urns at the front door are filled with faux topiaries that resemble a boxwood plant. I paired this with live greenery that is placed into soil at the base of the planter. I have secured the decorative ornaments in place by attaching wire to the ornament and then to the boxwood tree frame. It is important that you use weather tolerant décor on the outside….ribbon for example with fine metal wire will stand up to a mild snow fall.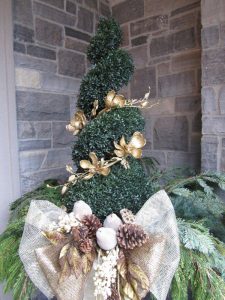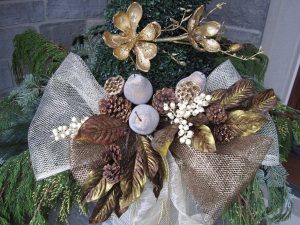 TIP: Always keep in mind that the impression you create at the door should continue as your guests enter the house. This Gold and Cream Christmas décor theme worked well for this client and she adored the decorative stockings over the mantle for her three lovely girls…more of a conversation piece than anything else. This festive look is balanced and complements the existing colour palette of the home.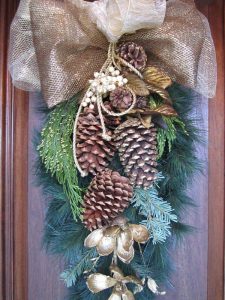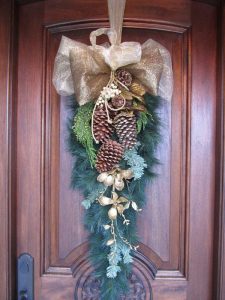 Something that I love to do:
If you have silver and grey tones as part of your colour palette then keep your décor "silver and gray" It will look fantastic with accents of polished chrome and glass.
Enjoy the holidays!!!!!!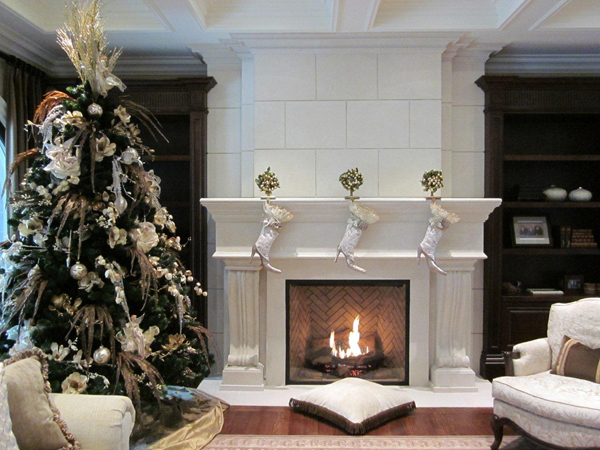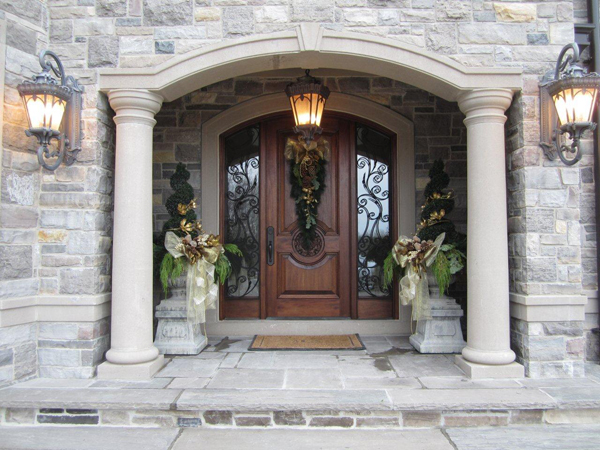 The following two tabs change content below.

Heather Segreti, Principal at
Segreti Design
is an accomplished designer for over 22 years. Heather is both highly credentialed and innately creative. She is a certified designer with memberships provincially and nationally.

Latest posts by Heather Segreti (see all)