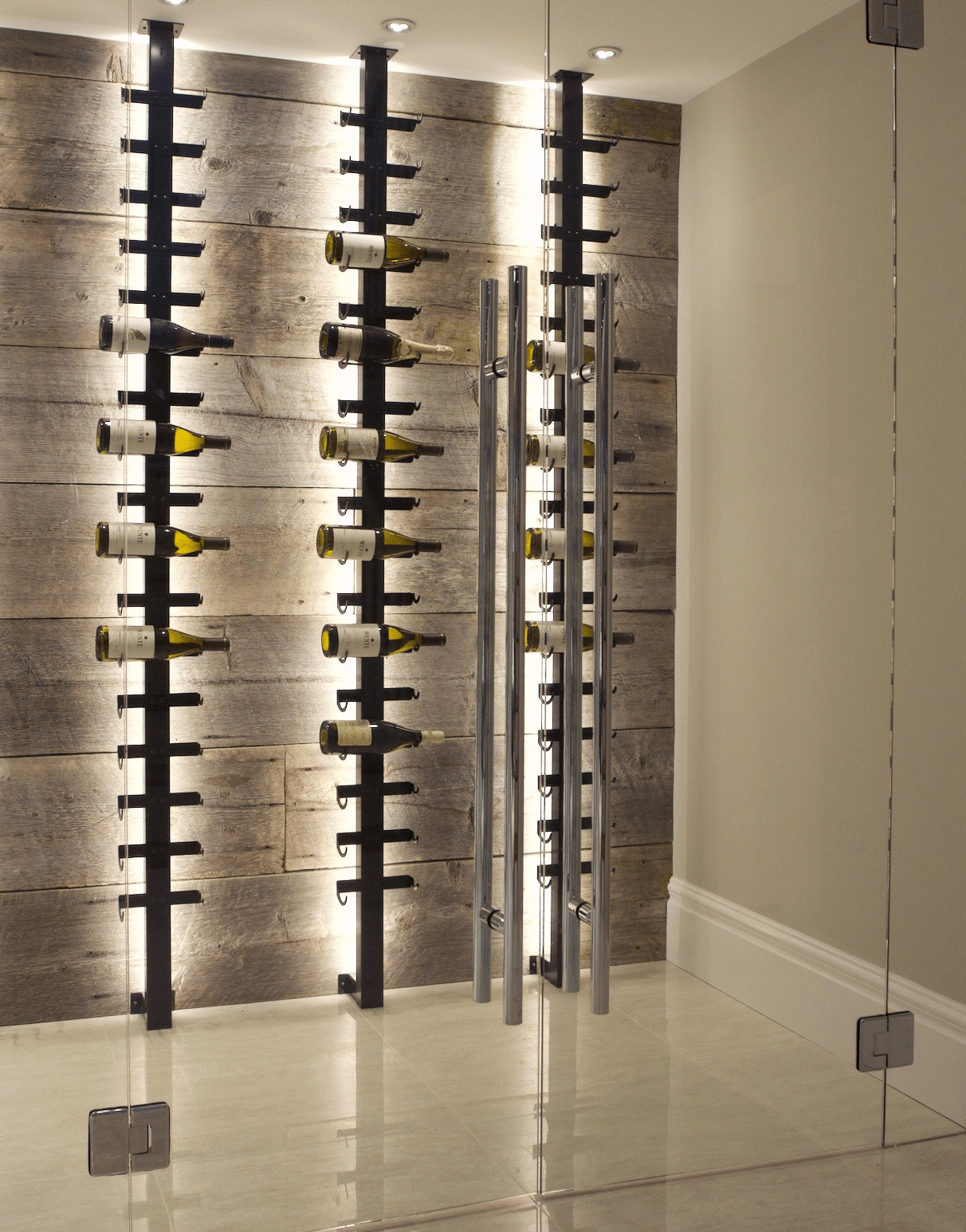 Photo Source: Full House Renovations
How to install a Wine Cellar CAN BE A PRACTICAL AND EXCITING ADDITION TO YOUR LIFE.
QUE SHIRAZ
With the recent explosion of trends in entertainment, the enjoyment of wine has necessitated the evolution of stylish wine cellar options. Don't be intimidated by price or size requirements as collections of 150-250 bottles can be housed in as little as 40 square feet. Innovative designs have cellars installed in the floor of your kitchen or tucked away in the corner of a dining room. Even custom built designs can be reasonably priced depending on the materials that you choose to include.
VINTAGES
The location of your wine cellar is one of the most important decisions you will make. Easy accessibility is ideal if there is the freedom to carry out structural alterations or build it from scratch so that the cellar resides in walking distance from the living or dining room. However, sometimes your space has limitations that make understanding the fundamentals of building a wine cellar key. When properly created, a good wine cellar will perform its essential tasks consistently and efficiently so it's vital that you have an expert design team in place.
SOMMELIER STYLE
With its practical purpose in mind, a wine cellar design must adhere to certain restrictions in order to maintain the storage quality of the wine. Knowing that bottles will be properly stored in optimal conditions, one is far more likely to purchase a higher quality wine. Though the details may appear finicky, ideal storage conditions are relatively simple as wine bottles must be placed horizontally and stored in a vibration-free, dark environment at a constant temperature of 10-15 degrees Celsius and relative humidity of no less than 70 percent.
MALBEC MOMENT
How to install a Wine Cellar – Far more than just a room full of bottles on racks, a home-based wine cellar can reflect your personality and design taste in many ways. Working with the area that you have chosen to house the wine cellar, figure out a budget appropriate to its size and the elements that you will need to include. To achieve a custom look, select a style that suits the rest of your home design whether it be modern, traditional, rustic or fancy. For wall treatments, add a mural, stained glass or a mirror to deepen the look of the space. Despite the need to maintain a more muted lighting scheme to protect the wine from damage, there are still a wide variety of sconces, chandeliers and recessed lighting options that can illuminate the space. By carefully selecting the materials and tones, your décor choices will showcase the beauty and uniqueness of your wine collection. – Text by Kim Bartley For more unique items for your home,
click shopCHT.com.
For more great ideas,
click here.
The following two tabs change content below.

Kim Bartley, Principal of Kim Bartley Design, brings 25 years of business ownership and management to the table. Kim's keen eye for design lends her rooms an edgy sophistication while remaining current and functional. Her philosophy is that your home should make you happy and reflect your lifestyle and changing needs. Focusing on unparalleled client care, Kim aims to make the design experience positive and enjoyable at each phase of the project. She works collaboratively with her clients to develop spaces that are clean and modern but still warm and approachable. Kim believes that everyone deserves to live in a beautifully designed space and focuses on truly "getting" her clients.

Latest posts by Kim Bartley (see all)