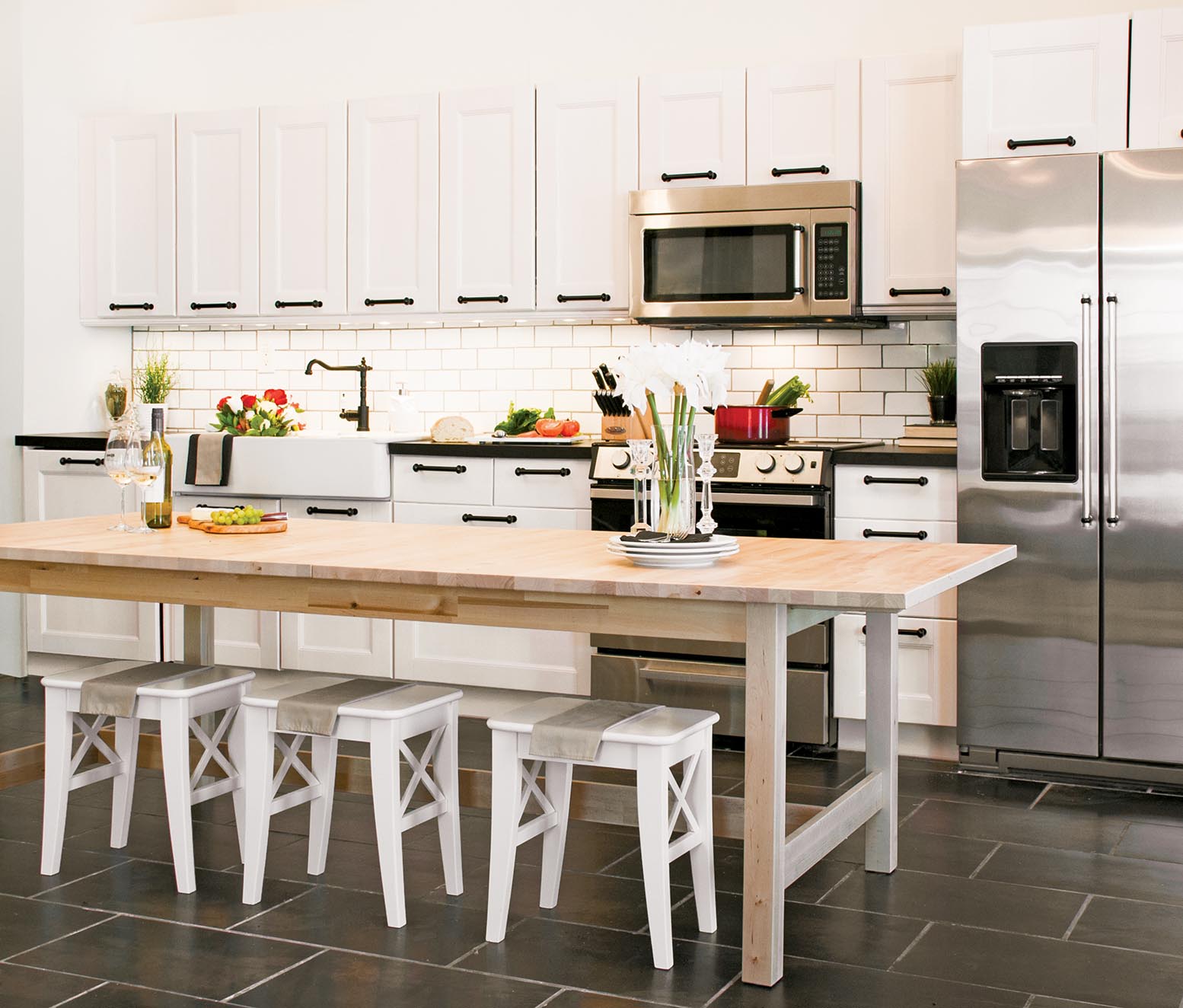 The homeowners, two busy professionals, love to entertain at home. During their search for a new dwelling, they were looking for an open concept space that would have an industrial loft look with all the modern amenities. When they came across this industrial space, they decided it would be the perfect canvas to express their personal style.
Canadian Home Trends' Editor-in-Chief and designer, Marc Atiyolil, helped them design this condo-chic space using IKEA cabinets and appliances. "I had the opportunity to tour IKEA's head office in Sweden this past year, and I saw first-hand how IKEA products are designed and manufactured. I have to say that I was very impressed at how their products are vigorously researched and tested." says Marc Atiyolil, "When I was approached to work on this project, I was certain that I would be able to get the custom look that the homeowners desired and hit budget on this project with the use of IKEA's diverse product range."
They started by building the kitchen virtually using IKEA's kitchen planner. Within a few clicks, they were exposed to the endless choices of cabinet sizes, door styles, finishes, hardware, and counter top options. While navigating through the options, they found the perfect door style for this project, the white "RAMSJÖ" door. The details and warm-white of this traditional door helped offset the often sterile look that one gets with a white kitchen. The addition of the beautiful black FINTORP door handles reinforced the black and white theme of this space. Marc then complemented the style of handles with the GLITTRAN kitchen faucet in black. "I first fell in love with the porcelain sink. I felt the porcelain would bring that old loft look to the space, and when paired with this traditional faucet, they become unique conversation pieces."
However, this kitchen has more going for it than its youthful good looks. Its careful design makes it highly practical and functional. It was imperative to the homeowners that they have ample counter top space as they are avid cooks. But it wasn't enough to simply meet their culinary criteria, the kitchen also had to include an area to accommodate the couple's lavish dinner parties. "A large table that extends to comfortably fit twelve guests, was placed in front of the linear kitchen. The table acts as an island and more than doubles their counter space when needed." says Atiyolil. As space was at a premium in this loft, the walls were painted in a warm-white (General Paint's Skoki CLW1040W) as to reflect the natural light coming through the large industrial windows. "The space was originally a very dark colour and the wall colour wrapped around the twelve foot ceilings. When using such a dark hue, your natural light will absorb into the colour. I love using soft colours as they help reflect natural light to make a space feel more vast. In a loft renovation, you want that open look. I chose a white as it would reflect the most natural light."
The homeowners are now settled into their new home and can attest to the practicality of the kitchen. They hosted a dinner party in their kitchen last week and received a fire-star review from all of their dinner party guests!
Designed by Marc Atiyolil, Photography by Brad McCann, As Seen In Canadian Home Trends Winter 2014
Source Guide
White Kitchen Cabinetry,

AKURUM/

RAMSJÖ, IKEA, www.IKEA.ca;

Handles,

FINTO RP, IKEA, www.IKEA.ca;

Black Kitchen Faucet,

GLITTRAN, IKEA, www.IKEA.ca;

Double Bowl Sink, DOMSJÖ, IKEA, www.IKEA.ca;
Integrated Dishwasher,

RENLIG, IKEA, www.IKEA.ca;

Microwave Oven with Extractor Fan,

DÅTID, IKEA, www.IKEA.ca;

Slide-In Range with Gas Cook Top, FRAMTID, IKEA, www.IKEA.ca;
Refrigerator/Freezer,

DÅTID, IKEA, www. IKEA.ca;

Laminate Counter Top,

PRÄGEL, IKEA, www.IKEA.ca;

Birch Extendable Table,

NORDEN, IKEA, www.IKEA.ca;

Stool,

INGOLF, IKEA, www.IKEA.ca;

Wall Colour,

General Paint, Skoki CLW1040W, www.generalpaint.com
The following two tabs change content below.

Marc Atiyolil is the editor-in-chief of the home décor publication, Home Trends Magazine. His charismatic, down to earth approach can be seen first hand as the co-host of the Marc & Mandy Show airing on networks across North America. His mantra, "Be bold, be different, be unique – Yet keep it simple" is reflected in all of his work. Marc is an avid promoter of breaking down the myths of design and offering simple alternatives to complicated design processes.

Latest posts by Marc Atiyolil (see all)