Updating a kitchen can be a costly venture, labour costs are high and there is always the risk of projects growing larger than initially planned. However, with a high return on every dollar you spend, it is the most worthwhile remodeling investment you can make in your home. Here are some changes you can make which will update with impact. Labour costs vary based on region, existing challenges which the home faces and other factors, so the prices given are approximate.
Stylish Faucet: $100 – $350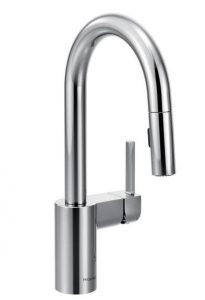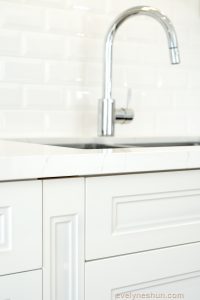 Faucets are the hardest working product in your kitchen, they will also establish the 'style' of the kitchen instantly. Consider a lever faucet, I have found that there are times when you need your elbow or chin to turn the water on when hands are too dirty…a lever makes it easy to operate.  Faucet Shown: Moen, Space by Evelyn Eshun
Lighten up $400 and up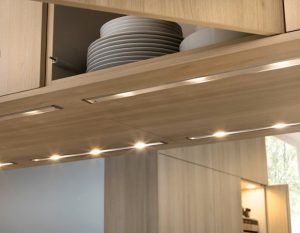 Add light, whether it be undercabinet, pot lights , a new hanging fixture or simply new and efficient LED bulbs. The kitchen is a place where you need lots of light for a variety of tasks. Though electrical work can be hard on the
wallet, it is the one element which will add tremendous value and functionality. Photos: Decoist and Hudson Valley Lighting
Hardware update : $100- $300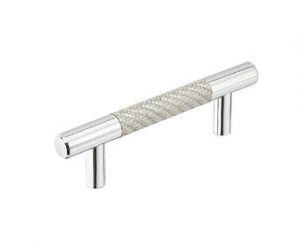 Give your cabinets new 'jewellry' by changing the hardware. Consider installing a variety of knobs and pulls to create a more personalized look. If you have a cabinet which has glass doors, install a dressy crystal set of knobs just on that one cabinet. Photos: Richlite and Emtek
Open shelving $500 – $2000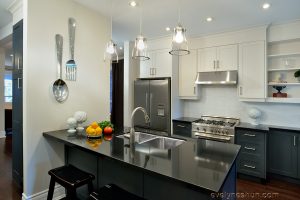 Open up part of the kitchen by including open shelving in place of the traditional door solution. Use it to store items you use often such as bowls and plates. I love the look of stacks of white plates and bowls which create a graphic statement while being easy to access daily. Space designed by Evelyn Eshun
Tile style $15 per sq. ft. and up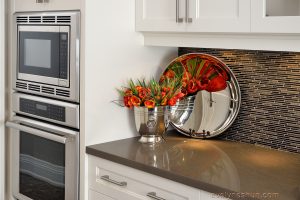 A tiled backsplash will protect your walls and make the space easier to maintain..it will also provide a style statement. Whether you choose a tile which blends and provides subtle texture, or a tile which has a dynamic visual punch, this is one of the best ways to instantly change the look of your kitchen. Space designed by Evelyn Eshun
Paint it up $200 and up 
Paint must be the easiest way to change any space, the kitchen is no different. ..Paint your walls, paint your cabinets, paint only the backs of open shelving areas. Even if you paint just the lower cabinets , you will create an impactful change. Space designed by Evelyn Eshun
Counter update $45 per sq ft. installed and up
The counter you have will instantly date the kitchen, not only in its style, but in its condition. It is the norm today to use stone materials such as quartz, granite, soapstone, marble and limestone among others. It can be a costly change because the installation will require many other elements to be affected, but if you can update this portion of your kitchen, you will enjoy a valuable upgrade and stylish result. Space designed by Evelyn Eshun
The following two tabs change content below.

Evelyn Eshun has been providing creative Interior Design solutions for her Residential Clients in the Toronto area for over a decade. Principal Designer at
Evelyn Eshun Interior Design
, Evelyn has participated in various Television programs over the years in addition to her Design business. With a passion for design and travel, Evelyn has translated her extensive and various experiences into a design philosophy which puts the Client's needs and functional needs first. Always striving for a unique and personalized solution for each Client, Evelyn prides herself on creating interiors which will stand the test of time. Whether transforming an old and tired property into a vibrant home or simply finishing a home with the decorating touches which make a house a home, the goal is always to collaborate with Homeowner, Trades and Suppliers to finish the project successfully.

Latest posts by Evelyn Eshun (see all)