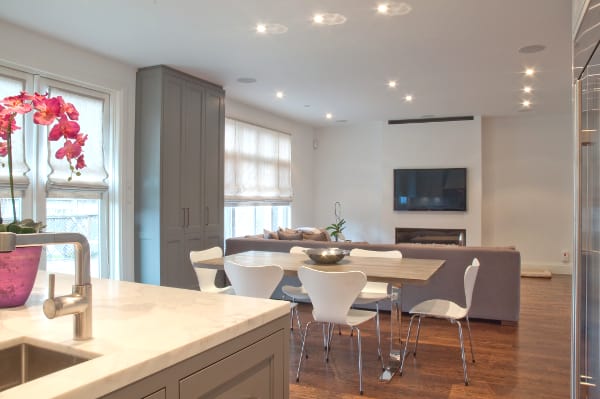 Take a look at a traditionally framed kitchen mixed with modern style.
This kitchen is a modern version of a traditional framed kitchen with inset doors for a fresh up-to-date look.
The focal point of this space is a painted range hood with modern flair. The painted finish lends a much softer and elegant feel than an often-used stainless steel range hood.
When creating a simple contemporary concept, it is essential to use good quality workmanship. Pay close attention to proportions and line things up properly.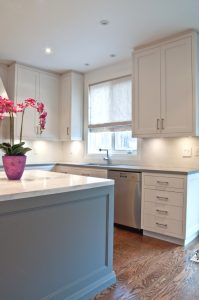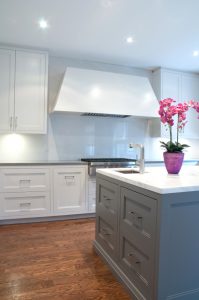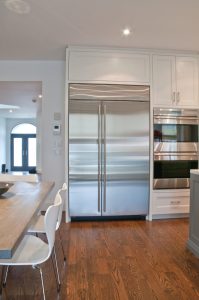 The colour palette found in this kitchen is a mixture of warm whites and greys. This pairing keeps the kitchen from feeling too sterile, which is often the case in white kitchens. The brushed nickel hardware keeps the look simple and consistent.
The homeowners had existing traditional oak flooring throughout the kitchen which balanced out the simplicity of the clean-lined cabinetry and the soft, restful colour palette.
In the end, with proper planning and an organized execution, we were able to design and build a beautiful kitchen that the homeowners will enjoy cooking and entertaining in for years to come.
The following two tabs change content below.

Rhonda Thornton, Principal of
Bloomsbury Fine Cabinetry
, is an accomplished Kitchen Designer with over 17 years of residential kitchen design and planning experience. Bloomsbury Fine Cabinetry is a leader in design and manufacturing of truly Custom Cabinetry, specializing in the art of Bespoke English-Style cabinetmaking, built to with stand the test of time and trends. Rhonda has collaborated on well over 500 kitchen projects and has had the privilege to contribute her expertise to some of the most stunning homes and cottages in the GTA.

Latest posts by Rhonda Thornton (see all)