I recently reviewed the SICIS Mosaic line. I was taken back by the beautiful custom mosaic art portraits – specifically the ones that pay tribute to the legendary diva, Marilyn Monroe. SICIS has introduced these Limited Edition portraits and will also customize any portrait that you desire! How tempting is that, if the budget will allow.
The Art of Mosaic truly captivates the viewer. This medium of expression will no doubt transform a space in a home, office or business establishment.
The glass tiles are individually cut and placed by only the best artisans in their field.
SICIS not only does extraordinary portraits but they offer a large variety of glass tiles, marble tiles, porcelain as well as new and exciting metal tiles. There product can be used to cover entire floors and or walls. It can also be used to add that touch of detail in a border on the floor of a bathroom or a feature wall in a shower.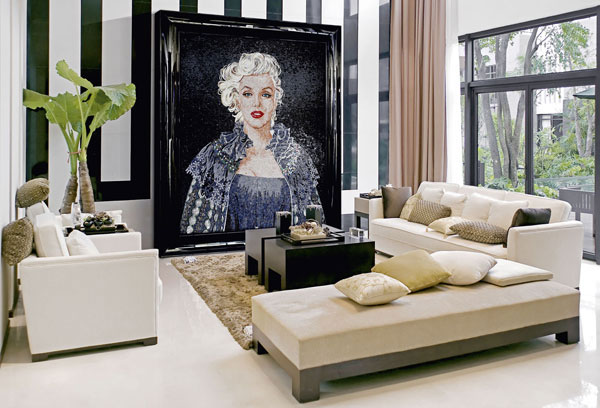 I see so many amazing possibilities for these glass tiles. There are so many new murals and new tile patterns – it is endless. Just browsing the catalogues is so inspiring – I can't wait to use them again!
The following two tabs change content below.

Heather Segreti, Principal at
Segreti Design
is an accomplished designer for over 22 years. Heather is both highly credentialed and innately creative. She is a certified designer with memberships provincially and nationally.

Latest posts by Heather Segreti (see all)