There are so many things you can do to organize your pantry. Multiple shelving, shallow shelving, rollout drawers deep or shallow, racks, baskets, bins—they all work together to separate food items so everything is within reaching distance, easy to locate and accessible.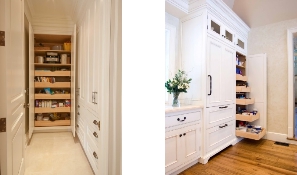 Rollouts: When having a deep pantry, rollouts help with letting you use the entire depth of the pantry but allowing everything to come close to you. As Per the photos above these Rollouts are made out of Maple and have a dovetail construction.
Adjustable Shelving: Allows for you to alter the height of your shelves to accommodate certain heights of your products.
Tray Dividers: Do you always have large platters and large serving trays that you can't seem to find a place to keep them safe and out of the way? Having tray dividers in your pantry will allow for greater use of storage, also allowing you to see exactly where each tray is through sliding trays in and out instead of being stacked onto one another.
Broom/Vacuum Divider: I always hate seeing a broom, mop or vacuum in a kitchen. A great storage idea for the pantry would be to have a section 6-8" wide to allow for those types of items to fit into place.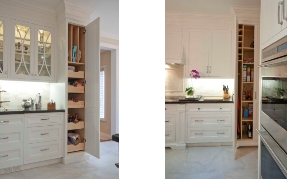 The following two tabs change content below.

Rhonda Thornton, Principal of
Bloomsbury Fine Cabinetry
, is an accomplished Kitchen Designer with over 17 years of residential kitchen design and planning experience. Bloomsbury Fine Cabinetry is a leader in design and manufacturing of truly Custom Cabinetry, specializing in the art of Bespoke English-Style cabinetmaking, built to with stand the test of time and trends. Rhonda has collaborated on well over 500 kitchen projects and has had the privilege to contribute her expertise to some of the most stunning homes and cottages in the GTA.

Latest posts by Rhonda Thornton (see all)