It took some time for Summer to emerge from behind the curtains of clouds and wet weather, but now she is in full sweltering glow. Like a Diva who shows up late but never disappoints, Summer is finally ready for her close up and along with it, my dramatic & colourful terrace!
I decorate outside no different from the way I would inside. I like to borrow design cues from my interiors, like bold colour, scale, proportion, and interesting texture combinations and apply them out under the sun. Let me invite you to enjoy a private look at my very photogenic patio  featuring confident colour, exuberant flair and a little DIY attitude!
Flexible Use of Space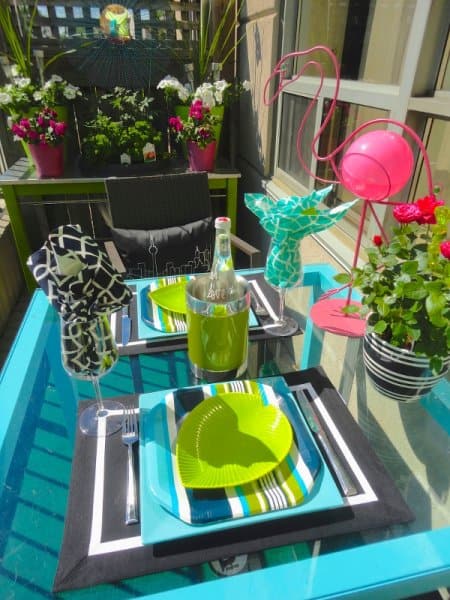 Image 2 of 9
The 10 ' x 10' terrace is large enough to accommodate a small crowd, sitting area or dining area but the problem is, not at the same time. In my house, entertaining on the terrace may be standing cocktails and finger foods one night, and anything from a small crowd of four to a full-on BBQ party the next! So when putting the space together, versatility was the "x factor " when selecting furnishings and accessories. They all had to be easy to move or rearrange on a whim in case unexpected friends drop in.

The dining table - made of lightweight aluminum - can double up as a drink station against the railing or be easily moved in front of the love seat which acts as a small banquette. Add stackable ghost chairs neatly tucked underneath and there is space for the perfect party of 6.
The following two tabs change content below.
Nicholas is the DIY Editor for Canadian Home Trends Magazine, an award-winning Designer Decorator, and appears as a guest expert on City TV's CityLine. As Principal Designer, Interior Decorator and Stylist for
Nicholas Rosaci Interiors
, Nicholas creates chic, confident and glamorous spaces that cross the divide between Modern and Traditional.
Latest posts by Nicholas Rosaci (see all)