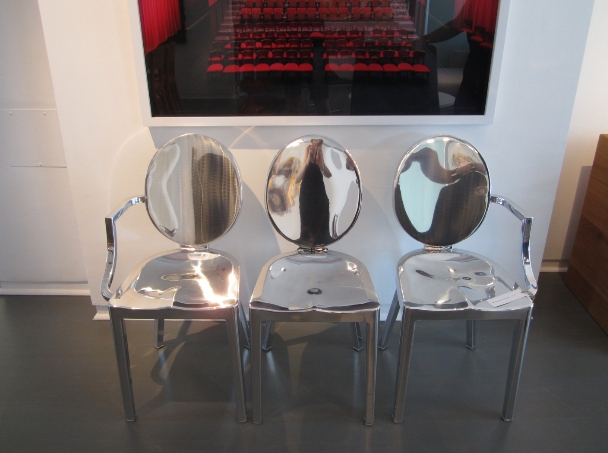 Three of the most comfortable chairs all in a row. I love these!
What a great configuration for a small waiting room, or bench seating at your contemporary dining table.I can picture two sets of  three flanking the dining room table and two fully upholstered chairs, one at each end of the table (captain's chairs). This would be a very interesting fun set up.
I really like the unique one arm detail on the far left and right chairs leaving the center chair with no arms. Certainly you could add as many centre chairs as you wanted. Two or three would also work depending on the length of your table. This is really clever on the part of Nienkemper; well thought-out design.
I have always loved the simplicity and timeless styling of these oval back polished aluminum chairs designed by Philippe Stark and manufactured by Emeco.
Every chair is made by hand and polished by hand! There are other styles to choose from as you can see in the photo.
The following two tabs change content below.

Heather Segreti, Principal at
Segreti Design
is an accomplished designer for over 22 years. Heather is both highly credentialed and innately creative. She is a certified designer with memberships provincially and nationally.

Latest posts by Heather Segreti (see all)