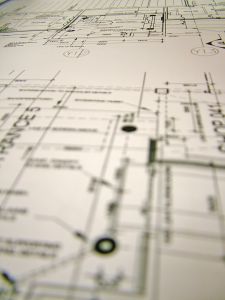 Planning the Kitchen Reno – OR – "You can't pick it up in aisle 4!"
The planning is the most arduous part of any kitchen renovation but ultimately the most important part. Without it, I compare it to traveling in a foreign country without a map. It could work out very well but it is equally likely you will end up robbed and in a flea bitten motel. Reno's are a foreign land and your plans are your team's map.
Step One
How much space do you have to work with? Is it going to be sufficient for your needs or are you going to (a) need to move walls or (b) extend the house.
If you move walls you will need to hire an architect, designer or an engineer to ensure that the wall can be moved without affecting the structure of the house.
If you are extending then architect and designer will need to be present, along with permit and clearances from the city etc – for this blog – we will assume you are going to work with existing space.
Time frame – An hour to several weeks/months for permit drawings and permits
Step Two
The appliances are really the centre of the kitchen. Everything else is essentially storage and has to work around the appliances.
Figure out how you cook! Are you a CHEF, a food lover, a food warmer or an 'eat out" person. The cost of the appliance goes up the more you need it to do. If you make tea and warm soup you likely don't need much but if you are a little "Madame Benoit' you may want more.
Time frame – approx 1 week to research and place orders
Step Three
You are going to need water!
Do you want a double sink or single? Would you also like to have an island veg sink? What about a pot filler over the stove? Once you decide where you want to have water then you need to decide on the faucets.
The placement will affect the cabinets as you will need the plumbing to run inside of them along with drains. They need to be planned out carefully before you start to drill holes in the floor.
Some people like chrome and tradition and others like to have brushed steel or copper or lacquered (black, white, red, blue, etc) – Knowing that, then you want to consider style – is your space going to be classic, transitional or much more modern? I promise, the selection is vast!
Time frame — 1 to 4 days
Step four
Now comes the time to make some decisions about the layout of the kitchen and how it will function.
How many people use the kitchen to cook? Will you entertain a couple or several family members at the Island OR will it be used only for prep.
Where will you place the appliance you selected to create a kitchen that is right for your family chef?
Make these decisions with your designer as there are some rules that if not followed will leave you disappointed later on.
Now you can select cabinet styles, stain colours or paint finish OR a combination of both. Styles range from very traditional to super modern. Perhaps look at your faucet selection to give you a sense of what you would really like.
This is where everyone (including your mother-in-law) will have an opinion so things can really slow down! You may also find that you want to change the size of your appliance based on the space you have left . Be prepared for a little give and take.
When you settle on the design – then place the orders for all the elements – appliances, faucets, cabinets.
Time frame: 1 to 2 weeks design, 6 to 16 weeks for cabinets to be constructed.
Step Five
The hard surfaces in the kitchen: They would include the flooring, countertops and back splash. There are flooring tiles in ceramic, porcelain and stone or you can select a hardwood, cork or bamboo flooring. That decision depends on the look you are striving for.
Check for stock to be in at least a week and a half before cabinets are installed.
Countertop options include granite and marble, manmade stones like Caesar stone, Cambria, flex stone and Corian or laminates (marble isn't recommended for a kitchen generally) = all of them (laminate aside) need to have a template made so they fit perfectly in your home.
A template happens after cabinets are installed. Finished product won't arrive for a couple of weeks.
Back splash is selected based on the countertop and is installed after the countertop is installed so be sure you are looking at something that is available within the week after your countertop is installed.
Time frame: 1 to 3 weeks.
Step Six
The finishing touches – like the paint, stools for the island, kitchen table and chairs and window coverings.
Window coverings generally need to be custom made for your home – so add a few weeks for that.
Paint colour can be a bit stronger as there is generally very little wall space to paint when everything is in place. Generally the painting can be done in a day or so.
Time Frame: 1 to 6 weeks
Final Note:
Leave a suitable amount of time for the contractors to be able to do their work. Naturally many of these things can overlap in terms of a time frame but you really can't do much until the cabinets are available to you.
Don't get rid of the old kitchen until you are almost ready to install the new kitchen otherwise you will be eating out a great deal.
Leave yourself a reasonable amount of time to get it done properly. The kitchen is going to last you a lot longer than the irritation of the renovation.
As a good tip, August or the beginning of September is a good time to get rolling for a Christmas kitchen!
The following two tabs change content below.

Canadian Home Trends' National Design Editor, Glen Peloso forged into the world of design 20 years ago after completing his Masters degree in Fine Art. As Principal of
Grafus Design Co.
, he has worked in residential, hospitality and commercial spaces for clients in several countries and has successfully designed over 300 projects in that time. TV Celebrity Designer and Canadian Home Trends National Design Contributor, Glen is also recognized as a design expert on The Marilyn Denis Show and from his past work as a host/designer of the internationally popular television shows Foodnetwork/HGTV`s Restaurant Makeover, and W networks 'Take this House and Sell it', and "Slice Network" show, Renovate my Wardrobe.

Latest posts by Glen Peloso (see all)