Each and every year I am amazed by the people that call the studio in the middle of November or beginning of December in hopes that we will be able to plan and execute a kitchen renovation before their guests arrive from overseas for the Christmas holidays. Not that the time frame is the same but it's a little like starting to plan for a baby in October and hoping to give birth before the New Year. While I'm always a bit shocked, it has occurred to me I never understand why it takes so long to do car repairs mainly because I don't really understand the mechanics of a working car. Perhaps the same is true when it come to kitchen design.
Step One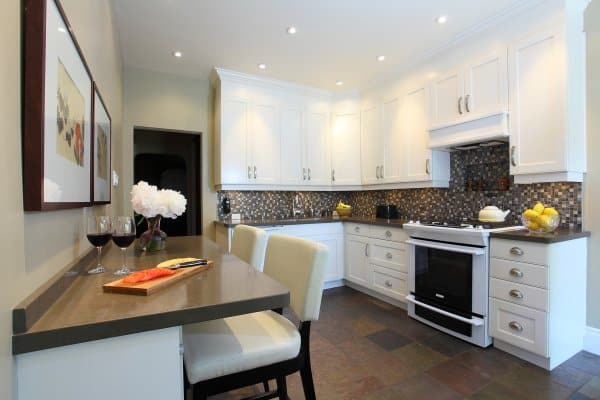 Image 1 of 11
When you are starting to plan the kitchen redesign determine first if you plan to use the same square footage as the previous kitchen or are you going to move walls and "open the space up". If you are thinking about moving a wall, you first need to determine if that wall is a supporting wall or a demising wall of the house. If it is a support wall then moving it will be much more involved. For the purposes of this timeline we will assume that you are going to leave the walls as they are.

Time frame – An hour to several weeks for permit drawings and permits

Source: Glen Peloso's Step-by-Step Guide to the Perfect Kitchen, Fall 2011 issue of Canadian Home Trends Magazine
The following two tabs change content below.

Canadian Home Trends' National Design Editor, Glen Peloso forged into the world of design 20 years ago after completing his Masters degree in Fine Art. As Principal of
Grafus Design Co.
, he has worked in residential, hospitality and commercial spaces for clients in several countries and has successfully designed over 300 projects in that time. TV Celebrity Designer and Canadian Home Trends National Design Contributor, Glen is also recognized as a design expert on The Marilyn Denis Show and from his past work as a host/designer of the internationally popular television shows Foodnetwork/HGTV`s Restaurant Makeover, and W networks 'Take this House and Sell it', and "Slice Network" show, Renovate my Wardrobe.

Latest posts by Glen Peloso (see all)