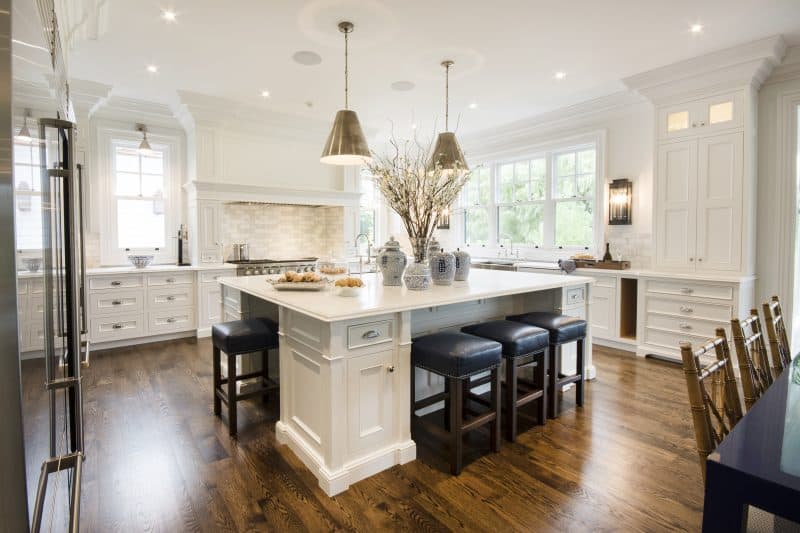 Tips for a Functional Kitchen Island – The kitchen is the most used room in the home and today's modern kitchens often feature an island that makes great use of the center of the room and becomes a focal point in the space, both from a design and function standpoint. The kitchen island becomes the family hub, a place for eating, doing homework and lounging while keeping the cook company during meal prep. When designing a custom kitchen with an island, there are a number of things to consider. The primary consideration is your lifestyle and what will be the best use of the island to fit in with your lifestyle.
1. Entertaining: Do you love to entertain and often have guests over? If you have an open concept living space, the kitchen island will likely become the center point for many of your events. Including things in the island that will enhance your guests' experience is a great choice. This could include a beverage fridge, bar sink and a microwave placed where guests can easily access them without interfering with the food prep areas. The kitchen island can also provide the perfect place for serving a buffet-style meal or displaying appetizers or desserts for a mix and mingle event.
2. Eating Nook: If your home doesn't already have a breakfast nook, a kitchen island that offers seating is a great choice for an informal dining area. This can be accomplished by including a seating area along the island or an attached seating area at the side of the island, depending on the space available.
3. Cooking or Cleaning: If wall space is limited but you have the room for an island, moving the cooking station (with a stove or countertop range) or cleaning station (sink, dishwasher, garbage) to the island will free up wall space for cabinetry and additional storage.
4. Workspace: If you love to bake, you already know that a large workspace can be a huge asset and the kitchen island is the perfect way to add a large workspace that can be used for a variety of activities. Some homeowners prefer to leave the island top clear so it can function more as a social gathering place as well.
Depending on your lifestyle and available space, one or more of these options can be combined to create a kitchen island that will suit your needs perfectly. The island becomes a natural feature in the space, making it a great place to add a pop of color or mix up materials to add visual interest and personality to the space. This could include changing the color, changing from wood to paint (or vise versa) or selecting a different style countertop for a unique touch. Posts or brackets, extra trim work or a waterfall countertop are also a popular choice for creating a kitchen island that becomes a statement piece in the room.
Tips for a Functional Kitchen Island – Working in a small space? That doesn't necessarily mean you have to sacrifice an island. An island doesn't have to be large to be a statement piece and some creative planning may make it possible for you to enjoy the benefits of an island even in a small space! In the project shown below, featured in Canadian Home Trends earlier this year (read the feature here), the homeowners did not have room for a freestanding island but we were able to create a space that had the look and feel of an island with built-in features for entertaining!
For more unique items for your home, click shopCHT.com
The following two tabs change content below.

Rhonda Thornton, Principal of
Bloomsbury Fine Cabinetry
, is an accomplished Kitchen Designer with over 17 years of residential kitchen design and planning experience. Bloomsbury Fine Cabinetry is a leader in design and manufacturing of truly Custom Cabinetry, specializing in the art of Bespoke English-Style cabinetmaking, built to with stand the test of time and trends. Rhonda has collaborated on well over 500 kitchen projects and has had the privilege to contribute her expertise to some of the most stunning homes and cottages in the GTA.

Latest posts by Rhonda Thornton (see all)