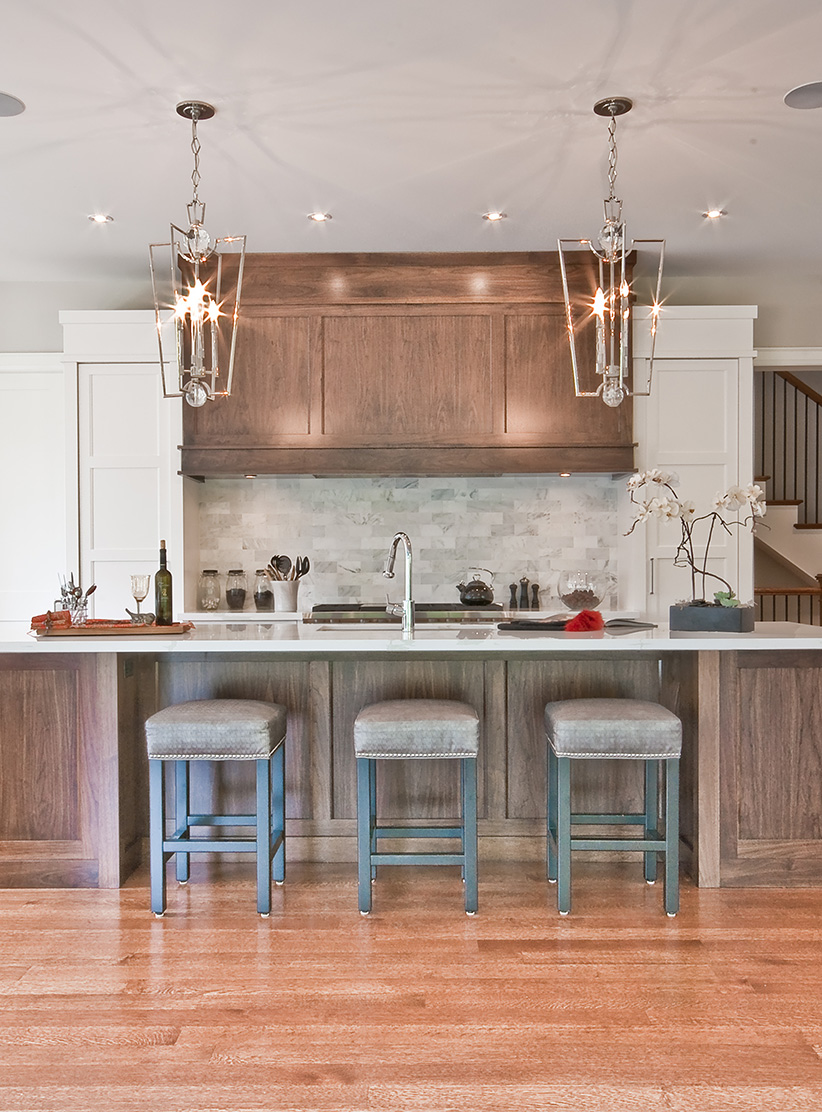 What is Transitional Style?
Transitional style can be defined as the new classic. This style features classic lines mixed with fresh modern touches. The blend of these design styles appeal to those who find contemporary cabinetry too cold, but like the look of clean lines. This style also allows for more personality and detail than its contemporary counterpart, and gives the homeowner a wide array of high quality choices for their cabinetry design.
How to Achieve This Look
Bloomsbury favours square posts and tapered feet to bring furniture details into the design of their kitchens. Our new spin on classic English-style framed kitchens has been very popular. We create our face frames without beading so that the cabinetry still has a tailored look with classic furniture details, but the overall style is more crisp and the lines are clean and minimal. Clients still love a hand-painted finish as it is feels much softer and looks authentic. It is also very touch-up friendly.
Adding modern hardware to a classic kitchen transforms the look by mixing the two styles. Polished nickel has been a favourite these past few years and is still a great choice for a classic look. This year, homeowners are being more adventurous with hardware and tile selection in order to achieve a more personalized look. The options when designing a kitchen are endless, therefore it's a matter of finding something that speaks to your personality and style.
Kitchen Sources:
Cabinetry: Bloomsbury Fine Cabinetry
Home Built By: James Grant Custom Homes, Oakville
The following two tabs change content below.

Rhonda Thornton, Principal of
Bloomsbury Fine Cabinetry
, is an accomplished Kitchen Designer with over 17 years of residential kitchen design and planning experience. Bloomsbury Fine Cabinetry is a leader in design and manufacturing of truly Custom Cabinetry, specializing in the art of Bespoke English-Style cabinetmaking, built to with stand the test of time and trends. Rhonda has collaborated on well over 500 kitchen projects and has had the privilege to contribute her expertise to some of the most stunning homes and cottages in the GTA.

Latest posts by Rhonda Thornton (see all)