If you follow home design shows, magazines or my blog, you know that a kitchen is by far the biggest and most important project you can tackle. It makes sense that homeowners would be interested in how to incorporate green living into their kitchens.
It has been very encouraging to see more homeowners considering eco-friendly options. When building a new home or renovating, consumers are taking a closer look at how things are made and how long they will last.
There doesn't seem to be a set green standard in the design and building industry, which can be confusing for the eco-conscious consumer. A good rule of thumb is to ask yourself these five questions:
What is it made of? / What's in the product?
Will there be air quality issues and toxic emissions once it is installed in my home?
What did it take to produce this product and get it to me? Is it shipping from overseas or locally made?
How long will the product last and what happens to it when I'm done with it?
How much energy or resources will it take to run the product?
Here are a few tips to stay in the GREEN when planning your new kitchen:
Cabinets: Look for formaldehyde-free cabinetry made of solid wood responsibly harvested from managed forests.
Eco Friendly cabinetry is more than just a growing trend. It is in high demand as homeowners become more concerned with indoor air quality. Many people are researching ways to limit the toxins their families are exposed to. Formaldehyde is a known carcinogen. The industry standard construction tends to be particleboard (also called HardRock Maple) or fireboard MDF which contains formaldehyde that can let off fumes into your home.
The gold standard in eco-friendly cabinetry is PureBond®. Made from North American plywood with real-wood veneers, PureBond uses soy based adhesives with zero added formaldehyde. PureBond is also FSC –Certified which means it is cut from sustainable wood forests regulated by the Forest Stewardship Council. By seeking out and using companies that use products with an FSC label you are supporting the growth of responsible forest management worldwide.
Paint: Paint finishes should be nontoxic, water-based or low-VOC.
Volatile organic compounds (VOCS) are chemical fumes that can leak into the air. Water based products with much lower VOCs are best for a safe and durable finish.
Appliances: Look for the Energy Star label.
Ovens and Cooktops
Induction cooktops heat food by transferring electromagnetic energy directly to the pan and using about half the energy of conventional models. Steam cooking offers many benefits including faster cooking times, so using less electricity, with the added benefits of optimum retention of vitamins, nutrients, and increased flavour and moisture. When shopping for a new oven, make sure to choose one with the Energy Star label. The Energy Star label indicates that the appliance uses 10 to 50 percent less energy than standard models.
Refrigerators
Refrigerators are the second-biggest energy consumer in our house (heating and cooling systems are first). If you're replacing an older model, find one with the Energy Star label and don't buy a bigger fridge than you need.
Dishwashers
The latest dishwashers use significantly less water per load than hand-washing. Thanks to sensor technology, you can customize the amount of water to what's being cleaned.
Countertops: Look for long-lasting, natural stone products.
Soapstone is an excellent, long-lasting, alternative natural stone Soapstone is naturally antibacterial, will not burn or stain and requires very little maintenance. Acids and alkalis will not etch soapstone as they will with other stones. Soapstone has been around since the early 1800's. Many homes today still contain working soapstone sinks and wood stoves built over 100 years ago!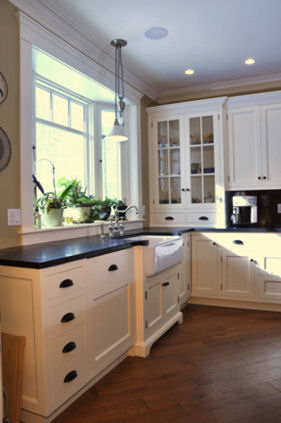 Silestone, a maintenance-free, eco-friendly surfacing material for kitchens and bathrooms composed of 75% recycled material. ECO by Cosentino is a leading line of eco-friendly surfacing material. ECO is made from up to 75% post-consumer and post-industrial recycled raw materials, including mirror, glass, porcelain, and vitrified ash. The recycled content is then mixed with 25% natural stone including scrap from mountains, quarries, manufacturing, and fabrication; and is bonded together with an eco-friendly resin made in part from corn oil that also eliminates the need for sealants.
Reduce Consumables
• Keep pretty, colour coordinated dish cloths and towels on hand and cut down on the use of paper towels.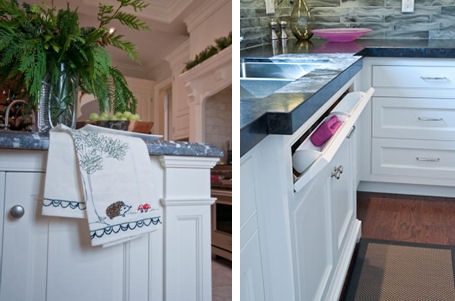 • Install an under-sink water filter to cut down on excessive plastic bottle usage.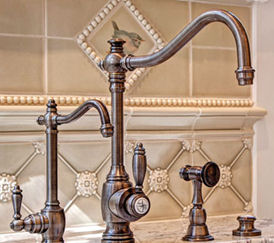 Re-Purpose
Use recycled vintage dishes or salvaged items to add personality and function to the décor of your kitchen.
The following two tabs change content below.

Rhonda Thornton, Principal of
Bloomsbury Fine Cabinetry
, is an accomplished Kitchen Designer with over 17 years of residential kitchen design and planning experience. Bloomsbury Fine Cabinetry is a leader in design and manufacturing of truly Custom Cabinetry, specializing in the art of Bespoke English-Style cabinetmaking, built to with stand the test of time and trends. Rhonda has collaborated on well over 500 kitchen projects and has had the privilege to contribute her expertise to some of the most stunning homes and cottages in the GTA.

Latest posts by Rhonda Thornton (see all)