At the recent High Point Market, we had a chance to do some trend spotting. Launched in 1909, High Point Market is known as the "World Furniture Market" and plays host to some of the top furniture manufacturers in North America. Over a ten day period, this event attracts 85,000+ attendees including most major North American retailers. While the influence of international imports has affected the market in past years, High Point still injects nearly a billion dollars a year into the local economy.
As a designer, there is always much to see at High Point. This year, we had the opportunity to select our favourite finds for our Trends Spotted feature. (You can see our live #TrendSpotted feed on Twitter). Here are a few of my personal favourites: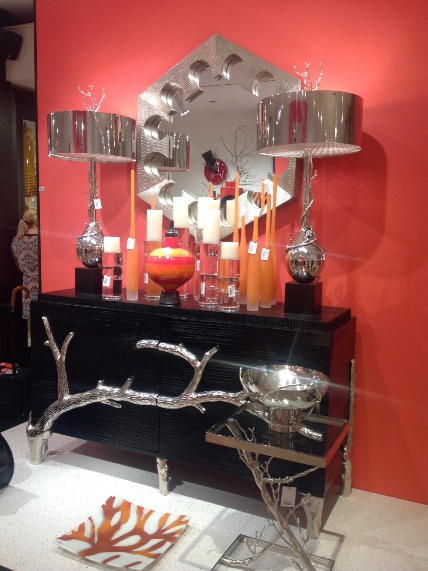 This beautiful display was one of my favourites. The influence of nature is fully embraced in the pieces. The sugar bush lamps with the twigs or vines that grow through the fixture, culminating above the shade are not only beautiful but also add a sense of whimsy to the display. The hall table with the branch legs also provides a strong natural influence. The combination of silver with black creates a sense of magic and wonder. The cocktail table and bowl are designed to imitate the shape of tree branches. At first glance, you almost believe they are chrome dipped wood. The combination of black, silver and mirror surfaces against a strong wall colour create a vignette that is both captivating and appealing.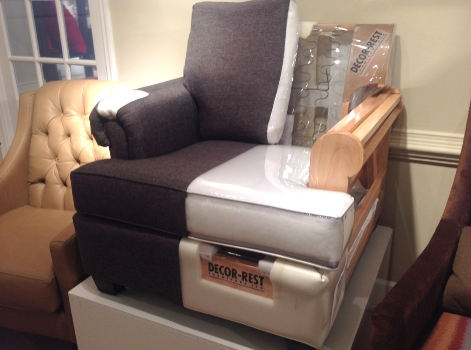 I'm always pleased with the presence of Canadian made furniture in the design industry. With so much off shore products available these days, we often wonder how things are made. Decor-Rest has been making quality furniture for many years and it was nice to see that the frames and bases are made from sturdy hardwood. The continuous spring system keeps the pieces affordable while providing superior quality. The foam weights and upholstery are clearly first rate, resulting in furniture that any Canadian would be pleased to furnish their home with.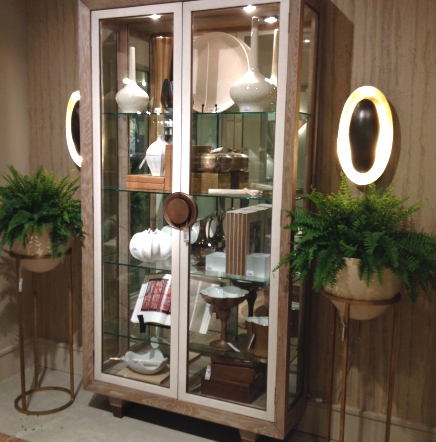 This curio cabinet is a great example of mixed materials, using the combination of metal, wood, glass and mirror surfaces. I particularly love the round wood handles. The mitered metal framing on the doors creates a luxurious look.
I also have a design crush on the scones found on either side of the cabinet. The bulb cover features a black exterior with a gold interior that creates a sense of sunlight. That rich warm glow is what makes them particularly appealing.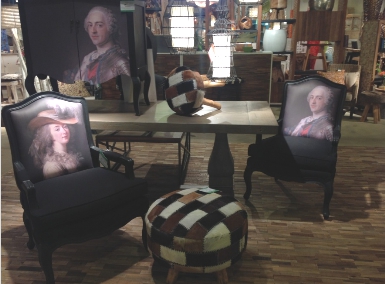 A classic chair with a fun twist: What could be better than a Louis chair sporting images of Louis and his friends? This particular collection was very well made and would make a great addition to any room. Pick a favourite piece to use as a statement piece or use a set of chairs around a table if you are feeling a little more adventurous!
The following two tabs change content below.

Canadian Home Trends' National Design Editor, Glen Peloso forged into the world of design 20 years ago after completing his Masters degree in Fine Art. As Principal of
Grafus Design Co.
, he has worked in residential, hospitality and commercial spaces for clients in several countries and has successfully designed over 300 projects in that time. TV Celebrity Designer and Canadian Home Trends National Design Contributor, Glen is also recognized as a design expert on The Marilyn Denis Show and from his past work as a host/designer of the internationally popular television shows Foodnetwork/HGTV`s Restaurant Makeover, and W networks 'Take this House and Sell it', and "Slice Network" show, Renovate my Wardrobe.

Latest posts by Glen Peloso (see all)