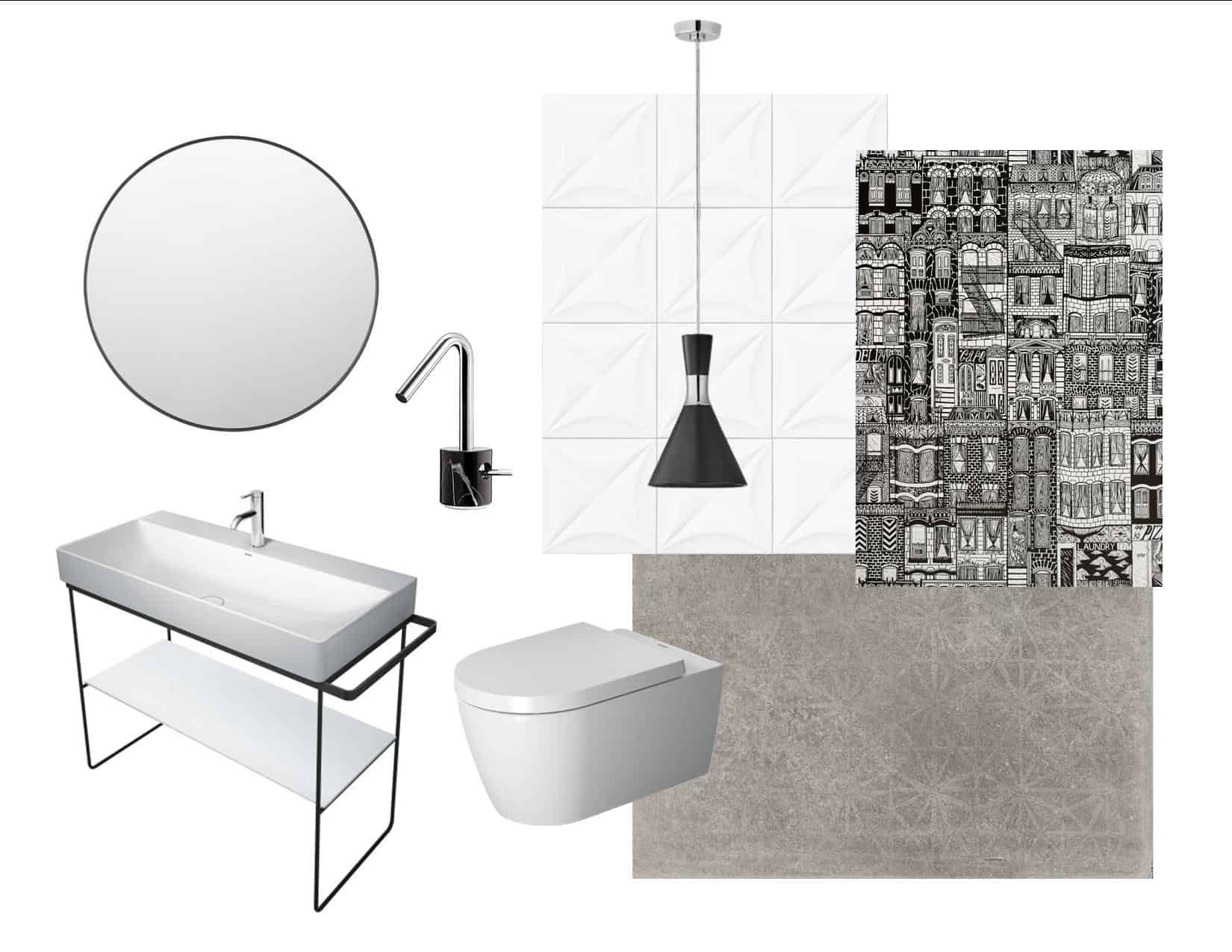 This room is inspired by a project I am working on in New York. I wanted to create an Old World meets New World vibe, imagining that this bathroom could be found in a hundred year old Brownstone or new modern condo!
The starting point was the AMES 4D tile which could be used floor to ceiling on an entire wall, but in this case I would use it in place of wainscotting on the lower portion of all the walls, select a trim piece to cap it and use Flavor Paper's Brownstoner wallpaper above.
The floor tile selected, also from AMES, is a large format porcelain designed to look like concrete – this is a modern update to a traditional stone floor. This particular series also has a light pattern in the finish which pairs nicely with the detail on the 4D wall tile.
The metal vanity from Duravit continues to play on the old and new. This concept of an open vanity is something we often see in a more traditional form reminiscent of the 1930's, but this Duravit version is definitely today! I love that this is a matte black finish; it gives it an edge without being too trendy. We are going to start to see a lot more dark grey to black finishes on everything this year!
For lighting, I selected pendants rather than wall sconces so they could be hung overlapping the oversized round mirror.
Sources:
The following two tabs change content below.

In my own words…. I opened my namesake design studio in January 2009 after spending eight years with a West Vancouver firm. I have collaborated with clients to achieve a balance of sophistication and livability; producing interiors that are both timeless and elegant. My goal when working with a client is to create a home that reflects the values, lifestyle and sensibilities of the people who inhabit it. I draw much of my inspiration from the relationships I develop with my clients, many of which I am proud to say become good friends! Working from my Westside studio, my team and I work on projects of all sizes – from waterfront West Vancouver homes and cozy Pender Island cottages, to luxurious estates in San Diego, Palm Springs, Singapore and New York. To date, all of our work has been based on referrals from previous clients. This is a testimony to the organizational skills of my team, the dedication of our talented craftsmen and the pride we take in ensuring each client is thrilled with their new space. My formal education began at UBC with a Bachelor of Arts degree in International Relations. My degree taught me how to think and to explore life. With every design project being a new and unique adventure, a thirst for knowledge and new experience is key to a successful design. 16 years ago when I knew I had found my passion in Interior Design I went back to school – this time to the BCIT Interior Design program. Although I strongly believe that life experience often surpasses education, there are certain skills that must be learned through formal training. I love what I do and the clients I work with. People hire me not only because they like my style and appreciate my design knowledge and experience, but because they like my approachable easy to work with nature, creative resources and love of life!

Latest posts by Trish Knight (see all)