It's not common that we get to discuss pastel color when it comes to kitchen design – don't worry, the all-white kitchen trend is not going anywhere anytime soon – but we think that if incorporated correctly, pastels can help to freshen up your kitchen, bringing that vibrant feel of spring into your home in a sophisticated way. Not to mention; we love the retro, 1950's flare that pastels evoke within a space!
Take a look at these gorgeous ways to "pretty up" your kitchen using pastels!
Pastel Cabinets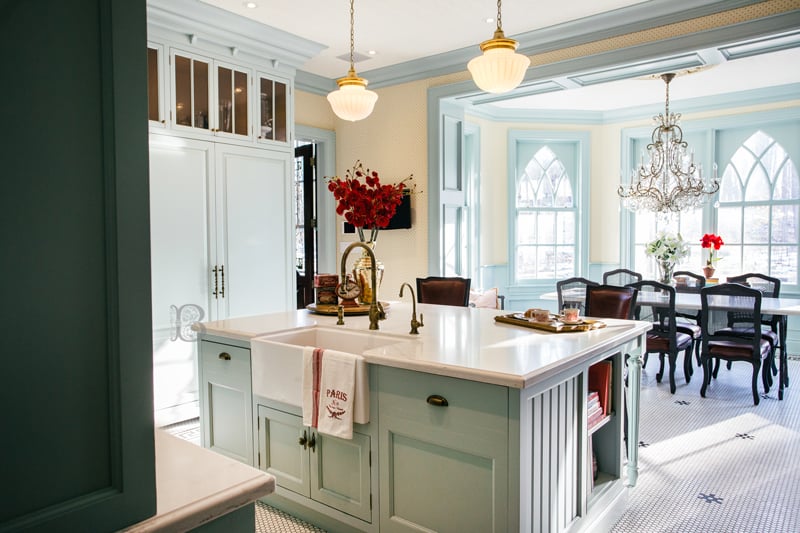 Image 3 of 8
Who could be stressed in a kitchen like this?! Colors in general are amazing at bringing about certain emotions. For instance, pastels have this really wonderful, soothing and soft quality that helps evoke calmness and serenity in a room that can at times be associated with stress. Cooking for dinner parties and holidays? We get it… it can be a little bit overwhelming so it's imperative to keep your kitchen as stress-free as possible, and you can do this by incorporating calming pastel colors!

Photo Source: Bloomsbury Fine Cabinetry Collaboration with Vanessa Ferro Design
The following two tabs change content below.

Rhonda Thornton, Principal of
Bloomsbury Fine Cabinetry
, is an accomplished Kitchen Designer with over 17 years of residential kitchen design and planning experience. Bloomsbury Fine Cabinetry is a leader in design and manufacturing of truly Custom Cabinetry, specializing in the art of Bespoke English-Style cabinetmaking, built to with stand the test of time and trends. Rhonda has collaborated on well over 500 kitchen projects and has had the privilege to contribute her expertise to some of the most stunning homes and cottages in the GTA.

Latest posts by Rhonda Thornton (see all)