The Interior Design Show 2012 in Toronto has just passed and it was a great show in many regards.
There were lots of things that would have that "everything old is new again" feel. I loved (no pun intended) the wall of images in the Elte booth at the show. While I doubt that anything is truly old, the patina of things old is a very compelling. The trend seems to come from a strong impulse to recycle and save the environment by not sending so much to the land fill.
The image next to that shows a great collage of images combining plates and dishes inspired by images from the past. Some of the milk glass square plates contained notes in cursive written on hotel stationary of hotels from days gone by.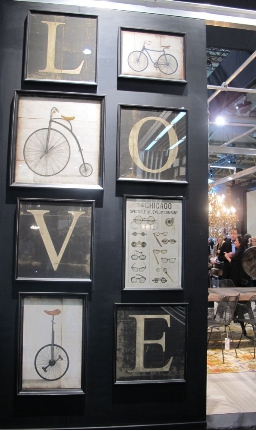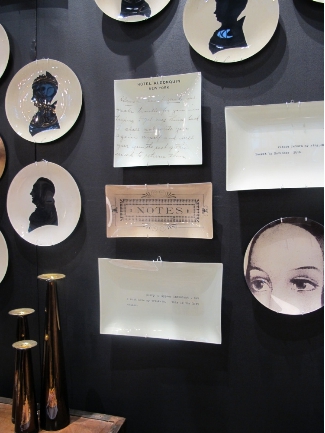 In terms of typography, I also found it appealing enough to design a rug for Modalion Rugs which features the centre section of an old Under Hill type writer. The roundness of the keys and the combination of the light pink colour that is popular at the moment and based on the pastel colours of spring fashions we will see more of this throughout the year.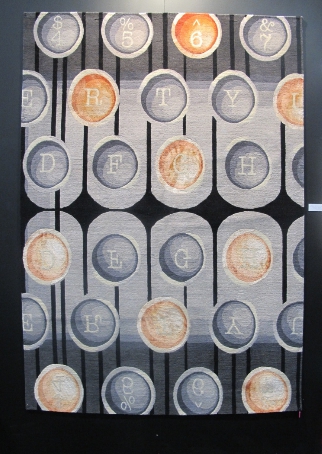 This is not to say that there weren't elements of bling and sparkle as part of the show. Caml-Tomlin showed a great shower runner that seemed to run between the idea of the old made new but in a new styling that made it very appealing indeed. (pic 1) – I also really enjoyed the new finish placed on the doors of this wardrobe giving it a boutique hotel look that was appealing to many at the show. Not to end the shinny there, Living Lighting on King street in Toronto also gave us a version of a light fixture that was originally created by Hudson furniture in NYC.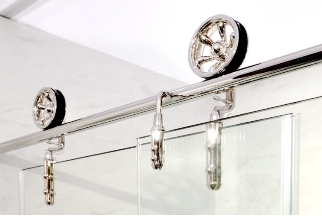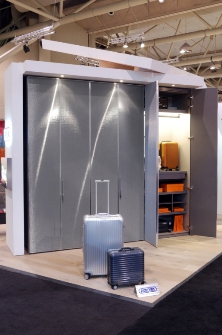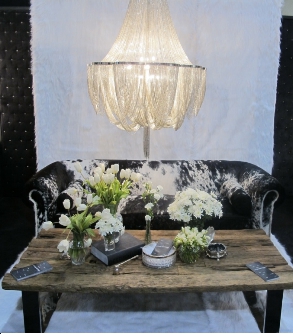 The show brings us new innovations as well and new products were launched for the North American market in Toronto at IDS 2012. I was impressed with Hettich, who creates knobs, slides, hinges and LED lighting to name just a few items. Hettich launched a slide that is capable of holding approximately two hundred pounds of weight. Now those kitchen pull outs can deal with a few cases of pop or a case of beer or two and not have any difficulty with soft close or over straining the slide. The image below shows glass cubes that equal the weight of most adults! That is an impressive technology indeed.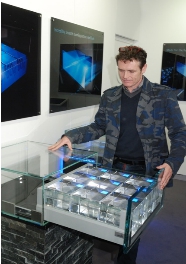 The following two tabs change content below.

Canadian Home Trends' National Design Editor, Glen Peloso forged into the world of design 20 years ago after completing his Masters degree in Fine Art. As Principal of
Grafus Design Co.
, he has worked in residential, hospitality and commercial spaces for clients in several countries and has successfully designed over 300 projects in that time. TV Celebrity Designer and Canadian Home Trends National Design Contributor, Glen is also recognized as a design expert on The Marilyn Denis Show and from his past work as a host/designer of the internationally popular television shows Foodnetwork/HGTV`s Restaurant Makeover, and W networks 'Take this House and Sell it', and "Slice Network" show, Renovate my Wardrobe.

Latest posts by Glen Peloso (see all)