Master Bathroom Decor Reveal – Jaclyn Harper purchased this home two years ago and we knew ONE day we'd get to our master bathroom. It was dated and needed a good reno but we felt we could 'live with it' for a few years. Well, that one day finally came and we couldn't be happier.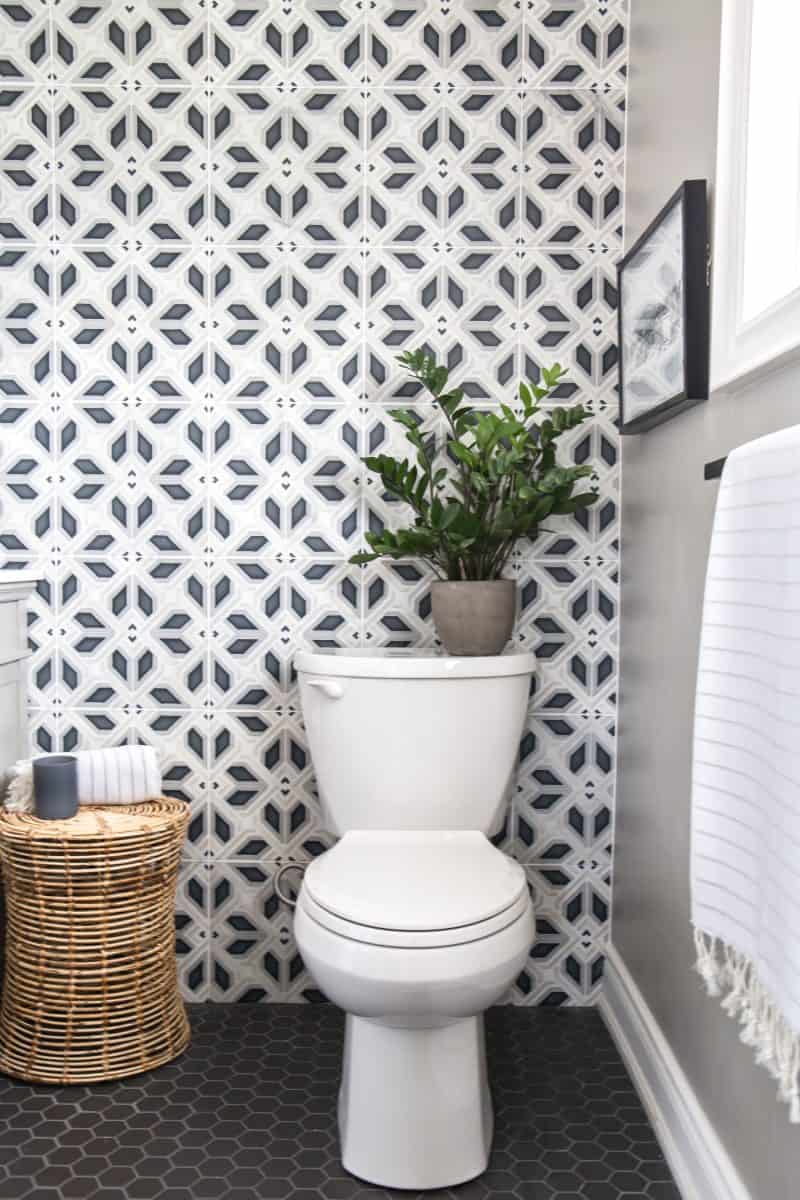 THE PLAN
When planning out master bathroom decor and space , I looked at a few different configurations. Ultimately, I was thinking I'd put a shower at the far end of our bathroom, install a smaller vanity, scooch the toilet over and have a claw foot tub where the existing bath was. I think this would have made for a really functional space. That thought changed pretty quickly over a weekend when we bought a new house. Surprise…WE'RE MOVING AGAIN!! With that said, we wanted to keep this reno on a tight budget. Things would stay where they were so that we wouldn't need to move any plumbing and we could get things started right away.
TILE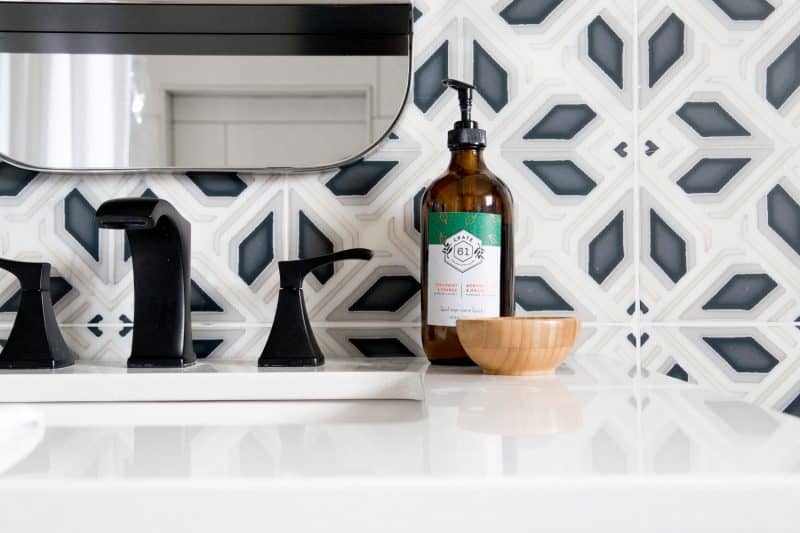 First off, I fell in love with these tiles from StoneImpressions. They were a quick ship option, I LOVED the pattern and they were unlike anything I had seen before. I started playing with the idea of using the Avery tile as a feature wall and didn't look back. I reached out to Stone Impressions and was over the moon when they wanted to collaborate on our project. They shipped us the hand selected carrara marble tiles all the way from San Diego. When I opened up the package I seriously couldn't believe my eyes. The pattern on each individual tile looked so hand crafted and luxurious. I swear, we're going to miss them in our new home.
VANITY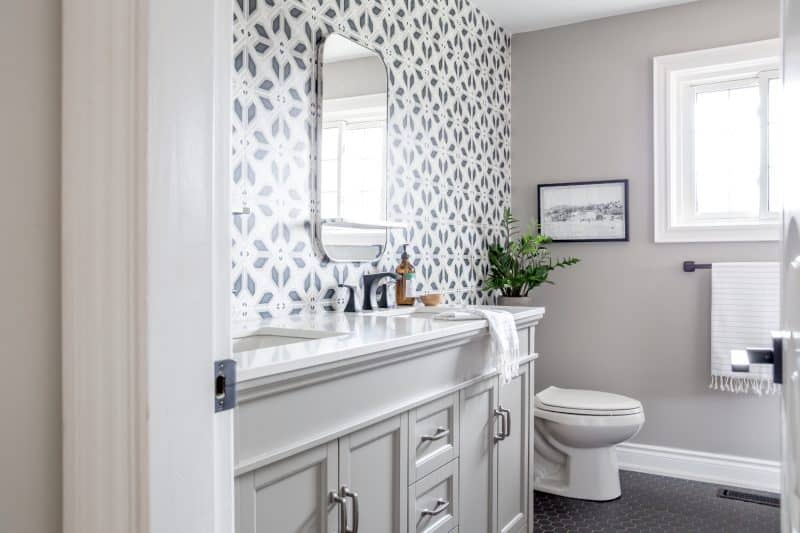 Next up, the vanity. We went with the 60″ Ashburn Vanity from Foremost, available online at The Home Depot Canada. It was the perfect size for our space and the color is GORGEOUS! My favorite part? That it has feet. It really looks like a piece of furniture. We decided to add an additional sink and it's so functional for us. Before, we had so much counter space that we really didn't need. We ordered the vanity online and it was shipped to our door (countertop, sinks and all).
FAUCETS & HARDWARE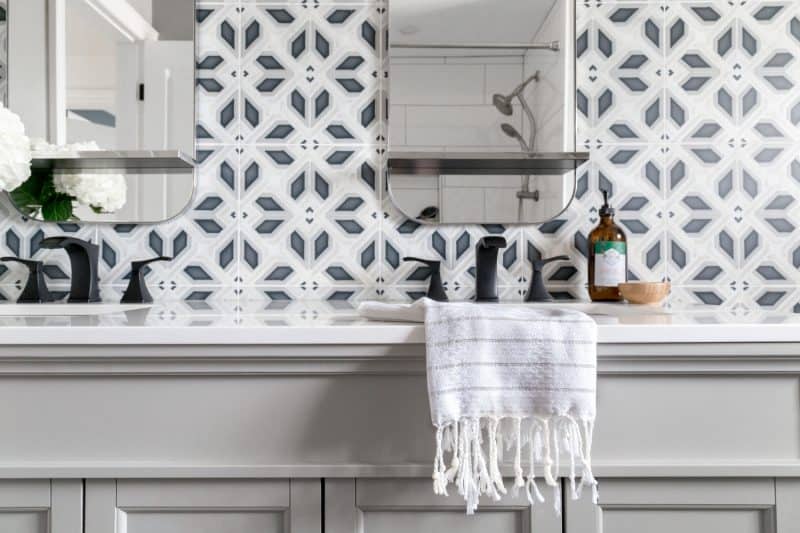 When it came to our faucets I decided to go with matte black. I really love that the faucets don't match the hardware on the vanity. The mixed metals work so well in our bathroom. This also allowed me to incorporate a polished nickel shower head and some polished nickel in our vanity light. We ordered towel racks and our toilet paper holder in the same matte black collection from Pfister. They're stunning! The moments of black in the room really work so well with everything else we have going on. It's exclusive to The Home Depot Canada and I couldn't be more thrilled to recommend it. The water ribbons as it pours, the design can work with any bathroom aesthetic, it came with an easy to install push to seal drain, it has a lifetime warranty AND there are other finishes to choose from. Major win!
SANIFLO
When planning our bathroom reno, we thought we'd be able to incorporate Saniflo into our project. When they explained to me how it worked, I jumped on the opportunity for a collaboration. In the end, we didn't end up moving any plumbing and didn't need to use their system but I can assure you… we'll be using it in our next home and I'll be telling my friends about it. What is it exactly? Let me explain:
The Saniflo Sanicompact macerating toilet is the system that I'm referring to. Get this, if you're looking to install a toilet in a trailer, a cottage, a basement or anywhere else that typically requires you to move plumbing, the Sanicompact allows you to quickly and easily add a new bathroom without any major construction! There is no need to break the concrete or move plumbing lines because the Sanicompact can tie into your existing lines. The best part about this system is the tankless design which makes it great for smaller spaces – and looks very modern, too. Sounds pretty great right? I thought so.
Well, that's a wrap. Thanks so much for checking out our Master Bathroom Reno. We love it! Stay tuned for future renos in our new house. I can't wait to start planning.
SHOP MY BATHROOM:
Tiles: StoneImpressions | Faucet: The Home Depot | Tub: The Home Depot | Towel Bar: The Home Depot | Hand Towel Bar: The Home Depot | Toilet Paper Holder: The Home Depot | Vanity: The Home Depot | Turkish Towels: House of Jude
For more decor ideas, click here.
For more unique items for your home, click shopCHT.com.
The following two tabs change content below.

Jaclyn is highly recognized for her television career. She has hosted Canada's Earliest Morning Show – Morning Live First Edition, Canada's Longest Running Children's Program – Tiny Talent Time and was a host for The Shopping Channel. Nowadays, you'll see Jaclyn as a Design Expert on shows like Breakfast Television, Your Morning, CTV Kitchener, CHCH's Morning Live and The Marc and Mandy Show. Jaclyn started
Harper Designs
in 2016 to work as a freelance designer for a local design firm. She had the opportunity to style behind the scenes for the show 'The Property Brothers – Buying and Selling'. In 2018, Jaclyn took her business full scale. She has been featured in numerous magazine and has collaborated with brands that include Enbridge, The Home Depot, Metrie, Weber, Spray Net and more. Jaclyn focuses on full home renovations and has an upcoming home renovation series she'll be sharing on Youtube.

Latest posts by Jaclyn Harper (see all)