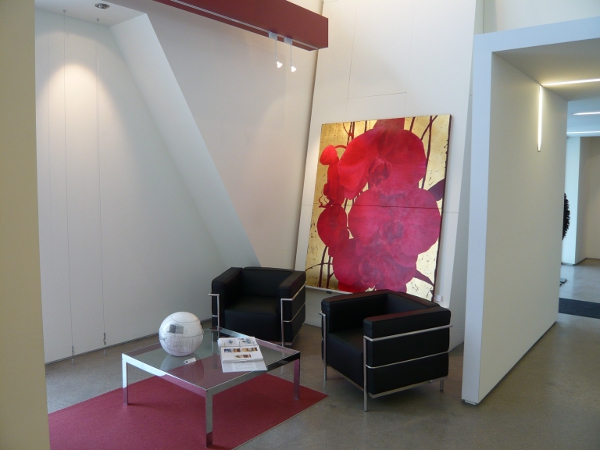 Artwork is the pulse of every home…
A person's taste in art reflects his or her personality and lifestyle.
Artwork can set the tone for a space and immediately draws your eye into the depths of its content.
I absolutely LOVE this piece and wanted to share the photo…..let it inspire you when shopping for a new piece of artwork for your home this year~!!!!
The details that draw me to this piece are:
The frameless canvas sits on a ledge that is attached to a sloped surface WOW !! How great is this…can I do this in my home….???…this you could do if you have the space…have a millwork shop come up with the details and work it into your space…This would be a great feature wall!
Sloping the wall works well for a large dramatic piece such as this.
The focus is completely on the artwork with all the surrounding walls being painted simply white. Good to note….this piece would not be nearly as effective without the contrast.
The medium is bright and reflective; the use of brilliant red for the orchids with the gold leaf backdrop makes this piece dominate the space – Great choice of colour and reflection.
The Gilded backdrop makes the orchids appear to be floating in the foreground. Love IT!
The simplicity of the furniture in this setting complements the look.
Look for artwork locally. There are many great galleries in the GTA and beyond.
Davenport area as well as Castlefield and Caledonia.
Think COLOUR this year….!!!!!!!!!!!!!!!!!
Be daring and invite a little colour into your life, you won't regret it!!!
The following two tabs change content below.

Heather Segreti, Principal at
Segreti Design
is an accomplished designer for over 22 years. Heather is both highly credentialed and innately creative. She is a certified designer with memberships provincially and nationally.

Latest posts by Heather Segreti (see all)