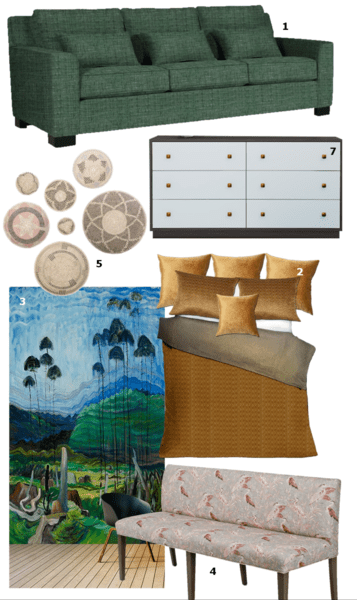 It's a great thing to be able to support the many extremely talented manufactures and designers here in Canada. Here are just a few of my favorites.
1. VanGogh has been producing soft goods made by skilled craftspeople for about 25 years. Pieces are completely customizable to your needs with custom fabrics, sizing and configurations. http://www.vangoghdesigns.com
2. Daniel Stuart has been creating beautiful bedding for more than a decade. There is a vast selection of fabrics (most washable) to design the most elegant principal bedroom or a fun and frivolous room for the kids. http://elstuartstudio.com
3. Ruth Baker Designs has curated and created an amazing collection of wall murals with everything from elements of nature to the Masters popular at the Art Gallery of Ontario. You can custom create your own mural as well.
http://www.ruthbakerdesign.com
4. Silva Custom Upholstery has been a staple supplier for the last 20 years. Most of the line is a benchmade product, meaning that one craftsperson creates the whole piece in advance of upholstery. They use kiln dried hardwood
frames so your seating will last for generations. http://www.silva4home.com
5. Liteline is an innovative lighting supplier for pot lights, LEDs, WiFi integrations and track lights that are suited to both commercial and residential markets. The product is consistently good and the innovations are extraordinary. http://www.liteline.com
6. Renwil is a second generation art and accessories company started in 1967 as a place to create and celebrate art in the home and they still have a vast selection of art and artists who offer works specifically for their clients. They also offer fashion-forward accessories like lighting, mirrors, cushions, carpets, accent tables, etc. http://www.renwil.com
7. Geovin is a Canadian based case goods company with a contemporary, clean lined yet elegant style that is perfectly suited to the Canadian sensibility. There are several style lines in the collection and you would be hard pressed not to find something that suited your design sense. http://www.geovin.com
The following two tabs change content below.

Canadian Home Trends' National Design Editor, Glen Peloso forged into the world of design 20 years ago after completing his Masters degree in Fine Art. As Principal of
Grafus Design Co.
, he has worked in residential, hospitality and commercial spaces for clients in several countries and has successfully designed over 300 projects in that time. TV Celebrity Designer and Canadian Home Trends National Design Contributor, Glen is also recognized as a design expert on The Marilyn Denis Show and from his past work as a host/designer of the internationally popular television shows Foodnetwork/HGTV`s Restaurant Makeover, and W networks 'Take this House and Sell it', and "Slice Network" show, Renovate my Wardrobe.

Latest posts by Glen Peloso (see all)