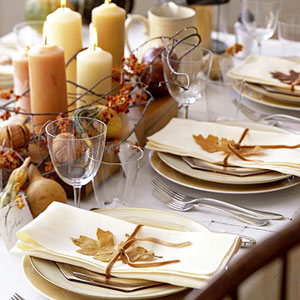 Sixteen Fall Entertaining Decor Ideas – It's fun to add some decor to the house but don't let it get too stressful and be careful that you don't overdo it. As I like to say, strong themes are for theme parks, not for homes!
Front door:
Add a door wreath of autumnal leaves and florals
Change the front urn to Asters which have a lovely bloom
Add some pumpkin and squash to the base of the urn
Front Hall
Create a display using leaves in bright autumn colours in the bowl for the front hall table
Fill a tall cylindrical glass vase with gourds in a variety of colours
Use taper candles in orange
Mantel
Use large pillar candles in orange set on black or charcoal grey stands
Use pears, apples and small pumpkins to surround the bases
Use more of the gathered autumnal leaves
Sixteen Fall Entertaining Decor Ideas for the Dining Table
This is a lovely place to use a horn of plenty that can double as the dessert platter
On a large platter, place a horn of plenty at one end.
Fill the horn with a variety of fruits and berries, including peaches, plums, apples, oranges, pears, grapes, apricots etc until they are spilling onto the platter
Use a combination of nuts and dried fruit to cover the platter
Top the dried fruits with dessert squares and tarts and you have an edible display
For more tabletop decor, trail leaves down the table centre
Uses gourds with a slit cut in for place cards at each place at the table
For more great ideas,
click here.
For more unique items for your home,
click shopCHT.com
Save
The following two tabs change content below.

Canadian Home Trends' National Design Editor, Glen Peloso forged into the world of design 20 years ago after completing his Masters degree in Fine Art. As Principal of
Grafus Design Co.
, he has worked in residential, hospitality and commercial spaces for clients in several countries and has successfully designed over 300 projects in that time. TV Celebrity Designer and Canadian Home Trends National Design Contributor, Glen is also recognized as a design expert on The Marilyn Denis Show and from his past work as a host/designer of the internationally popular television shows Foodnetwork/HGTV`s Restaurant Makeover, and W networks 'Take this House and Sell it', and "Slice Network" show, Renovate my Wardrobe.

Latest posts by Glen Peloso (see all)