Highlights from High Point North Carolina:
The sixties are back again. The furniture market in High Point showed us that the elements of the sixties are back again. Look for those familiar rounded sixties shapes with inset angled legs and flared arms. The sofa arm cover is also back in style.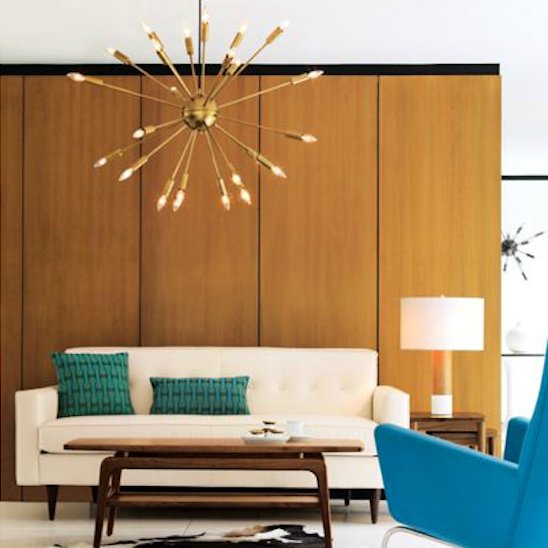 The sputnik shapes in hanging fixtures and mirrors were prominent at the market. The star bust shape was more than reminiscent of the kitchen clock my grandparents had. (Photo Source: Casasugar)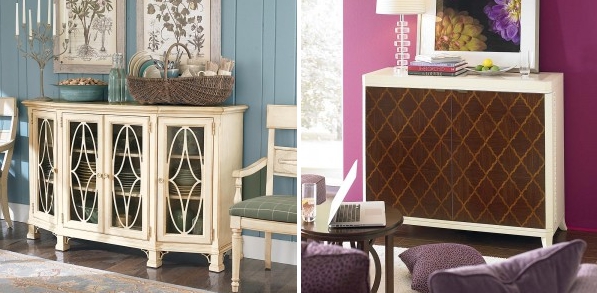 Details galore: most every piece of case good furnishing (dressers, cabinets, tables etc) had additional details like applied mouldings, additional painted details, carved cabinet faces etc.; no super simple lines in these products. (Photo Source: Bassett Furniture)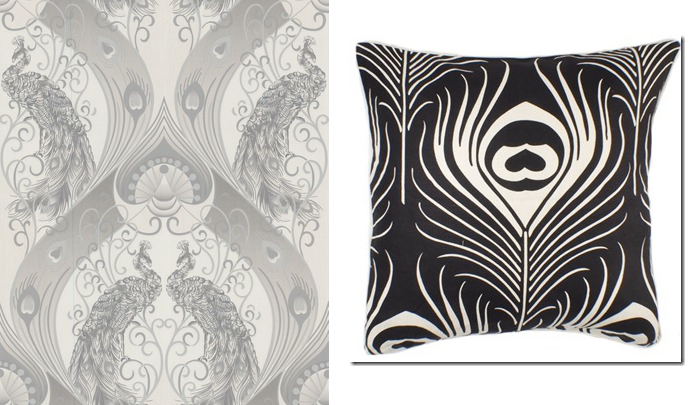 The feather motif as a slight nod to the art deco period was seen again and again. The peacock tail feathers have inspired both colour and shapes in fabrics, wall coverings, carpets and art. (Photo Source: Graham & Brown, Thomas Paul)
Go for the Gold is no longer only an Olympic moto (fingers crossed for Team Canada) but is also a metal that we are seeing at the market. Look for gold details in lighting fixtures, lamps, tables, drawer handles and accessories. (Photo Source: Better Decorating Bible)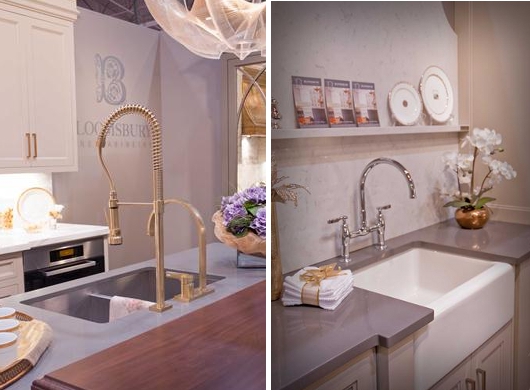 Don't worry that all the materials are the same metal colour or same wood tone. Mixing materials is de rigueur as we can see by the market materials. (Photo Source: Bloomsbury Fine Cabinetry)
The following two tabs change content below.

Canadian Home Trends' National Design Editor, Glen Peloso forged into the world of design 20 years ago after completing his Masters degree in Fine Art. As Principal of
Grafus Design Co.
, he has worked in residential, hospitality and commercial spaces for clients in several countries and has successfully designed over 300 projects in that time. TV Celebrity Designer and Canadian Home Trends National Design Contributor, Glen is also recognized as a design expert on The Marilyn Denis Show and from his past work as a host/designer of the internationally popular television shows Foodnetwork/HGTV`s Restaurant Makeover, and W networks 'Take this House and Sell it', and "Slice Network" show, Renovate my Wardrobe.

Latest posts by Glen Peloso (see all)