Kitchen Trend Report: As seen in our Kitchens 2021 issue, Designer Glen Peloso shares the newest trends in kitchen design and innovation!
Warm Color While white and off white cabinetry remain the predominant choice, warm white and soft grays are becoming a more common choice over the more clinical feeling cooler whites. Adding a bit of color by selecting various shades of blue, green or gray for the island is a great way to add character and depth to the kitchen as well!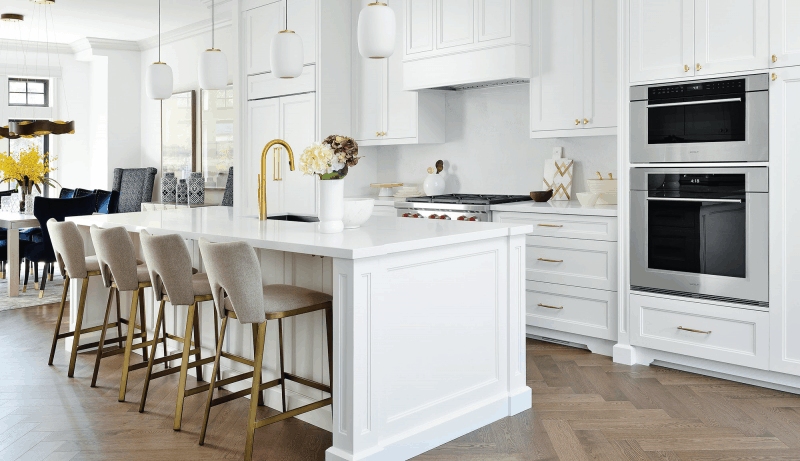 Disappearing Triangle The traditional idea of the "kitchen triangle" has less merit now. Kitchen Islands are often part of the design now and they act as a drop spot between the elements. As the kitchen takes up a larger footprint of the floor plan, those elements can spread out now. The island is also becoming larger to function as both a dining table and prep area when previously it was a breakfast bar.
Induction is King Induction cooking has become much more popular and items like invisacook place the cooking under the counter so there's nothing to be seen at all; you simply put the pot on the countertop to cook. New kitchens often include the traditional fridge, stove and dishwasher along with a steam oven, a wine fridge and a built-in microwave drawer to free up counter space.
Connected Kitchens Smart kitchens are growing in popularity with many features including the fridge, oven, cook tops, lighting, heating and more controlled by an app which can help to turn things off or on, warn you if things need to be stirred, alert you if doors are open or even suggest meal plans based on what you have on hand in the fridge.
The Hidden Kitchen The general trend being seen in kitchens from the international markets, is not to see them! They are hidden behind doors to make the entire kitchen look like pantries. This may be driven by smaller spaces or the open concept multi-functional spaces, but being able to hide the kitchen completely is something we see more and more. Instead we walk into "the dining room" and we discover the kitchen.
Seamless Flooring Hardwood floors in the kitchen are much more popular than ever before. The construction of the floor is more suited to kitchens and the worry for water damage is no longer a problem because the varnishes and baked in lacquers just don't allow the water into the wood grain. The continuation of flooring based on the open concept floor plans makes the house feel better.
The following two tabs change content below.

Canadian Home Trends' National Design Editor, Glen Peloso forged into the world of design 20 years ago after completing his Masters degree in Fine Art. As Principal of
Grafus Design Co.
, he has worked in residential, hospitality and commercial spaces for clients in several countries and has successfully designed over 300 projects in that time. TV Celebrity Designer and Canadian Home Trends National Design Contributor, Glen is also recognized as a design expert on The Marilyn Denis Show and from his past work as a host/designer of the internationally popular television shows Foodnetwork/HGTV`s Restaurant Makeover, and W networks 'Take this House and Sell it', and "Slice Network" show, Renovate my Wardrobe.

Latest posts by Glen Peloso (see all)