How to Redo my Vanity with Karla Dreyer. Bathrooms are often small rooms with limited space for decorative details. Designer Karla Dreyer visited Modern Bathrooms to show you how to refresh the look of your vanity with design details that add both function and personality!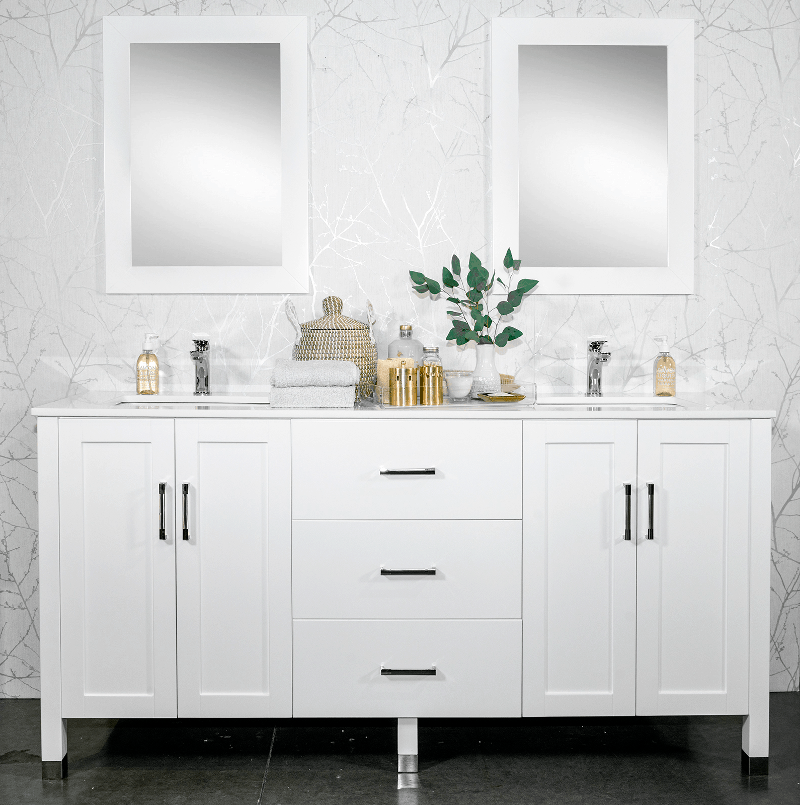 PERSONAL TOUCHES
Create a look that is truly personalized by including items you use and love. In this vignette, we included a beautiful bubble bath, loofah, pretty toothbrush holder and candle.
BASKETS AND TRAYS
Baskets and trays are great choices for functional décor. I used a Lucite tray on the vanity as a place to gather items without taking up extra visual space. I also added a basket to provide texture and hidden storage.
LUXURIOUS DETAILS
Plush towels, a lovely soap or pretty candle are great ways to add a luxurious feel while also being decorative and functional.
ORGANIC TOUCHES
Adding a plant to your bathroom is a great way to bring life and texture to the space. I love using eucalyptus in the bathroom. It looks fresh and smells amazing.
Vanity available from Modern Bathrooms, www.modernbathrooms.ca; Staging items provided by Crate & Barrel, www.crateandbarrel.com and The Cross Decor, www.thecrossdesign.com; Photography by John Molnar,
www.metrotownmedia.com
Small Vanity, Big Style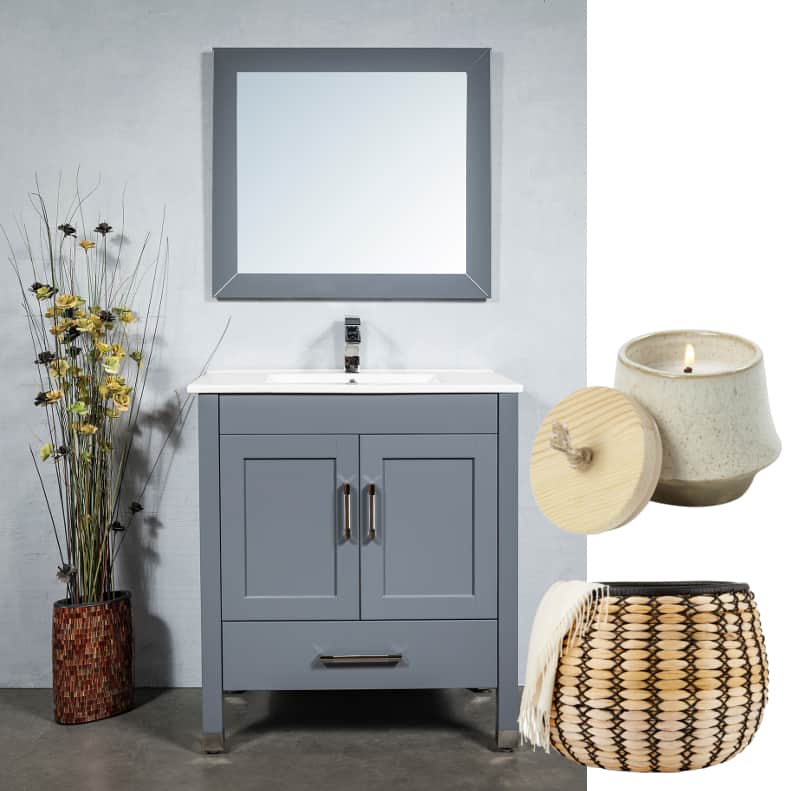 How to Redo my Vanity with Karla Dreyer. Here are a few ways to dress up a vanity in a small bathroom.
When space is limited, accents need to be both functional and stylish. A pretty candle and great looking soap are perfect examples.
If floor space is available, use a decorative basket to add both style and function to your bathroom!
In a small bathroom, choosing a vanity that offers color and plenty of storage is a great way to create a functional, stylish focal point.
For more great ideas,
click here.
For more unique items for your home,
click shopCHT.com
The following two tabs change content below.

Karla is an award-winning Interior Stylist who believes in living authentically at home and in life. Her work has been featured in ELLE Magazine, Style at Home Magazine, Rue Magazine, Design*Sponge, Western Living, Modern Sanctuary and Vancouver Magazine. She is a regular guest expert on City TV's Breakfast Television, CBC, produces the reoccurring "How to Style" series on the Marc and Mandy Show, and for Canadian Home Trends Magazine. She has been awarded Best of Houzz Design, Customer Service, and the Influencer Award. She also produces a weekly You-Tube Show with Design Tips & DIYs.

Latest posts by Karla Dreyer (see all)