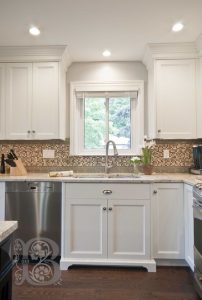 When it comes to upgrading or refreshing your kitchen cabinets, there is a wide breadth of design tactics you can utilize to get the job done! A few months ago, we delved into the pros and cons of painting and refurbishing an older kitchen vs. starting fresh with new cabinetry! The verdict? Well it's a little bit complicated to say the least, so you'll have to give it a read before sinking your teeth into today's post!
Now for those of you that did manage to catch our previous blog, today is somewhat of an extension of that, so we'll go over a few housekeeping items and refreshers to ensure we're all on the same page when it comes to refreshing your cabinets versus starting over!
In summary:
If you plan on staying in the home for more than a few years, you're most likely best served by starting fresh and putting the budget into new cabinetry, counter tops and appliances.
If the cabinets are in good shape and you like the lay out and overall design, sometimes a refresher, like a paint job, is a great option if you're looking for a simple, quick cosmetic update.
So for those of you that have already invested in quality cabinetry that is still in great shape, but perhaps just needs a bit of TLC, click here for four unique and effective ways to give your cabinets a refresh.
The following two tabs change content below.

Rhonda Thornton, Principal of
Bloomsbury Fine Cabinetry
, is an accomplished Kitchen Designer with over 17 years of residential kitchen design and planning experience. Bloomsbury Fine Cabinetry is a leader in design and manufacturing of truly Custom Cabinetry, specializing in the art of Bespoke English-Style cabinetmaking, built to with stand the test of time and trends. Rhonda has collaborated on well over 500 kitchen projects and has had the privilege to contribute her expertise to some of the most stunning homes and cottages in the GTA.

Latest posts by Rhonda Thornton (see all)