A Kitchen for Entertaining – Our National Design Editor shares his wisdom on how to create a stunning entertaining kitchen.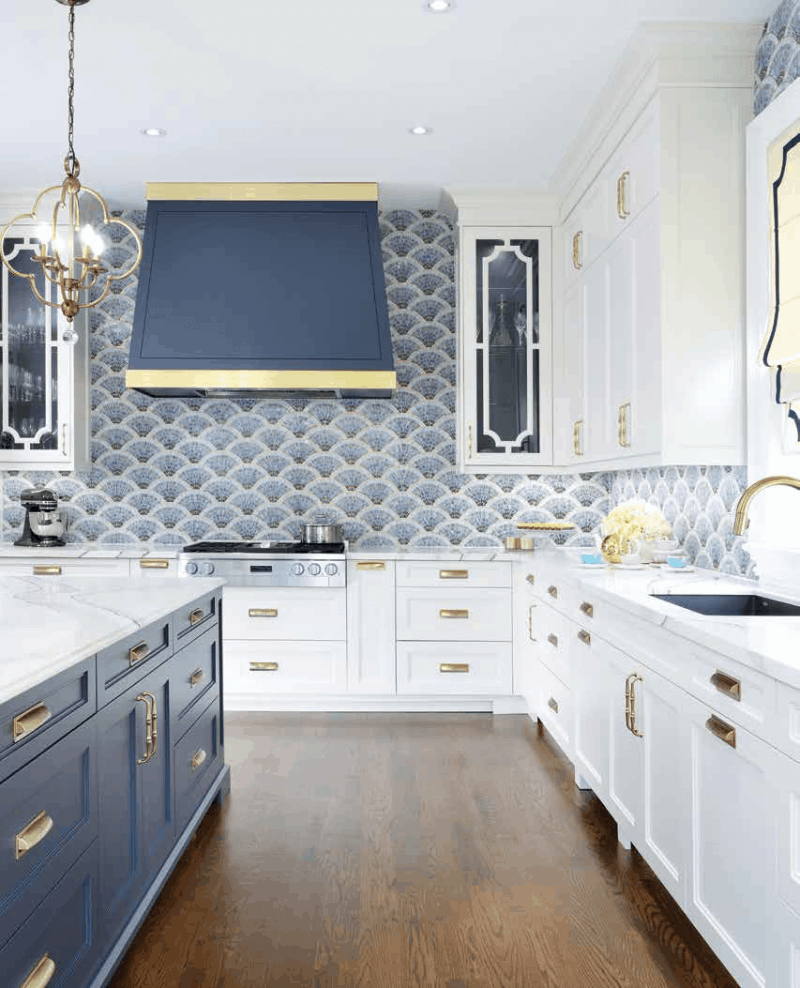 A kitchen is an entertainment space often open to the dining room or great room. Here are a few ideas to consider when designing your kitchen.
ELEVATE THE KITCHEN! Make it feel as though the kitchen is in the dining room vs. the dining room is a kitchen table. Achieve this by elevating your cabinets, hiding your appliances behind panels and adding dramatic lighting.
SELECT FULLY INTEGRATED and panel ready appliances in a kitchen for entertaining. The simplicity of all panels calms the look of the kitchen and elevates the design.
THE RANGE SHOULD BE THE ONLY FOCUS in the room. The range and hood vent give a kitchen for entertaining a focus on cooking and the chef.
THE BACKSPLASH IS A DESIGN STATEMENT. This backsplash by Artistic Tile sets the kitchen apart. Think of it as the jewelry of the room but like any outfit, the jewelry can complement or overpower the outfit.
MAXIMIZE THE SIZE OF THE ISLAND This is the area where family and friends will gather to cook and visit.
LIGHTING IS VERY IMPORTANT Combine general (pot lights) with decorative (pendants) and task (under cabinet lighting). Make sure all light fixtures are on dimmers so lighting can take you from food prep to a romantic dinner for two.
Photo by Larry Arnal, www.arnalpix.com
The following two tabs change content below.

Canadian Home Trends' National Design Editor, Glen Peloso forged into the world of design 20 years ago after completing his Masters degree in Fine Art. As Principal of
Grafus Design Co.
, he has worked in residential, hospitality and commercial spaces for clients in several countries and has successfully designed over 300 projects in that time. TV Celebrity Designer and Canadian Home Trends National Design Contributor, Glen is also recognized as a design expert on The Marilyn Denis Show and from his past work as a host/designer of the internationally popular television shows Foodnetwork/HGTV`s Restaurant Makeover, and W networks 'Take this House and Sell it', and "Slice Network" show, Renovate my Wardrobe.

Latest posts by Glen Peloso (see all)